There's no love like a mother's love but there are things Indian moms say and we are done listening to them.
'Ghar ka khana kha ke koyi mota nahi hota'
All those who are on a diet, no matter how much you try to tell her that you will gain those kilos, she's going to say this every time. If she wants to feed you, she will and you too are gonna fall for it and eat that extra plate of rajma chawal.
'Kiske sath lage rehte ho sara din phone pe?'
And this comes straight with eyebrows raised. Whenever we try to have a little chit-chat with anyone, the hearing range of Indian moms increases somehow and she starts looking at you suspiciously.
'Kahan ho beta?'
Didn't reach home on time? God can only save you.
No matter how old we get, start working get married or whatnot, Indian mothers will always be worried for you until you reach home. Even if you move out and live alone, they will keep on texting you to make sure you reached home safely.
'Nazar na lag jaye mere bacche ko'
And this is purely out of the motherly love that every mother has for her child. So, all those who are planning strategies and schemes against me, you got to fight my mom's Nazar ke totke.
'Kitna kamzor ho gaya hai tu'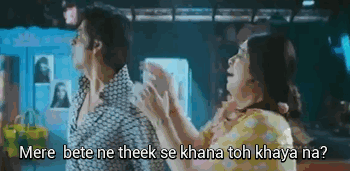 No compromises in terms of food.
No matter how many extra inches you have, your mom will always think you are not eating well and will pour that extra spoon of ghee into your food.
'Mujhe nahi pata. Papa se puch'
No extra justifications, she just doesn't want to be the one to say NO.
You are asking your mom for a sleepover only so your father can say NO (if you know, you know).
'Main teri maa hoon mujhe sab pata hai'
This is the only answer she has for all your why(s). Especially when you are asking for some logic in her beliefs.
'Agar main vahan aayi aur mujhe mil gaya fir dekhna'
When she tells you to get something or when you are looking for something, but you still cannot find it. This is what she will warn you with.
You know what happens when she comes there and finds something you did not.
'Jab tumhare bacche honge tab poochungi'
There are times when our Indian moms don't have a reason for things they do and whenever you try to tell her that she is wrong, this is the comeback she has.
'Maa se hi saari zubaan ladaya karo'
This one never gets old. If you somehow get into an argument with your mom by any chance, this is how she becomes the victim.