Cristiano Ronaldo who made a world record in the UEFA champion league revealed about his personal grief of losing a son. Read further to be updated on Cristiano Ronaldo recent news!
Cristiano Ronaldo is a professional footballer in Portuguese. He plays as a Premier League Club Manchester United and he has been a Captain in Portugal national team. He has won 32 trophies in his entire career. UEFA champion League, UEFA national league are including trophies that he has won and he has made a good record in the football field.
Cristiano Ronaldo's football games are tactful but so is his actual relationship. He was in a relationship with Irina Shayk for 2009-2015. During their relationship period Cristiano Ronaldo jr. was born in 2010 and it was rumoured that Ronaldo's mom disliked Irina Shayk and Ronaldo was caught cheating on his girlfriend but the fact is Cristiano Ronaldo broke up with Irina shayk in 2015.
In 2016, Georgina Rodriguez and Cristiano started dating, they had a daughter named Alana Martina. On 28 February, 2022, she updated with a post of her baby bump shadow and with her children. Though this news got confirmed that Cristiano Ronaldo will be having a baby this year!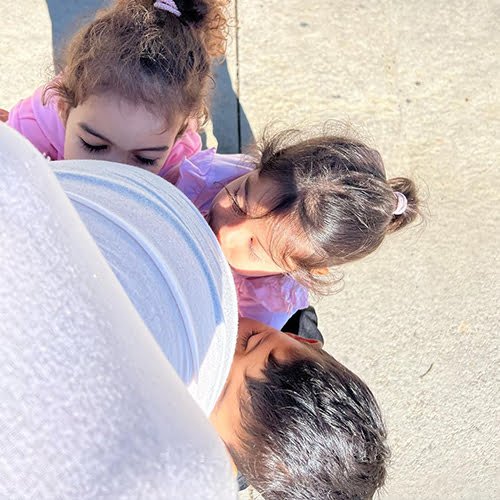 Georgina Rodriguez and Cristiano Ronaldo reveals information about new born baby.
On 18 April, 2022 he announced his recent baby death news which shocked the entire fandom. He mentioned that their baby boy is no more. Only the birth of the baby gives a parent strength to live this moment. They showed genuine thankfulness and gratitude towards the doctors and nurses. They mentioned feeling devastated and asked for privacy in this difficult period.
They ended with a grieving message for their baby expressing, our boy, you are our angel. We will love you forever! Even Cristiano Ronaldo revealed the gender and wrote the same message twice mentioning the baby boy.
During this grief period Cristiano Ronaldo was truly heartbroken and it is being rumoured after this event that he will not play for his recent game at Liverpool F.C. which is known to be a professional football club in England. It was confirmed when Liverpool FC commented on the tweet with a message "All of them are here at Liverpool FC send our deepest condolences to you, Georgina and the family."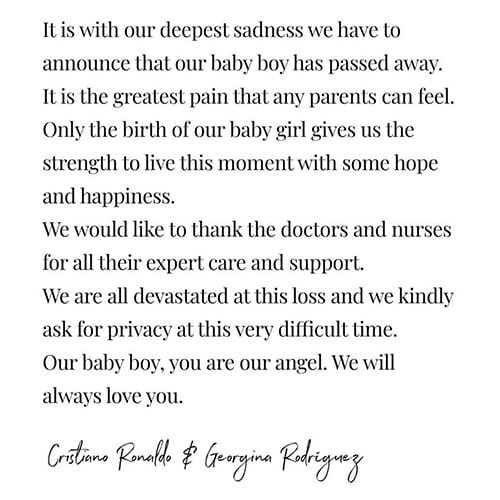 Cristiano Ronaldo expressed heartbreaking news to his fans.
Cristiano Ronaldo fans wrote deep condolences for him and his family. One of the fans tweeted #mufc confirms Cristiano will not play tonight. Another fan expressed this is heartbreaking and saddens me to the core. My family and I will pray for your family, you and the departed soul. Though this news shocked Ronaldo fans to the depth.
Currently, Ronaldo has confirmed that he is going through a deep grief phase for his son's loss. Ronaldo wants to be there for Georgina Rodriguez and his kids at the moment, the possibility of his absence in the Liverpool game is high. The fans and official page of Machester United and Liverpool FC has shown concern, love and support to Cristiano Ronaldo.