Easy and Tasty are the words that define this amazing dish all the way from Mexico. Learn how to prepare it here!
If you are a lover of Mexican food and cheese, you will dig this dish the most. Traditionally, Enchilada is a "flour or corn tortilla rolled around a filling and covered with a savoury sauce." But, it can be made even more fun by playing around the core recipe. For this one, we have used some black beans and brown rice and the result is mouth watering.
You can make your own version of Enchilada with the ingredients of your choice. But if you are trying it for the first time, follow the recipe below to get the best idea of what this enchanting dish offers.
Recipe By: Diane Manzella
Ingredients:
1 Tablespoon Olive Oil

1 Chopped Green Bell Pepper

1 Chopped Onion

3 Minced Garlic Cloves

15 Ounce Rinsed and Drained Black Beans

1 Diced Tomatoes and Green Chilies

¼ Cup Pincante Sauce

1 tablespoon Ground Cumin

1 Tablespoon Chili Powder

¼ Teaspoon Red Pepper Flakes

2 Cups Cooked Brown Rice

8 Flour Tortillas

1 Cup Salsa

1 Cup Shredded Cheddar Cheese

3 Tablespoons Chopped Fresh Cilantro Leaves

¼ cup Shredded Cheddar Cheese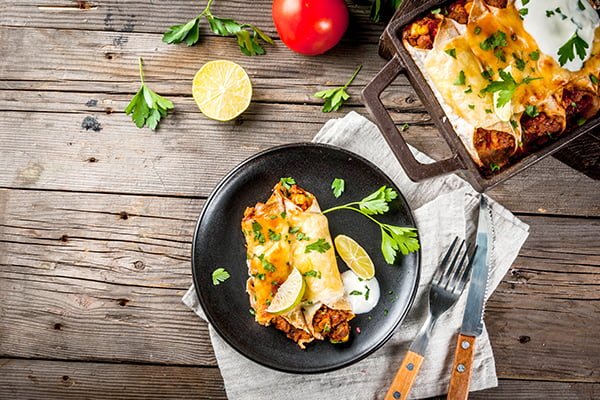 Enchilada is a "flour or corn tortilla rolled around a filling and covered with a savoury sauce."
Method:
Step 1: Preheat the oven at 175 degrees C (350 degrees F). Lightly grease a 9x 13-inch baking dish.
Step 2: In a large Skillet, heat oil to cook and stir green pepper, onion and garlic until softens. Stir the beans, tomato, picante sauce, chili powder, cumin and red pepper flakes and bring them to a boil.
Step 3: Let the mixture simmer at low heat until it thickens. After that, fold in rice and 1 cup cheddar cheese and cook for about 5 minutes.
Step 4: Put ½ cups of bean mixture on each tortilla in the centre and fold the sides and roll up. Place each piece in the baking dish. Spoon salsa over each tortilla and cover with aluminium foil.
Step 5: Bake in preheated oven. Once cooked, sprinkle with cilantro and ¼ cup cheddar cheese. Bake again until the cheddar cheese melts. Enjoy!