Jasprit Bumrah was ruled out of the remaining two T20Is against South Africa due to back pain but it turned out to be a serious issue and he has been ruled out of the T20I World Cup
The forthcoming T20 World Cup 2022, which is planned to begin on October 16 in Australia, is likely to be without Jasprit Bumrah. Due to a back stress fracture, Bumrah has been forced to withdraw from the competition. It goes without saying that India has suffered a great deal as a result of the development. The right-arm quick is expected to be out for four to six weeks, according to BCCI sources. Let's look at the five players who can be the potential replacements for Bumrah at the World Cup.
Jasprit Bumrah penned a note on Instagram wishing the team best of luck for the tournament in his absence 
1) Mohammed Shami
Since Bumrah is unavailable to play for India at the World Cup, Mohammed Shami is likely their best option. He has a track record of winning matches and can bowl on a tight line and with the field in mind. His most recent match was a couple of months ago against England, and he hasn't played much competitive cricket overall. For the recent series against Australia and South Africa, he was just added to the roster. Unfortunately, he was excluded from the squad because he had a Covid-19 positive test result. If he would be starting in Bumrah's place at the World Cup, India should offer him plenty of opportunity to practise.
Shami is currently at the NCA in Bangalore giving his fitness test to be ready for the World Cup
2) Shardul Thakur
In terms of alternatives, Shardul Thakur may be a unique choice. Since June, Shardul Thakur has fallen out of favor, and his current state of health raises questions about whether he should be included. He will always make significant advances for India, without a sure, but the others may have an advantage due to his high economy rate. On his best day, he can be a highly devastating weapon for his side even if he is more of a bowling all-rounder than an absolute bowler. He has the ability to send the ball over the fielders and bowl cutters and slow balls for his team when it matters.
Shardul Thakur was impressive yesterday against South Africa with both bat and ball 
3) Deepak Chahar
Deepak Chahar, the 30-year-old bowler who was chosen as a reserve player in India's T20 World Cup team, has a decent opportunity to replace Bumrah in the 15-person roster. With his outstanding performance in the first game of the three-match T20I series against South Africa, Chahar astounded everyone. In his four allotted overs, he took two wickets while only allowing 24 runs, a respectable economy of 6 runs per over. In 22 T20I games, Chahar has taken 28 wickets overall and also has a five-wicket haul to his credit. Chahar's ability to contribute with the bat further down the order will also be a significant asset for the Men in Blue in the premier competition.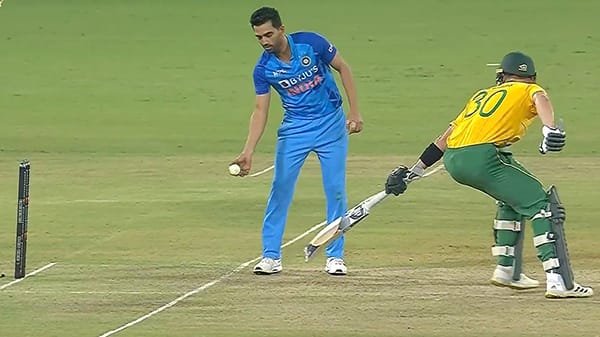 Deepak Chahar was clinical in the last T20I series against South Africa which ended this Tuesday 
4) Umesh Yadav
After a lengthy absence of three and a half years, Umesh Yadav recently made his return to T20 international competition when he was selected to take Shami's spot in the just-completed T20I series against Australia. Umesh was also included in the India team for the recently concluded T20I series against South Africa, demonstrating his relevance to the situation and his potential for selection in the World Cup squad, mostly due to his pace and experience. It would be interesting to watch who replaces Bumrah, especially given how recently India's death bowling has raised questions.
Umesh Yadav got some crucial game time but has been leaking a lot of runs as well which is a cause of concern for him
5) Mohammad Siraj
Mohammad Siraj would be a good addition to the team in addition to Shami because he has been doing well in ODIs and Tests and is an important bowling option for Royal Challengers Bangalore in the Indian Premier League. Since he participated in the recently finished County Championship and was a crucial bowler for his team, he has also had match practise. Given the bounce that Australian pitches give, his velocity, as well as the height from which he bowls, will certainly cause difficulty for batting. Since he has taken over for Bumrah, at least for the series against South Africa, his chances have increased, and he will be hoping to impress the squad by demonstrating his mettle.
Siraj is a great bowler in the powerplay but his sloppy fielding can cost the team a lot in important matches
It would not be easy to find a replacement for a bowler like Bumrah who gives you the assurance of keeping the runs tight, taking wickets and putting the team under pressure. It is all back to square one for India, and since death bowling has been in question of late, Bumrah's absence would only raise the questions for the selectors. It remains to be seen what decision the selection committee takes along with the Indian team management. But there is absolutely no doubt that India would miss the services of Bumrah at the marquee tournament.