We will look back at some of the most important knocks by Virat Kohli who turns 34 today
One of cricket's all-time great batsmen, former Indian captain Virat Kohli, celebrates his birthday today. The talented batsman began getting birthday greetings before turning 34. Glenn Maxwell, an all-rounder for Australia, was one of the first to send well wishes to the chase maestro via live television. On social media, millions of Virat Kohli's supporters began wishing him a "happy birthday," and some of them created a sizable cutout of the former Indian ODI captain in Hyderabad. Let's look at Kohli's arguably best five knocks as he celebrates his 34th birthday today.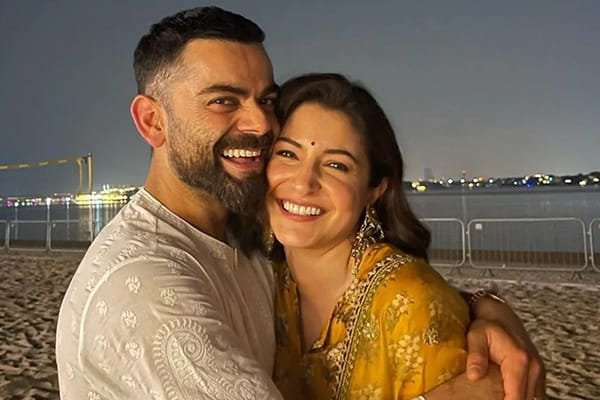 Anushka Sharma also wished her husband Virat Kohli on Instagram with some of most adorable and funky pictures of the latter
1) 82* against Australia (Mohali, 2016)
Kohli just loves playing Australia whether it is home or away. He always gets the extra push to beat them and punish them. This knock just proves the fact of how much dedication and passion he has for the game and how his winning mentality is taking team India from stride to stride. Few T20I innings, which might be considered perfect, have seen a batsman score as many runs as Kohli did on that specific day. Australia's World T20 campaign was ended by Kohli's unbeaten 82 off 51 balls, which helped India to advance to the semi-finals. In order to surprise the Australians, Kohli hammered two fours and a six off Faulkner and four fours off Nathan Coulter-Nile when India needed 39 off 18 balls. Kohli collapsed to the ground and raised the crowd to their feet as Dhoni scored the winning runs, propelling India to the semifinals.
This knock was enjoyed by everyone and was a vital one as it helped India reach the semi finals of the T20 World Cup
2) 133* against Srilanka (Hobart, 2012)
Who knew that this kid, who was only a few years into international cricket, would soon become the nation's beating heart? When a batter smashes a prime Malinga, who is bowling with incredible speed and accuracy, all over the field, you know he is special. The best aspect of this innings was that Virat has always had the winning mentality and he always wanted to lead his side to victory regardless of the opponents. Halfway through the game, Sri Lanka would have believed they had a shot at winning the game after a strong showing. Throughout the series, the Indian team showed little potential, and they came dangerously close to being eliminated. However, Kohli suddenly made an appearance, putting on an immaculate display of stroke-making, and his flexible wrists ignited an Indian comeback. India's hopes of making it to the finals were preserved by Kohli's valiant final innings, which made light of a daunting score. The Kohli show overshadowed Sri Lanka's commanding batting effort, which included centuries from Tillakaratne Dilshan and Kumar Sangakkara and took advantage of India's bowlers' blatantly poor showing.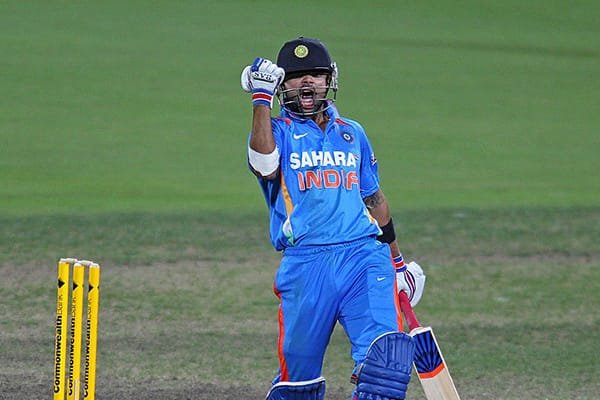 Very few youngsters have been able to score runs against Prime Malinga but what Virat did that day was simply put of this world
3) 149 against England (Edgbaston, 2018)
Kohli went to England in 2018 for his second tour, and all the pressure was on him to perform. The last time he visited England, in 2014, he went through one of his worst phases and scored only 134 runs in 5 matches. This time, the pundits and experts felt that he won't be able to handle the English conditions and the opposition bowlers. But they didn't know what was in store for them as Kohli was prepared for the challenge and when the going gets tough, the tough get going. On a challenging surface, England scored 287 in the first Test at Edgbaston. The Indian batters too struggled to generate much fire. While the middle order did not last long and the openers fell cheaply, the only hope remaining was Virat Kohli. In India's 274-run response, the Indian captain went on to hit 149 runs. Virat Kohli worked extremely hard during this inning to help people forget about his trip to the same country in 2014. With 593 runs in 10 innings, he went on to become the series' top run-scorer in 2018.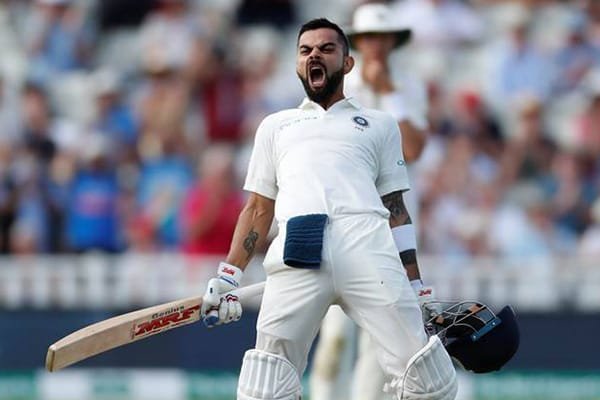 This was the year for Virat Kohli and he checked out scoring runs in England from his bucket list
4) 113* against Punjab (Bangalore, 2016) 
In a 15 overs contest, rarely do you see the team scoring over 200 runs and a batsman scoring a hundred, but Kohli is known for doing inhuman things. In a 2016 IPL game against Kings XI Punjab (now Punjab Kings), Kohli scored his highest IPL total. In the game, the then-Captain of Royal Challengers Bangalore hit a scorching knock of 113 off just 50 balls. It was Kohli's highest IPL score to date and his fourth hundred in the 2016 IPL season. Using the Duckworth Lewis system, Kohli hit-a-50-ball 113 helped RCB defeat KXIP by an 82-run margin, keeping them in the running for the playoffs. The fact that Kohli was hurt throughout the century made it noteworthy. The batter required nine stitches after being struck on the hand by the Kolkata Knight Riders in the previous game.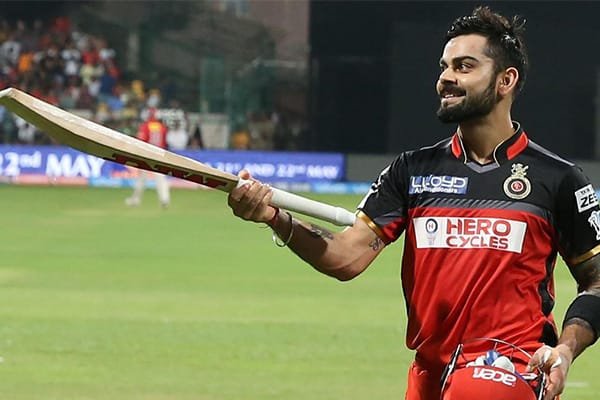 Playing a game even with nine stiches in your thunb and scoring a century, that's Virat Kohli for you
5) 82* against Pakistan (Melbourne, 2022)
This innings might be one of the greatest innings that has been played, after seeing the conditions, match situation, ground dimension, atmosphere and the opposition. India and Pakistan tend to play out some of the toughest and hard-fought games whenever they meet in ICC tournaments. This was one of the matches that will forever go down in history, as the day Kohli won India the game from the jaws of defeat. Given that Pakistan scored 159 runs in 20 overs, the first innings was not as strong as the men in blue would have hoped. But India's batting meltdown likely put an end to their chances, and it appeared as though Pakistan would win easily if Virat hadn't pulled off the unbelievable. Even when India was reeling at 31/4 in 6.1 overs, the batting mastermind and contemporary power batter Hardik Pandya didn't lose hope. With Pakistan on the verge of a 2021 repeat, Virat Kohli and Hardik Pandya stayed tall to first finish the challenging period and then launch an all-out assault on Pakistan. Virat manufactured some scrumptious shots, and his six to Haris Rauf is not only a crowd favorite but also one of the trickiest given the line and length of that ball. In a thrilling match, Kohli led India to victory by continuing his unbeaten streak of 82 games.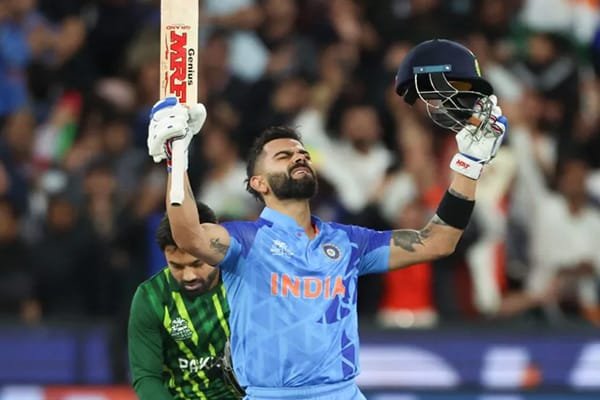 Probably one of the greatest T20I innings in history, there is no denying now why he is called the chase master 
One of the most beloved cricket players in the world, Virat Kohli turns 34 today. In terms of modern-day cricket greatness, Kohli is second only to Sachin Tendulkar and has inspired both cricketers and millions of people. His work ethic, zeal, and ferocity on the cricket pitch are unmatched. The former Indian captain has continued to raise the bar despite a two-year downturn. These were just five of the greatest innings he has ever played, and given how Kohli is currently doing, this list may change in a few years.