Netflix unveiled the first look of filmmaker Sanjay Leela Bhansali's upcoming web series "Heeramandi". Read out to know more details.
Filmmaker Sanjay Leela Bhansali comes again with an extravaganza story to impress the audience with his creative story-telling skills and directions. Filmmaker Sanjay Leela Bhansali and Netflix released the first look of the upcoming web series "Heeramandi". He also made his OTT debut with this series and said that "This is his dream project". Taking to Instagram, Netflix and Bhansali Productions shared a brief clip, which was giving a glimpse of the Heeramandi's cast.
The clip showcased actresses Manisha Koirala, Aditi Rao Hydari, Sonakshi Sinha, Richa Chadha, Sanjeeda Shaikh and Sharmin Segal. The video begins showcasing all the actresses dressed in mustard colour outfits and wearing heavy pieces of jewellery as they sit next to each other. One by one camera took a close-up of each actress and they smiled while looking at the camera only actress Sonakshi Sinha stood amongst them and did a salaam.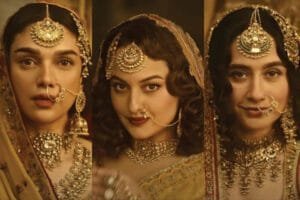 The clip was shared with the caption "Another time, another era, and another magical world created by Sanjay Leela Bhansali, can't wait to be a part of it. Further, added, Here's a glimpse into the beautiful & intriguing world of Heeramandi. Coming soon only on Netflix. As soon as the clip was shared on Instagram, fans flooded the comment section and are very excited. One of the fans wrote "gorgeous casting" and another one wrote, "This is going to be fire, can't wait to watch".
Netflix also posted one more clip earlier, which also started as same as the one aforementioned the only difference is all the actresses wore black colour outfits. Both clips start with the message "Sanjay Leela Bhansali Invites you to the world of where courtesans were queens" and then one by one all the cast showcased. As per sources, the web series depicts the stories of courtesans and the hidden reality of Heeramandi. Heeramandi was a dazzling district before independence. This series will be full of emotions, it's about love, betrayal, and politics in the Kothas (house of prostitutes).
Sanjay Leela Bhansali said during one of his interviews that "This series is an important milestone in my filmmaking career and this is epic. This is first-of-its-kind series. This series is based on the Lahore's courtesans. This series is grand, ambitious and all-encompassing. Further, he added, I am looking forward to collaborating with Netflix and bringing the Heeramandi series to audiences all over the world.