Can you believe this? Joey King got engaged to her recent boyfriend Steven Piet. Though we were expecting an ending with a kissing booth actor, she surprised us with an engagement ring from The Act Series Co-executive producer, Steven Piet. Want to know the details, then Read!
In 2018 Jacob Elordi and Joey king both from the kissing booth actor and actress got into a relationship, they had 2years of age gap but no fans denied their chemistry on the kissing booth screen. They were deeply supported and loved by the fans until the breakup was announced in 2019.
Joey King was a part of The Act series which also got quite the hype but no one was expecting a relationship. Steven Piet his current boyfriend is a co-executive producer, from The Act which got released in 2019. They both got spotted together with the cast for the movie screening in 2019. But the couple made their relationship official on Instagram in 2020. They were seen together, posted each other cute pictures of them traveling where joey mentioned, that she can describe beautifully that she finds herself truly happy in these pictures and revealed that her trip with Steven Piet made her feel happy.
On 1st March, Steven Piet purposed to kissing booth actress Joey king, on a windy day. He mentioned about asking her best friend to spend a lifetime together and life vulnerable conversations. He revealed his adventurous times with Joe holding hands-on car rides home, great food and wine, and uncontrollable laughter. He expressed that joe showed him the dimension of love, which I was not aware of.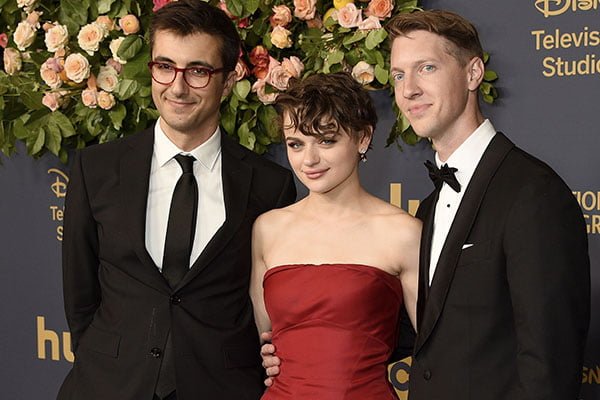 Joey king and Steven Piet got spotted together with the cast for the movie screening in 2019.
Though joey flashed her ring finger on media and expressed her undeniable joy. She even expressed that this love made her feel at home. When Steven Piet asked her, she felt like a real dream is happening for her, and let's do it!
This relationship got revealed in 2020, and it is been more than 2years. The couple pictures after the engagement were smashed with love and support, a cast celebrity who worked with Joey king expressed deep joy for this special event. Sabrina carpenter wrote a funny comment and reveal this Still getting used to our open relationship but deeply happy for both you. To all the boys I have loved before the actress, Lana Condor Screamed with excitement and said, Congratulation angel.
1st March, Steven Piet proposed to kissing booth actress Joey king.
The fans are overjoyed and not shocked as they were expecting them to be together. The fan expressed to Joey, marrying your best friend is the best decision in the world. Fans expressed this event amazing and congratulate them. Showered the couple with blessing and support for their marriage.
I think it is awesome to date someone in your field, who gets it. But the same exact thing is tuff. I hope this opportunity that I am getting is not hurting their feelings. Joey declares in her last year's interview, that she would gladly date someone from the same field but not a co-star.  Finally, she is dating a producer Steven Piet and revealed this relationship as an upgrade to her life.