Met Gala 2022 event and their glamorous outfits, know who wore what, right here!
Grand fashion event of "Met Gala" 2022, is back! Over the years this event has surprised us with diverse themes and unique fashion outfits. The OG girls Kendall, Kylie, Khloe, Kourtney and Kim Kardashian has highlighted the night of Met Gala with their fashion outfits. This year Met Gala theme is America: An anthology of fashion was held on 2nd may.
This Met Gala dress code was 'Gilded Glamour and White Tie', it highlighted American fashion of the dazzling era. Though this year's Met Gala got canceled by fashion icons such as Rihanna, Zendaya, Ariana and Harry Styles, other celebrities shocked us with their fashion taste in outfits. Check them out, now!
1. Vanessa Hudgens
Vanessa Hudgens stunning sheer gown at the Met Gala 2022.
American actress, Vanessa Hudgens steals the spotlight with her black iconic dress. This entire Met Gala outfit gave goth glam. She wore a stunning sheer black lace gown; this was designed by Jeremy Scott and her gown gave an extreme confident and gothic look. Her grand outfit with embroidery on the bodies, puff sleeves and diamond cuff bracelet and dazzling accessories gave a goth glam. She even posted her iconic Met Gala outfit mentioning, she said Met Gala hunni, be sure to tune into the live stream.
2. Kim Kardashian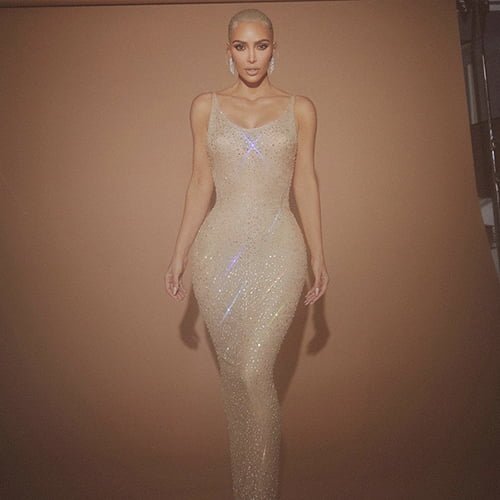 Met Gala 2022, Kim Kardashian outfit is inspired by Marilyn Monroe.
Kim is known for her controversy but so does for her fashion iconic outfits. At The Met Gala 2022, Kim Kardashian was spotted at the red carpet with Pete Davidson. The theme In America: An Anthology of Fashion, she chooses the perfect outfit which was inspired by Marilyn Monroe in 1962, she wore her iconic dress. She wore a glamorous skin-tight gown adorned with hand-sewn crystals which was designed by costumier Jean Louis. Kim Kardashian's outfit gave a glimpse of historical fashion.
3.  Kendall Jenner
Kendall Jenner Met Gala outfit is on point!
Kardashians with their fashion do not comprise! do not miss out on this. Kendall Jenner for the theme In America: An anthology of fashion, choose an eye-catching outfit. She wears a custom black tulle top with a net embroidered, black voluminous double silk satin skirt featuring every detail. In the exhibition (In America: An Anthology Of Fashion) theme Kendall glamorous Met Gala outfit was designed by Prada.
4.  Blake Lively & Ryan Reynolds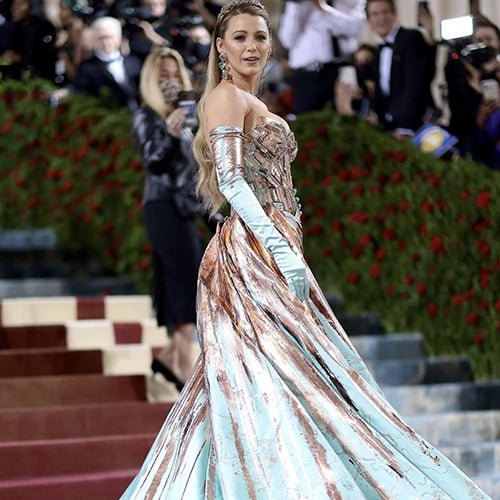 Blake Lively Met Gala outfit made our head turn!
This Actress made our head turn at the Met Gala with her stunning outfit. Black Lively quote "I always loved fashion" is a witness in the 2022 Met Gala. At the Red carpet with Atelier Versace tulle column dress, it was embroidered with layers of crystal, metallic leather, paillette and tri-tone copper foil duchesse. 
Blake Lively second outfit, a dramatic transformation look represented New York's Statue of Liberty from bronze to oxidized green. Her embroidered celestial map in the second dress is inspired by 12 zodiac constellations, this stunning dress was designed by Versace. Blake Lively and Ryan Reynolds' Met Gala outfit is getting viral all over the internet.
5.  Billie Eilish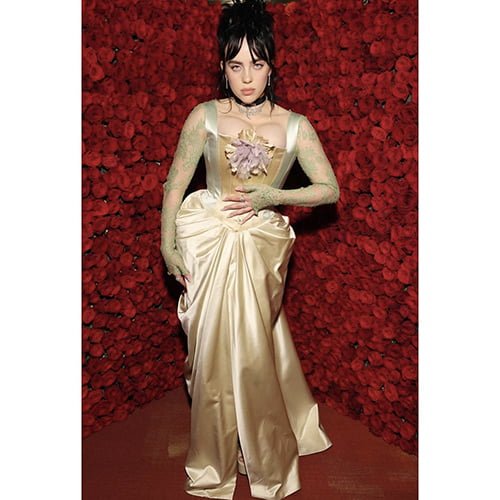 Billie Eilish brings back Duchess fashion in this Met Gala 2022.
Ocean Eyes Artist, Billie Eilish made her grand entry for the Met Gala carpet. She left the audience surprised with her glamorous outfit, she wore a duchesse satin corseted gown, satin skirt and tonal duchess's corsage. She even wore an embroidered choker which completed her look for the theme (In America: An Anthology of fashion). Her stunning satin Met Gala outfit styled by Dena Neustadter Giannini and designed by Gucci but she stole the night at the Met Gala with her glamorous outfit.