Cristiano Ronaldo was signed by Manchester United last season on a two-year deal and might leave before that due to lack of signings
Cristiano Ronaldo is one of the most impactful players in the world and his records and achievements speak for themselves. Even at the age of 37, he makes the defenders fearful with his positioning, attacking runs, dribbling and can change the tide of the match by just being clinical in front of goal. He started as a left winger when he debuted for United and Sporting in the early 2000s and continued on that wing for the next decade. He showed versatility by playing on the right wing as well as the striker position occasionally. He has over 800 career goals for club and country and has won league titles in Portugal, Italy, Spain and England along with his 5 Champions League titles. He has proved himself everywhere he has gone and has been adding to his game ever since made his professional debut. One of the best attributes about Ronaldo is his fitness and how well he maintains it. He never has junk food and keeps training regularly in order to keep himself fit and going for his team.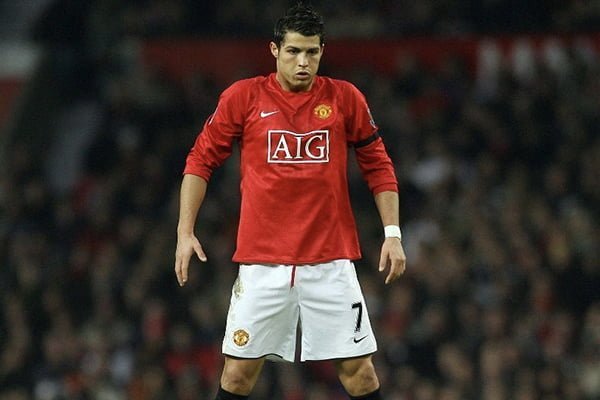 Ronaldo lining up a free-kick which he blasts into the roof of the net
After his homecoming season at Manchester United recently got over, fans and pundits predicted that Ronaldo might/must leave this team since it lacked the ability and the elegance which is required to win titles at the highest stage. Ronaldo was in staggering form throughout the year and stepped up for his side whenever they required. He scored 24 goals in 37 games for United across all competitions. He was the team's leading scorer in both the Premier League as well as the Champions League. With United having qualified for the Europa League for the 2022/23 season, it would be a major downgrade for Ronaldo to play for a club that plays in that tournament. Many believed Ronaldo would leave Man United after they finished sixth the previous season. He refuted all of these assertions, though, and vowed to remain where he is. He added that his continued goal is to lead the Red Devils to championship victories in the upcoming seasons.
Ronaldo was the top scorer for Manchester United this season and finished 3rd in the race for the PL golden boot
But now as per reports coming from Italy is that Ronaldo wants to leave Manchester United due to the lack of signings that the club has made till now. Other clubs have already started to make big name signings and a club like United who need a major revamp are still looking for players and are in "talks" with a few players. Manchester United are in talks with Barcelona midfielder Frenkie De Jong, for a very long time and still haven't been able to agree a fee with the player's club. The new manager Erik Ten Hag, has been wanting this player for a long time as he was a key part of the Ajax side in 2018/19. Some of the other players that Manchester United are interested in are Brazilian right winger Antony and another Ajax player named Jurrien Timber. The talks for both the players are still on, and Manchester United and Ronaldo would be hoping that these deals are completed sooner rather than later.
FC Barcelona is asking for around 80 million as fee for Frenkie De Jong
The club's revamp has already begun as some of the older aged players have departed the club. Juan Mata, Nemanja Matic, Jesse Lingard, Paul Pogba have left the club on a free transfer. Paul Pogba was a major loss for United as he was signed by the club for 100 million dollars in 2016, which was the record fee at that time for a player. He has since joined Juventus and that deal is set to close in the upcoming days. Dean Henderson, the young, tall English goalkeeper who for most part of the season was back-up to David De Gea is also set to leave the club on a loan deal (with a buy option) to newly promoted Nottingham Forest. 
Paul Pogba is set to sign for Italian giants Juventus on a free transfer from Manchester United
Manchester United are in a need to sign players and they have to make it soon since the pre-season training and matches will start after the first week of July. United would want the new players that are signed for the club to be able to fit the technical style of their new manager as well as play to the ways in which he wants. Ronaldo, on the other hand, has a lot of time left to decide whether he wants to stay at United and complete his contract or to leave right now to another club. A host of clubs especially from Italy might be interested in Ronaldo and would want him to be the man that leads their attack. There have been rumours of a potential reunion with coach Jose Mourinho at AS Roma. Only time will tell what Ronaldo wants and what he will do, but certainly the Manchester United fans would be desperate for him to stay at the club.