King Kohli appeared in his 100th test match on March 4 against Sri Lanka in Mohali. Read on to know his achievements.
Former Indian Cricket team captain Virat Kohli is globally appreciated for his batting and skills and we know for his dashing looks as well. King Kohli, as fans like to call him, has achieved another milestone in his career by appearing in his 100th test match in the field at Mohali's Punjab Cricket Association (PCA) stadium, against Sri Lanka on March 4. Kohli became the only twelfth Indian to reach 100 Tests, as he joined a list of legendary batters that included some of the great players like Sunil Gavaskar, Rahul Dravid, Sourav Ganguly, Sachin Tendulkar, VVS Laxman, and Virender Sehwag.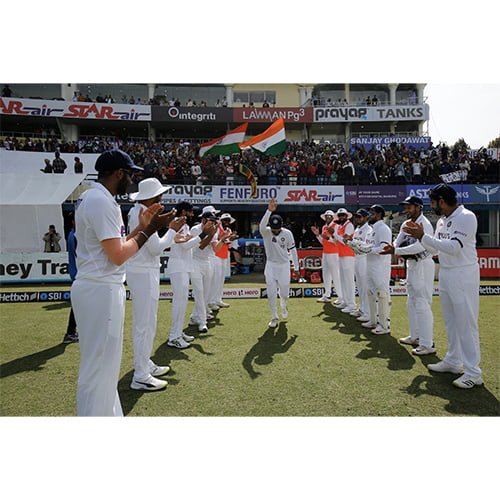 Virat Kohli was welcomed by his team on the field before his 100th test match. 
The star Indian cricketer was felicitated for achieving the milestone ahead of the start of the Mohali test match and was awarded a special 100th test blue cap. Interestingly, Kohli was felicitated by the head coach of the Indian cricket team, Rahul Dravid who also appreciated the former Indian captain for his achievements and hardship during his career in the game. While speaking words of gratitude, Kohli mentioned his regards and fandom for the head coach Rahul Dravid and also spoke about the lessons he learned during his journey in the Indian Cricket team.
To join him in his special big moment, his lady-love Anushka Sharma was also present on the field to support him as always, along with his other family members cheering from the stand, while he was awarded the cap. Sharma looked beautiful as always in her semi-formal look, for which she chose a ruffled white shirt with beige oversized straight pants. Keeping the jewellery minimal, she carried golden hoops and a wristwatch, with her wavy hair on the side.
Kohli was felicitated with a special 100th test Blue cap by the head coach of the Indian Cricket team, Rahul Dravid.
However, netizens on social media are not really in favour of Anushka accompanying Virat on the field, and this is not the first time that this couple has faced criticism for supporting each other. While there were some people who were questioning it was allowed, on the other hand, the supporters were in complete awe of the special moment for Virat and how Anushka was there to cheer his hubby and supported the duo by saying that it is a tradition to be followed, where the wife of the player joins them while they are appreciated for their achievement.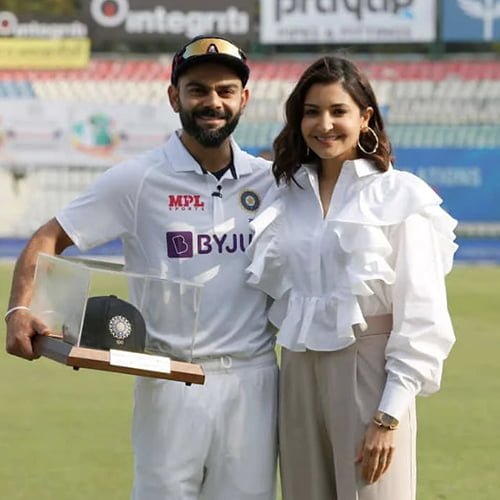 Virat's wife and Bollywood actress Anushka Sharma joined the cricketer on his big day. 
At such a big moment, Virat Kohli expressed his happiness saying, "It is a special moment for me. My wife is here and so is my brother. Everyone is very proud. It is indeed a team game and it couldn't have been possible without you. Thanks to the BCCI as well. In present-day cricket, with the amount we play with three formats and an IPL, the one takeaway the next generation can take from me is that I played 100 games in the purest format." Kohli also paid regards to his head coach Rahul Dravid mentioning, Dravid has always been an idol for him over the years.