Koffee with Karan was back once again with season 7, and it felt like nothing had changed. Karan Johar at the start of the show, spoke about the hate he received regarding the show but deep down we all know that watching 'Koffee With Karan' is our guilty pleasure.
While Ranveer singh was the star of the show, Alia Bhatt was only talking about Ranbir and her wedding. She wasn't even interested in talking about Gangubai (which was a phenomenal performance) or the upcoming release brahmastra. Nonetheless, Ranveer Singh made the viewers laugh a lot and these are some of the best moments of yesterday's show
Karan Johar is back with Koffee With Karan after a break of almost 3 years
1) Alia's transition from 'Student of the Year' to 'Genius of the Year'
Although this time it was in a charming way, Alia Bhatt followed her pattern of acting foolish on the show. Alia was required to talk for at least 30 seconds about a topic that Karan would provide during the show's final quarter in the My Glamm Zone. Alia felt she had to talk about Karan's marriage when Karan assigned her the topic of "My Marriage," and she even started talking about it. The exchange was so entertaining that Alia and Karan couldn't stop laughing, and Ranveer snidely referred to Alia Bhatt as "Genius of the Year" in response.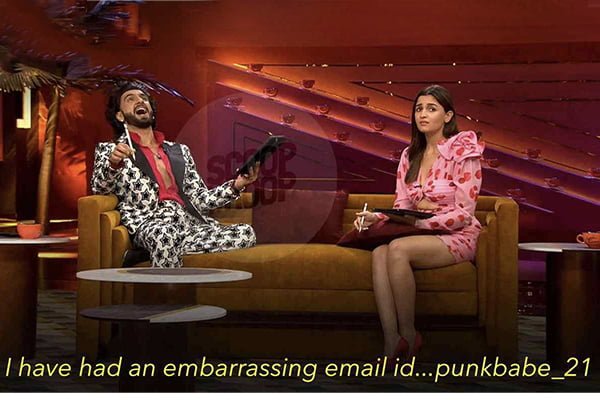 This was another one of the revelations that Alia made during this episode
2) Alia Bhatt clears the myth about "Suhaagraat"
Karan Johar questioned Alia on marriage and myths during her rapid-fire round. The largest fallacy about marriage, she responded when asked, is Suhaagraat. She was asked, "What is the belief about marriage that you promptly broke as soon as she tied the knot." There is no such thing as having to have sex on the first night, claims Alia. She said, "You're just tired, but there are exceptions," pointing at Ranveer Singh as she said this.
Alia pointed towards Ranveer, since the latter had claimed to have had sex during his "Suhaagraat"
3) The unbreakable bond between the Two
Despite the fact that Alia Bhatt and Ranveer Singh have only worked together on one movie, "Gully Boy," their on-screen chemistry is incredible. The entire episode gave off the impression that they were close friends who spent a lot of time together and shared each other's joys and sorrows. Ranveer even expressed his desire for Alia to continue to be his best friend throughout her life in one of the scenes. They are sakhi's and pinky vowed it to each other, Alia retorted. You wouldn't anticipate this kind of behaviour from two of the top Bollywood stars.
Alia and Ranveer's friendship grew through Gully Boy and now are each other's pillars of support
4) Ranveer's charismatic personality also has a PAMMI side
We got to see a different side of Ranveer Singh on this episode of Koffee With Karan. Ranveer Singh was revealed by Karan Johar and Alia Bhatt to be an Indian aunty who is curious about everything. He seems to be open to discussing anything because he has a wide range of interests. We have learned about a fresh side of Ranveer Singh on this episode of Koffee with Karan.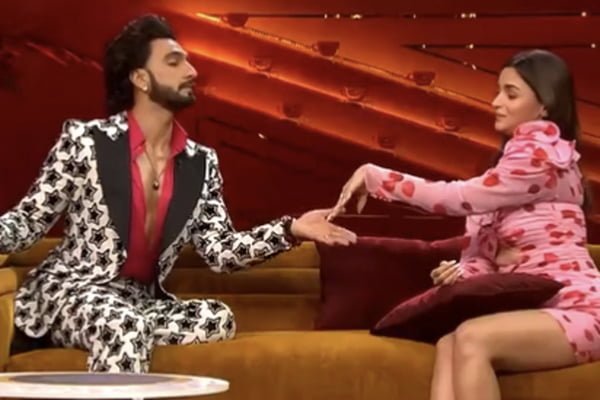 Alia also revealed that Ranveer wants to know everything that is happening around the house in other people's lives as well, hence the name PAMMI suits him well
5) One of the many hidden talents of Ranveer Singh
Ranveer Singh tends to reveal a new side of himself and do things that we would never even remotely expect of him when we watch him on national television. Ranveer Singh is a talented impersonator, according to Alia. Therefore, in the episode, Alia and Karan started naming well-known Bollywood actors to him, and his impersonation was spot-on and outstanding. His performance in this category was simply outstanding, and the audience might not have been aware of his other talents. He may have been able to seamlessly transition into other roles thanks to this skill in mimicry.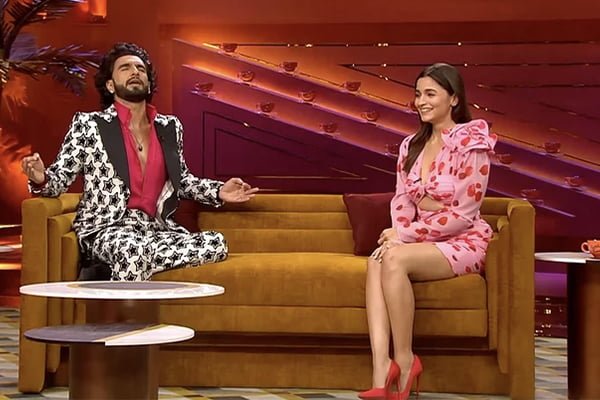 Ranveer Singh impersonated actors including Aamir Khan, Hritik Roshan and Varun Dhawan
Thankfully, there were no controversial moments in Koffee With Karan's seventh season, but it may have had some wonderful laugh out loud moments. People had different expectations for this season, but even the questions were similar to those from the previous season. Ranveer Singh's humour carried the episode. Even though Karan Johar did a fantastic job of opening the ceremony with two of Bollywood's top performers, there is still room for improvement.