While these hot moves will make him wild, you are going to experience the satisfaction too.
You and your partner hit it off hard as far as sex is concerned but, if you were to ask your man what he wants in bed, the chances of him giving vague answers are probably high because when it comes to sex and intimacy, guys feel shy to speak up. And honestly, all the ladies out there would agree that pleasure is the ultimate goal for having sex not just for you but also for your man. The key to great sex is great communication and if not, you can research and let your man have one of the best bedroom actions of his life by surprising him.
So, if you're wondering what will help you out to make your man go crazy in bed and what he craves, you've reached just the right place. Thank us later.
1. Praise him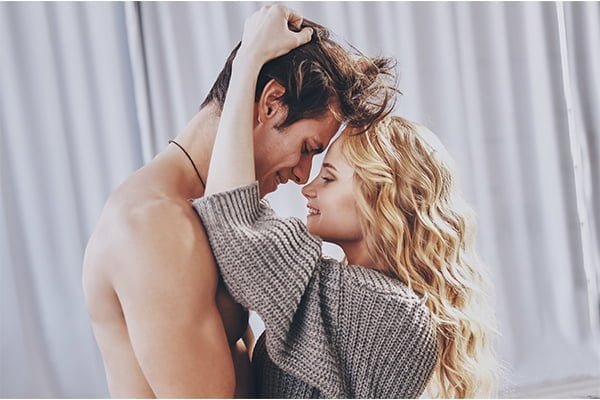 Do you like it when he makes you feel like the boss? Tell him.
One of the most obvious things he would want to hear from you while in bed is you telling him how he is. It is all about you communicating with him things that he did during the moment you guys were being intimate and you liked it. Tell him you like his neck, the way he grabs you when you're about to have a climax, or even how he was so good at touching you.
2. Make the first move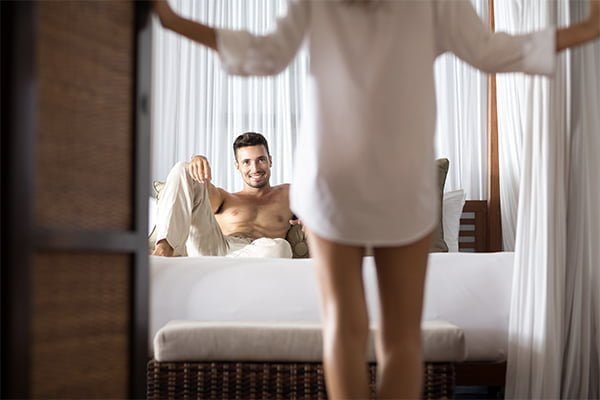 How about you initiate the business this time?
There is no two-way debate about the fact that sometimes, your man wants you to make the first move. This will not only show that you are actively participating but will also help you to find new ways to surprise him. Start rubbing his penis while you two are lying together giving him hints to make love to you or, you can take his hands and make him touch you in a naughty way and look for yourself how he will follow through.  
3. Explore differently
No man likes to repeat a routine when it comes top sex so, don't feel shy to try new things.
Well, when it comes to exploring different things in bed, you should try it in every possible way. Men love variety and repetition can turn your great relationship into a meh. It is important to try and explore new things every now and then such as new places, new positions, new ways, and whatnot. Your man might want to take the action of the bedroom to add some more excitement and thrill to your sex life. You can try doing it on the kitchen slap, on your couch. This will also give you a chance to have roleplay and even more fun.
4. Be spontaneous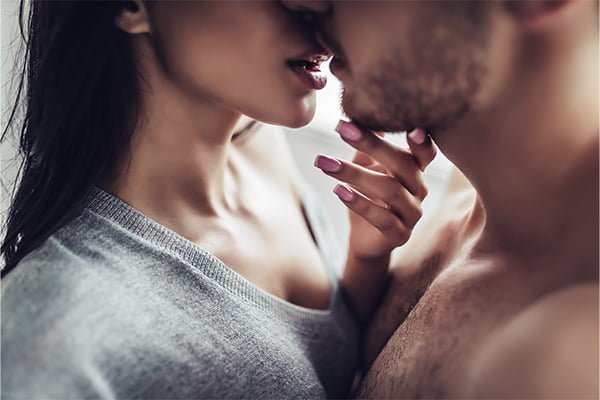 Men love it when their woman is excited to try something new.
Spontaneity is the best way to keep things fresh. The same old routine can get boring and thus, your man would love it when you will get eager about trying something new or surprise him with something he isn't expecting. While he is busy on his phone, you can get spontaneous at the moment and surprise him in a naughty way by giving him a head and you know what's going to happen next.
5. Take charge
Be the boss you are in the bedroom and take the control into your hands.
Women who take the charge are the sexiest. There, I said it. Men love when women take charge in the bedroom. Start touching yourself in front of him and the next time you'll notice he was taking notes of your likes and dislikes. Also, taking the charge can be helpful to dig into your 'fifty shades' beginner pack. Command him, set rules like he can't call you the usual names, he can't touch you until you allow him to, and tease him while reminding him you're the one in control.
6. Be confident
It's time to take pride in your choices even if they are inside the bedroom.
There are often times when women refrain from trying new and naughty things because they don't want to shatter the 'good girlfriend' image or they don't want their partner to think it's weird. Whereas the truth is, the best way to connect with each other is to be open and honest with each other. Men want you to be confident about your choices not just in life but also in bed. So don't be ashamed of telling him the next time if you want a vibrator to get off, who knows, this might become one of his favourite things to tease you with that vibrator.  
7. Visuals can help
Having a look at something kinky is as good as doing it.
Give a treat to his eyes because looking at some naughty things can be as good as doing it. How about you two watch hot steamy porn together? Or the better option is how about you give him a tempting show where you will be touching yourself o masturbating? Trust me, this will make him go all mad for you. You can even take him in front of the mirror while you guys are in action. Now if you are imagining it, you know how visuals can help so much to please him.