Virat Kohli is one of the most aggressive and passionate cricket players in the world and sometimes it leads to on-field arguments with other players.
Virat Kohli gives off the impression of being a person with an unending mission. The gifted batter makes sure to silence his opponents with a faultless performance, but he also isn't afraid to hit them hard. He has been involved in many on-field spats with other players, he went into a hard verbal conversation with English batsman, Jonny Bairstow. He tried to get into his mind and disturb his rhythm all together. So today, we will be looking at some of the most famous on-field fights involving Virat Kohli.
Honourable mention – This is the time Australian captain Tim Paine went up against Virat Kohli in the second test between the sides 
Shoving off Mitchell Johnson
Who can forget the verbal battle between Virat Kohli and Mitchell Johnson in the 2014 Border Gavaskar trophy. Mitchell Johnson started the battle by throwing the ball at the leg of Virat Kohli after he had nicely defended it. This instigated the fire within Virat and started a verbal battle with the bowler after he hit him for a four. Johnson also engaged in the verbal fight and he was smashed all over the park after that as Virat completed his well deserved century.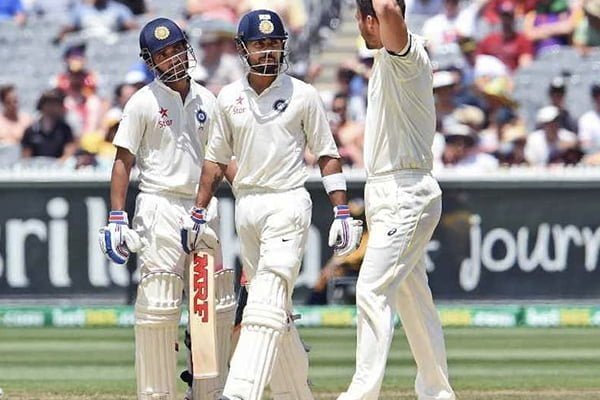 Mitchell Johnson after this battle certainly knew who Virat Kohli was.
2.  2012 Obscene gesture 
On his first tour to Australia, Virat Kohli was an easy target for the Australian crowd who kept taking digs at him and making him feel the pressure. An immature Virat Kohli, kept dealing with it in his own ways and showed different gestures to the crowd. In one of these heated moments, he showed the middle finger to the crowd which drew everyone's attention towards him. The Australian media didn't let him forget this moment for the rest of the tour and it affected his form a little bit as well.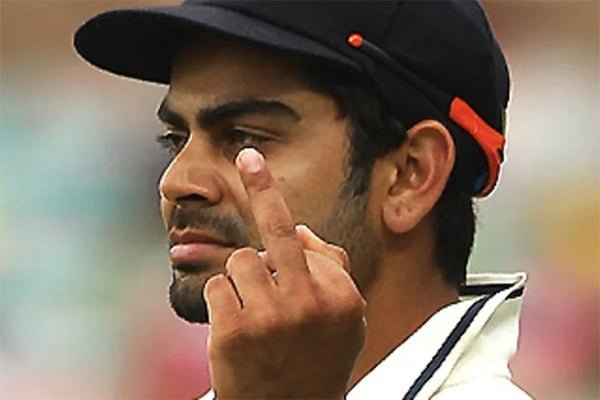 This is a gesture that Virat Kohli regrets till date and thinks that it could have been avoided easily
3. Mumbai Indians fallout
Virat Kohli and engaging with opposition players and fans is a regular thing nowadays. But now, the opposition fans know who Virat is and what he is capable of doing. In 2013, in an IPL game at the Wankhede stadium between Mumbai Indians and Royal Challengers Bangalore, the Mumbai fans started calling him a cheater, since he appealed for an LBW against Mumbai batsman, Ambati Rayudu. After the game, he said that he doesn't know what the problem was with the fans at this venue resulting in outrage among the fans.
Virat Kohli was called a "Cheater" by the Mumbai crowd throughout the game
4. Fighting with the best
James Anderson is one of the best fast bowlers to have ever graced the game of cricket. He is the highest wicket taking fast bowler in the history of test cricket and has over 650 test wickets including 32 five-wicket hauls. But Virat being Virat, put pressure on the great when he was bowling and even had a small verbal battle with him. Virat on the non-striker's end, said to James Anderson that this isn't his backyard anymore. This speaks volumes about the confidence and passion with which Kohli plays the game.
Virat Kohli vs James Anderson has always been a treat to watch as both are the greatest in their fields.
5. Spat with Gautam Gambhir
One of the most infamous incidents of the IPL till this date and the fight which both players wouldn't want to remember till this date. After KKR got Virat Kohli out in an IPL game, Gautam Gambhir said something and that led to fire within him. Kohli and Gambhir started exchanging a few words and were coming close and it would have led to an insane fight if the umpires and the kolkata players didn't separate these two from each other. The stadium felt like they were about to witness a WWE game instead of an IPL match.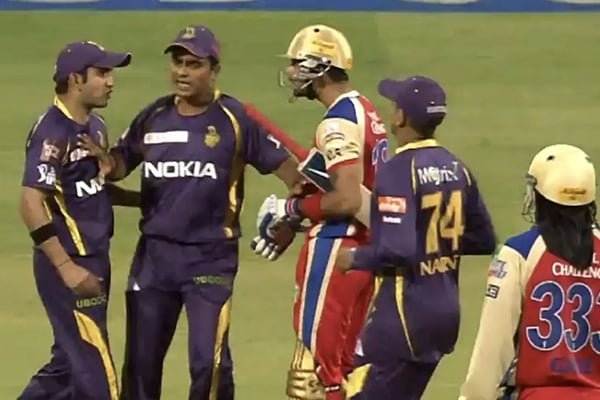 This is one of the greatest heated moments in IPL history and one that will never be forgotten
Kohli has had his fair share of fights and these are the kinds of things that bring out the best in him. These kinds of things, instill a sense of confidence and passion that he has to prove the haters wrong again. He has made it a habit that he will make the opposition batters time at the crease. These were just some of the instances in which Virat Kohli has been involved