Virat Kohli's privacy was breached when someone shot a video of his hotel room in Perth and posted it on social media
On Sunday, while Kohli was busy representing India, a video went viral on social media where the person is showing the insides of Kohli's hotel room in Perth. Sports fans often become a little too passionate and ecstatic when they see their favorite players on or off the field. Virat Kohli, a former captain of the Indian cricket team, was irritated by one such incident in which fans overstepped the mark in the heat of the moment. The person who was staying in the room did not appreciate the film, which was titled "King Kohli's Hotel Room." Team India, which is presently competing in the T20 World Cup in Australia, suspected that a hotel employee who recorded a video of his room and shared it online during their time there in Perth. Kohli condemned this incident as  "absolute invasion" of his privacy after the footage surfaced. On his Instagram page, he posted the video and stated that he is "NOT okay" with it. "I have always loved that fans get very thrilled and delighted when they see their favorite athletes and when they meet them. But this footage right here is revolting, and it's given me really worried feelings about my privacy," he continued. 
This is a glimpse of the video recorded in Virat Kohli's room 
Kohli's wife Anushka Sharma also shared a story on social media discussing this problem and how severe it is. She also thought that one should respect and cherish their right to privacy. She posted on Instagram to say that even she had previously experienced similar situations in which fans had shown no mercy or forgiveness. Anyone who sees this and thinks "celebrity ho! Toh deal karna padega' " is doing herself a terrible disservice and violating their human rights. They should be aware that they are contributing to the issue as well. Everyone benefits from practicing self restraint. Where is the limit if this is occurring in your bedroom, too? Sharma resumed.
This is the story posted by Anushka Sharma follwing her husband's privacy breach
Kohli, the former Indian Cricket Team captain, and the ICC received an apology from the aforementioned hotel, Crown Perth. The hotel issued a statement saying that they sincerely apologize to the offended guest and will keep taking the required efforts to ensure this stays an isolated incident.  The original video had also been taken off from the social networking platform, it added, and the employee who had been involved in the situation had also been fired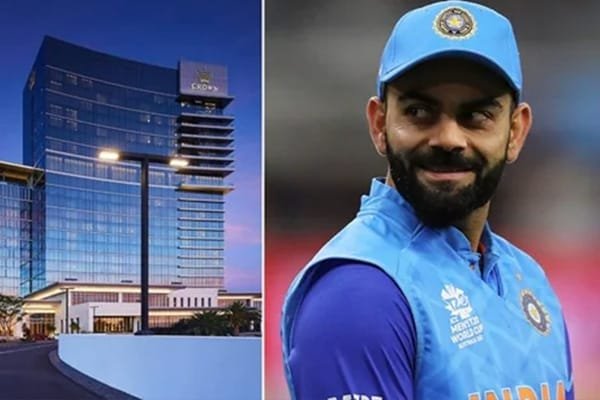 Crown Perth has taken strict action and has also apologized to Kohli for this incident
On the field, Kohli has been in excellent shape and is now leading the T20 World Cup Super 12s in runs scored. He single-handedly gave India the victory over longtime nemesis Pakistan, and he also excelled against the Netherlands. Kohli will only play in the ODIs and Tests against Bangladesh, according to yesterday's squad announcement for the forthcoming tours to New Zealand and Bangladesh. After a busy few months filled with back-to-back T20 matches, Kohli has been handed a well-deserved break. The Indian team's leaders, Rohit Sharma and KL Rahul, were also given rests, giving the young players another chance to establish themselves. 
India's ODI squad vs Bangladesh : –
Rohit Sharma (captain), KL Rahul (vice-captain), Virat Kohli, Shikhar Dhawan, Rishabh Pant, Ishan Kishan, Rajat Patidar, Rahul Tripathi, Ravindra Jadeja (subject to fitness), Axar Patel, Washington Sundar, Mohammed Shami, Mohammed Siraj, Yash Dayal, Deepak Chahar, Shardul Thakur
India's Test Squad vs Bangladesh
Rohit Sharma (captain), KL Rahul (vice-captain), Shubman Gill, Cheteshwar Pujara, Rishabh Pant, Virat Kohli, Shreyas Iyer, KS Bharat, R Ashwin, Ravindra Jadeja, Axar Patel, Kuldeep Yadav, Mohammed Shami, Mohammed Siraj, Umesh Yadav, Shardul Thakur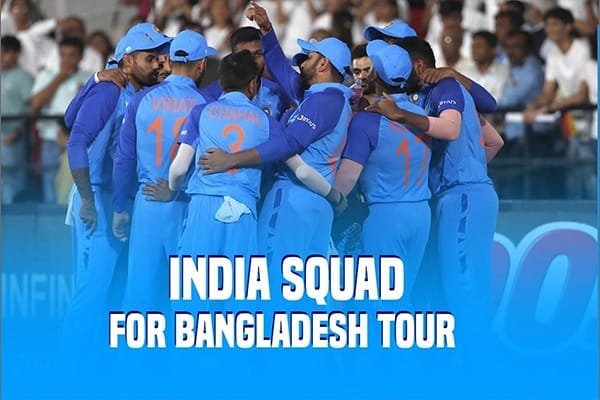 There are some exclusions in the squad and the selectors have told the other youngsters to work harder
In Chakda Xpress, Anushka Sharma will be featured in the role of Indian cricket team legend Jhulan Goswami. In Kolkata, she recently started filming for the biopic. As the schedule came to a close, the actress posted a number of images from her trip to Kolkata, including pictures of the delicious cuisine she consumed while visiting Belur Math and Kalighat.b