The year is about to end, and you might be trying to decide what to keep and what to discard. Well, there are some shoes you shouldn't even think about taking into the next year. Let's take a look at them.
We're as excited to ring in the new year as you are – probably more since a new year means new fashion purchases! There are many things we're leaving behind in 2022 and we're going to be talking about some of them today. We have rounded up 4 footwears from 2022 that we're not going to be taking with us in the coming year. So read on to find out which ones didn't make the cut.
Prada, Double Wheel nylon gabardine sneakers
Prada, Double Wheel Nylon Garbadine Sneakers
The first on this list are these Double Wheel sneakers from Prada. Prada describes them on their website as 'innovative design meeting a retro soul' but to be honest, there is nothing innovative about the design – they look just like any other chunky sneaker available out there in the market. They have a leather lining, flat cotton laces, a 50 mm rubber sole, and a removable leather-covered insole inside. The simple and minimalistic look is a redeeming point since this offers a lot of styling options. But, when purchasing shoes, one focuses on comfort – which is not present here at all! Get some gel liners to wear these. They're made of nylon and there is no breaking in nylon! This means that the nylon won't open up anymore no matter how much 'breaking in' you do. Since these won't open up or soften up any more, get a size that works for you perfectly otherwise get ready for blister city!
Saint Laurent, Opyum 85 patent-leather sandals
Saint Laurent, Opyum 85 Patent-Leather Sandals
Saint Laurent does deserve credit for coming up with some really gorgeous footwear, but this one seems to be a great miss. The Opyum sandals feature sleek straps and minimal detailing to keep the focus on the logo-lettered heels and the square toes are there as a subtle nod to the 90's. The sandals are fabulous, no doubt, but they're absolutely un-wearable. You cannot go out clubbing in them, or to any other event where walking is required because these sandals are impossible to walk in. The fit is small to size, so you would need to get a half-size larger than normal if you want to wear them. But given the amount of pain these sandals give to the toes – especially the pinkie toe – we would recommend against getting them.
Christian Louboutin, So Kates
Christian Loubotin, So Kates
The Christian Louboutin So Kates are pretty popular. So we're sure you might be confused about why they're here. But they deserve to be left behind this year and let us tell you why. The sandals are sophisticated and elegant, but, they're highly uncomfortable to wear. The shape of the sandals has no cut that can will let your feet breathe and it also restricts movement. The silhouette is good, but there is no point if the shoe is so uncomfortable. The sandals are extremely awful and uncomfortable to walk in, but if you like the look and don't wear them somewhere that requires a lot of walking, you can get them.
Gucci, Leather thong sandal with Double G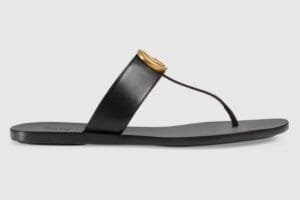 Gucci, Leather Thong Sandal With Double G
The last on this list is Gucci. These sandals from Gucci are made out of leather and have a simple look about them and are perfect for daily wear. But we would advise against it as these are also highly uncomfortable to walk in. There is no cushioning on the soles which makes it feel like you're walking on wood. The sandals are also very slippery and it hurts to walk long distances. The material quality is yet another negative point here since it chips very easily. Our advice? Don't even bother, but if you must get them, don't forget to massage them after!