After making your hearts beat faster with their beauty and the feet tapping roles they play; the duo is ready to sizzle on the FHM Digital Cover for the May issue. And, do they look good? Oh boy, the duo is oozing hotness on the cover while making sure that everyone falls in love with their sisterhood.
It certainly looks like good things come in twos, just like our Digital Cover Stars, Neha and Aisha Sharma, who are casting a spell of enchantment, beauty and brilliance. Evidence glamour taking the center stage as the duo is bringing their A-fashion-game. We challenge you to take your eyes off this spectacular duo. Did you lose? We did too! From owning the spotlight, to taking on the Hindi cinema world, these sisters have been a solid support to each other. Hereafter, it's needless to say, that the sibling duo has dazzled us with their charm! Take the furore spurred by the sisters, who don't spare an ounce of glamour and are a perfect sight for sore eyes. We couldn't stop ourselves from having a long conversation with them, and spoiler alert: it was so intriguing. Read ahead and have a look at the lively conversation we had with them.
Neha Sharma & Aisha Sharma
How do you describe yourselves in 5 words?
Funny, fashionable, quirky, stylish, inseparable for sure, and dog moms.
How did you both develop your interests in acting as a career?
Neha – I mean, it's just been luck for me, it just happened and from there on, obviously after my first movie I was like ya I got 2 movies.
Aisha – For me, I just wanted to do something creative, not necessarily acting, all the creative aspects of life really interest me. And, well I am an engineer, this is something that no one knows about, but when I was in biotech, I didn't really want to be in a 9-5 job, then I started modeling and then it kind of led to acting.
How close are you both to each other?
Aisha – So, something that we are really asked a lot is, "Is there a sibling rivalry behind the closed doors", and the honest answer is NO. And I think we're not like sisters, we're like teammates who are always rooting for each other. So, I think that's how we would like to describe our bond.
Neha – This is how close we are!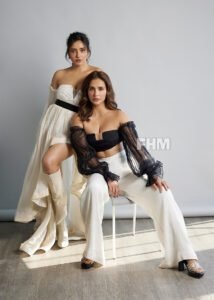 Share your (both) favorite childhood memory.
Neha – There is not one memory, I think childhood is the most amazing time in your life. So, I think everything is really cherished by us now when we are all grown-up and we look back how carefree you could be as a child. There was not one stress, there was not one worry, it was beautiful, and I'm glad that we got that upbringing.
Aisha – And, I think just to be carefree, and not having the care of the world.
Neha – We were always that country girls, who were just living in the middle of nowhere and it was just beautiful.
Neha: How have your experiences with your sister Aisha influenced your personality today?
Neha – Technically, learned a lot
Aisha – Can I answer this one. I have turned her into a splurger, Neha is someone, no one would believe this who doesn't splurge on anything and now I push Neha to treat yourself, and splurge on things. And, Neha is someone who's very calculative about things but she has learnt to kind of splurge on things now. And I think that's a big influence of me.
Neha – Still I think it's a superficial answer. I think she has changed my life and added a lot of discipline. Because, when I'm not working, I'm super lazy. But Aisha is someone who wakes up early, does journaling, eats clean. So, I feel I'm the bad influence, when it comes to eating a lot of junk. So, I feel that's a good thing which she does for me.
How was your experience working with FHM?
Neha – Fab! I think I love working with Aisha, and when a magazine gets us both together, we get super excited. And I'm really looking forward to our images, because I feel like some looks were really amazing and "black and white" could be a stunning one, right?
Aisha – Right, I think it's always nice to work as a duo together and it kinds of bring the best in each other!
Rapid Fire Segment
Neha – 3 qualities you look for in the man when it comes to falling in love. 
Honesty in a relationship, respect and mutual understanding. Basically, communication is the key. There is a long list, but let's stick to communication, understanding and honesty.
Aisha – What's the wildest thing you've ever done to gain someone's attention?
Honestly, I don't have to fish for attention
Neha – Do you prefer romantic comedies or action films starring male leads?
Currently, rom-coms because I feel that there's enough stress in the world, we need something lighter that makes us happy, as when we go home and sleep stress-free.
Aisha – Have you ever been in a situationship?
I am a person who doesn't settles in life at any point. So, I'm not a person who would ever be in a situationship.
Neha – What's the way to your heart for a man who wants to impress you?
Not cooking, because I can cook myself. I just feel honesty, I look for someone who's honest and genuine and not arrogant. Someone who's very down to earth!
Aisha – Your favourite co-star?
I really like Manoj Bajpayee, we have a very short scene together, but that's my favourite co-actor.
Neha – What's the one gesture of a man that turns you on?
When I see someone is being really kind, that's the biggest turn-on. It is really impresses you when someone is really kind to you and is nice to people from the heart, and not pretending to be!
Aisha – Share one of the silliest excuses you ever used to get out of a date?
My bed time is 8pm, every time I don't want to go, and someone asks me for the dinner. I say my bedtime is 8pm I am sorry I need to get in bed by 8pm and I have to get up by 5am.
Neha – One thing that makes you feel sexy?
I think passion because when I'm passionate about my work, I hope so that's attractive.
Neha Sharma
Hi Neha! We're glad to have you on board. First things first, tell us about your journey as an actress. How did you get your first break in the industry?
It's been wonderful, and I couldn't have imagined any other career option for me. Now, when I look back, I feel everything has been wonderful, and I am grateful every day for going to work where I actually enjoy working. So, I think it is a blessing!
For the first break, I think my pictures worked for me. As I had this not-so-cool portfolio because I was doing some modelling work in college and the makers loved the pictures. They called me over, there was not any hectic audition, but we chatted. And they tapped the whole thing over as they wanted someone who was like me for that role, and I just got lucky with that, I guess.
You've been in this showbiz for quite a long time now. What has been your biggest challenge while working on a particular project? How did you overcome it?
I think every project comes with its own set of issues, problems, and things that they need you to do for a particular role. Every film and every role is very different, so for me, the one thing that I have learnt is you have to take every opportunity as a different one and treat it differently. No two roles, no two films, or no two experiences will be the same, and everything teaches you something. So, if you take the good out of them, there is something you'll learn and grow as an individual, and that's how I take roles, films, and life in general.
What kind of roles do you look forward to portraying in the near future?
The idea is to do different kinds of roles, not to be repetitive and not to do similar kinds of work.
Although, I love doing comedy and light-hearted films because a good laugh is something we all enjoy and I love watching comedies personally so that's my personal favourite genre. But I do love doing different kinds of things this year I have done one comedy, thriller, and drama each. So, the idea is to keep doing different things so that it challenges me as an actress.
How important do you think it is to have formal acting training before pursuing a career in acting?
I feel like any kind of training before any work you do is always really helpful because it teaches you a lot about the craft. And I'm sure that people who have done professional acting courses always come with a lot of experience when they come into the acting industry. For me, I was thrown into the first film without any prep technically and post that I did start my prep. Whether it was sitting with acting coaches or it was learning dance forms. Earlier, I felt like I was not too prepared, so I did it backwards like I first did my film, and then I got into it because I think it was very important. But yes, if I could, I would have done a professional acting course and then come into the film line, so I think training is important. But you also learn at work because if you're working constantly, you keep learning every day at work. So, I think it could be either way for people.
I think it would be great to have formal training whether acting is concerned or any other job because that makes you more skilled. So, if it would be a career choice that I would have chosen for myself, then I would have definitely prepped. Gone to an acting school, would have got a nice degree, and would have done all of it.
Can you share some insights into your experience of working in the film industry, especially as a woman?
Working in the film industry has taught me a lot every film has something that it teaches you, and with every film, you learn and grow. Being a woman, I feel sometimes it can be challenging because as they said it's a man's world. When I began, films were mostly written for men, and women had smaller parts to play in them. But it's slowly changing, and women do get major roles in films, and there are films and OTT stuff which are being written for women. So, I feel it's changing and definitely getting better.
We have seen you nailing every avatar, be it glamorous or classy Indian! If we ask you, what would you choose as your favourite between the two, what would it be?
Being a Hindi film actor, I feel trying to be glamorous on camera, whether it is the glamourous avatar or the classy Indian, both are equally important because I am a Hindi film actress. So, it's very important to do both well because there can be roles which are very Indian and there can be roles which are very contemporary/ today's girl. So, you'll have to try and be very good at both. I think "Jogira Sara Ra Ra" which is soon going to be released, has me as a middle-class UP girl. So, I got a play a very cool Indian yet contemporary Indian girl, and usually, if it's like a city girl in "Illegal", then I get to play the Western person. And of course, glamourous would be like what I and Aisha did in FHM, it's always so fun playing dress-up, and looking glamourous. So, thank you FHM for that!
How do you manage to look so radiant all the time? Tell us about your fitness and beauty mantra.
I don't think I stay radiant at all the time. Though I try to do the best that I can. Though, there are some days when I don't have a great hair day like everybody else, and some acne before periods. But I think I would say that I am moderately doing the best that I can. The key to it is, having a positive and healthy mindset, or positively looking at things. And that really helps your mindset, and your well-being a lot, and of course, I do go to the gym a lot. I feel that going to the gym or doing any kind of sport or activity makes you feel much better. It releases the happy hormones as they say it, so I feel like, yes working out is one key to looking good and feeling good all the time.
My fitness and beauty mantra would be not having excuses and trying to work on myself every day. Sometimes it can be boring, frustrating when you don't see the results. But the only key is consistency, that's the one piece of advice I give everybody we need to stay consistent, whether it's going to the gym or any kind of sport or just staying active. According to me, beauty and fitness are very interrelated or they depend on each other a lot. Because if you are mentally feeling good, your body is feeling fit, you tend to look more radiant, and you tend to have some amount of glow. Of course, eating good home-cooked meals, instead of Swiggy and Zomato ordering food from outside, I think that really helps. As you know exactly what you're consuming, and I feel like the way you look is a lot dependent on the way you eat. So, the home-cooked meal is what I'll highly recommend as knowing what you're eating is very important to stay healthy and look good.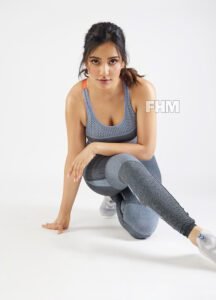 How do you stay motivated and focused during long shoots and busy schedules?
Well, I feel that when you're working 14-15 hours a day. Sometimes you tend to feel lazy, and maybe you'll not be able to push to the gym on some days, and that's fine. Because then your body is telling you it needs some rest, and you need to listen to your body. But I do feel even if you can get a walk for 15-30 minutes, whatever fits in on a very hectic day one must do that, and you tend to feel better after a little mobility/ movement on a hectic day. I would love to mention one thing that always inspires me is my sister, who is so disciplined, and she's someone who motivates everybody in our family because she is always striving for something better. She's very focused, hard-working, always working out and eating clean. She's actually the push that I have in my life. I believe that everyone should try, and find a person in their group or circle who motivates them, pushes them and inspires them, as that helps a lot!
Last but certainly not least. What can your fans look forward to seeing from you in the near future?
I am looking forward to my next release- "Jogira Sara Ra Ra" which is releasing on the 26th of May. Then I am looking forward to finishing the Season 3 of "Illegal". I am super excited about that, and a BBC – Applause show "35 days," which I'm again looking forward to, so as of now it's this.
Aisha Sharma
Hello Beautiful! Starting from where it all began, tell us about the realization when you thought of picking modelling and later acting as your career. Who was your inspiration?
Modelling happened to me in my Delhi days whilst I was doing my engineering. I was just doing it as a fun side job and never took things too seriously. One thing led to another, and whilst I was modelling, I started auditioning for movie roles and made the progression. It happened when I made the move from Delhi to Bombay and decided to consciously choose brands and projects and give them a full-time shot.
To what extent has your background defined in the Bollywood?
I don't think your background can ever define you. It can only define you if you let it define you. So, I refuse to let it define me, as I am constantly evolving as a human.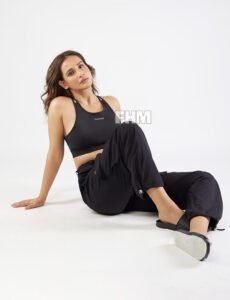 If not acting, what you would be doing right now?
I am also a BTech engineer so I would be working for something in that line. Just kidding, a 9-5 job isn't for me. If not acting, I would be pursuing writing.
You look gorgeous at any given time, what is your secret to being so fit?
The secret to looking gorgeous is being effortlessly comfortable in my skin and unapologetically being myself which I always strive to do. And there is only one secret to being so fit, and that is consistency. One has to consistently show up every day for oneself. And secondly, eating rightly, sleeping well and hydrating a lot is essential!
If you were given a chance to work with an actor and a director from Bollywood, who would it be and why?
The director would be Vikramaditya Motwane. And for actors, there are way too many to the list as such fabulous ones are there.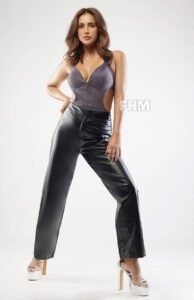 If someone falls head over heels for you, what should he do to impress you?
One needs to just come and approach me with honesty. Most of them are intimidated and never actually make a genuine effort to come and talk. I love genuineness and honesty, so one must have it to impress me.
Your sister Neha Sharma has been in the industry too. Has there been a time when you have compared yourself with her?
People do tend to compare us. But personally, I never do. We are both very different individuals and personalities.
What is the earliest and fondest memory you have of watching a film?
Pretty Woman is what comes to my mind at the moment that made me believe in fairy tales. I saw it much later & I was actually made to see this cult classic. At that moment, I was so smitten with Julia Robert and her character as I have a thing for romantic movies from the very beginning.
What made you pick Satyamev Jayate for your debut film in Bollywood?
I thought commercial success is very important for me, so I chose a film that I thought would be commercially successful. But I think differently now.