The India vs Pakistan rivalry is set to be continued as the teams will face off in the Asia Cup starting next month in the UAE. 
UAE will host the Asia Cup 2022 from August 27 to September 11. India has won seven titles, making them the most successful team in the competition. The last time they won it was in the UAE in 2018 with Rohit Sharma as captain. Six teams will compete in this year's Asia Cup, which will include a total of 13 matches, with the championship game taking place on September 11. The 15th edition was originally scheduled to take place in Sri Lanka in 2020, however it was postponed because of COVID. India may send their main squad to the competition given that the T20 World Cup is only three months away, and this competition would aid them in selecting their ideal starting lineup. Let's take a look at how we believe India should line up against Pakistan in their opening Asia Cup match.
The last time these two heavyweight giants met, it was a one sided affair that Pakistan won
Openers : KL Rahul (VC) and Rohit Sharma (C)
In a multi-nation competition, Rohit Sharma would be captaining India permanently for the first time. He would be hopeful that the squad succeeds and that he can get back to being himself. More often than not, he has been scoring runs around the 30-figure range but hasn't been able to turn such cameos into significant knocks for his team. On the other hand, KL Rahul hasn't played a legitimate game since the IPL, which was over two months ago. Due to Covid, he has missed many series and is expected to miss yet another. The selectors, though, will be hopeful that he is on the flight to the UAE and would be the first pick in addition to Rohit Sharma. Ishan Kishan has played well for the squad, but it is doubtful that the management will pick him above KL Rahul.
Fans would be hoping that this pair can score valuable runs at the top and counter Shaheen Afridi well, who is their key bowler
Middle Order : Virat Kohli, Suryakumar Yadav, Rishabh Pant (WK) and Hardik Pandya
Virat Kohli was chosen without any doubt, yet because like the high standards he has established, even a strong performance is seen as a failure. He hasn't been hitting well lately, and his season-long statistics bear this out. It is doubtful that the management will choose to bench him, and this may be the tournament when he finds the form that India is hoping for. With his stunning century against England earlier this month, Suryakumar Yadav has cemented his place in the team as a regular member. He would be aiming to contribute some priceless innings for his team and lead them to victory once more. Rishabh Pant possesses the technical skills to turn the course of the game and may be utilized as a floater in this side. The recent exploits of veteran Dinesh Karthik may cause some to question his selection for the team. However, because he is a left-handed batsman, he may have the advantage against Karthik. He also brings a unique character to the team and is adaptable because he understands how to take the game to the opponent. The in-form Hardik Pandya would complete this middle order since he has taken on more responsibility than ever and has been playing effectively with both the bat and the ball ever since helping Gujrat win the IPL. India is heavily reliant on Hardik Pandya and would want to protect him from injury as well at the same time.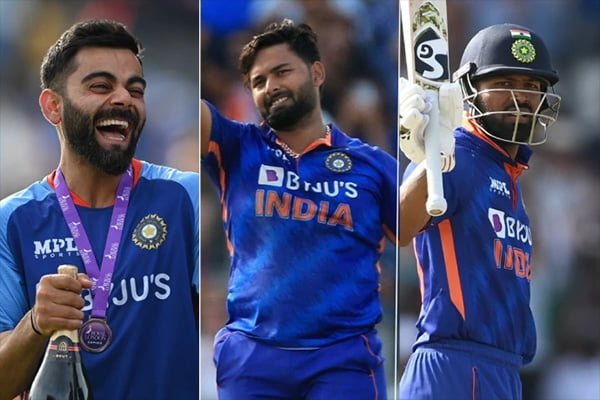 Indian middle order except Virat Kohli has been firing a lot of runs and all eyes will be on them to score crucial runs in the tournament
Lower Order : Ravindra Jadeja and Harshal Patel
One of the most important players in this Indian team is Ravindra Jadeja, who is effective with the bat, the ball, and the field. He is one of the finest fielders in the world, and during the past year, he has demonstrated a significant improvement in his batting skills. He is a fantastic choice on a track that spins since he uses his pace effectively, especially when going up against right-handers. Harshal Patel, one of India's most improved cricketers in recent years, has often shown that he can be a highly astute player in this format. Patel made an immediate impact after making his international debut in November of last year, just after the T20 World Cup, having earned the Purple Cap in the IPL 2021. His lower order contributions with the bat, can also be effective for the team in some matches.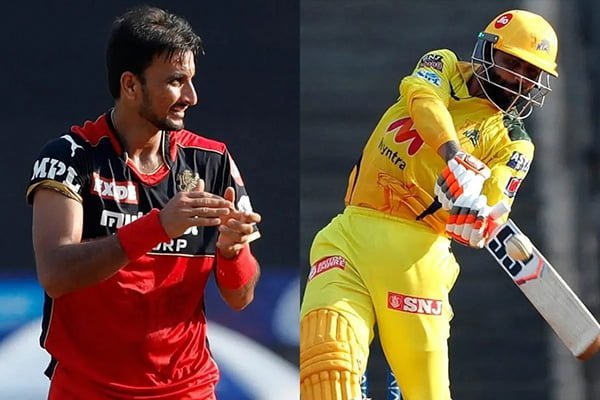 Jadeja's batting and Harshal's bowling has been one of the key reasons for India'a success in the T20Is and it is expected to continue going into the tournament
Bowlers : Bhuvneshwar Kumar, Jasprit Bumrah and Yuzvendra Chahal
Bhuvneshwar Kumar seemed to be out of contention for the upcoming T20 World Cup, but after a terrific IPL with the Sunrisers Hyderabad, the fast bowler has chipped in with outstanding performances. In the T20I series against South Africa, he took 6 wickets at an economy rate of just 6.07, and he added another 6 during the tour to Ireland and England. He has been economical in the power play overs, reviving memories of his magnificent swing bowling from earlier in his career. He is demonstrating that he is the finest new ball bowler in the world during this time by generating vital breakthroughs as well. There is no explanation as to why Bumrah is in this playing XI, his performances speak enough about his prowess. One thing needed to be mindful is that Jasprit Bumrah had not played enough cricket leading into the last T20 World Cup and the Indian side will not want to repeat that mistake. The shrewd Yuzvendra Chahal, who is turning in good performances in white-ball cricket, completes this starting XI. He is making the most of his time in the Indian camp and has all but guaranteed himself a spot in the Indian World Cup team. His slow bowling has been challenging batters, and his variations have also been spot-on.
These three have a big task on their hands as they have to take major chunk of the opposition wickets and have the ability to do so as well
This will be India's finest starting lineup for the Asia Cup this year, and we can anticipate seeing them line up like this against Pakistan next month. There are other outstanding players who may also argue for their inclusion in the starting lineup. Deepak Hooda, Dinesh Karthik, Axar Patel, Avesh Khan, Prasidh Krishna, Kuldeep Yadav, and Ishan Kishan might also be selected for the squad but may have a chance later in the competition.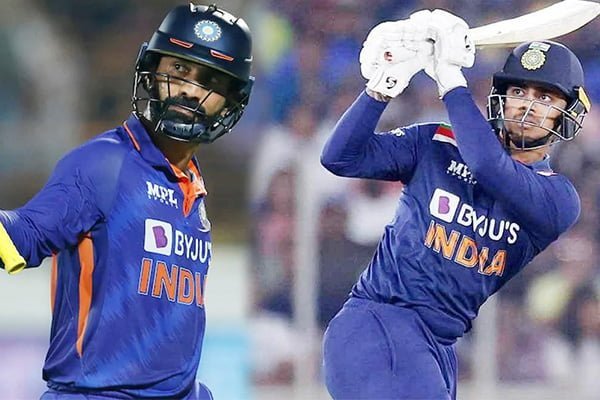 Ishan Kishan and Dinesh Karthik are also key players and shows how good Indian bench strength actually is