Indian Cricket Team Selectors have announced the squad for the T20I World Cup today and let's look at the players who have made it to the squad.
Team India, who had a disappointing performance at the 2022 Asia Cup, were still unsure about their team for this year's T20 World Cup. The Men in Blue were struggling to find the proper people and roles for the major ICC tournament after experimenting a lot over the past year or so. Let's look at the 15 players who will get onto the plane for this year's T20I World Cup in Australia.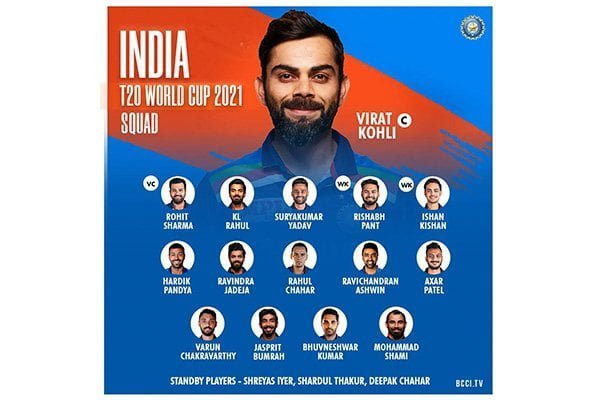 This was India's 15-man squad for the last T20I World Cup in UAE 
Openers : Rohit Sharma (C) and KL Rahul (VC)
Rohit Sharma will be the nation's World Cup captain for the first time. He would want the group to achieve so he can return to being himself. He has frequently scored runs in the 30-figure region, but if he continues to bat after the eighth over and has settled in properly, the opposition is in for pure mayhem. KL Rahul, on the other hand, didn't appear to be himself throughout the Asia Cup, with the exception of the one inning in the final game against Afghanistan. He has made the team because of his great prior performances for India and his role as vice-captain, although his inclusion in the starting XI is debatable. He must perform well against Australia and South Africa in order to prove that he still is one of the best T20I batsmen for India. His form is pivotal for the team and himself as India can opt for the likes of Deepak Hooda as well if KL Rahul doesn't find his touch fast. 
Rohit-Rahul have had great opening partnerships and would look to add many more in the upcoming years
Middle Order Batsman – Virat Kohli, Suryakumar Yadav,  Deepak Hooda
India's middle order has finally stabilized following years of inconsistent play and reliance on the top order for runs. Suryakumar Yadav's entrance into the international scene was crucial, and he has proven his mettle by constantly scoring runs and leading the team to new heights. Virat Kohli's performance in the Asia Cup demonstrated how much the break from cricket had benefited him mentally. At the competition, he scored two fifties and finally got his much awaited 71st international hundred. He came within 5 runs of winning the Asia Cup's highest run scorer award, but his five-game average of 92 speaks much about his skill. Suryakumar also had a respectable performance, scoring 135 runs at an average of 34.50, including a magnificent 68* against Hong Kong, in five games. Another excellent addition to the team is Deepak Hooda, who is skilled in practically every facet of the game. Although batting has always been his forte, his sporadic bowling may possibly have contributed to his selection to the team. We have seen in his T20I career thus far that he is a highly adaptable player and can bat at any position. So having such a player in their ranks will be a boost for the Indian side.
Indian fans would be hoping that both Suryakumar Yadav and Virat Kohli can continue this excellent form
Wicketkeepers – Rishabh Pant, Dinesh Karthik
Rishabh Pant and Dinesh Karthik have had their fair share of opportunities in the playing XI over the past year. Both of them have great skills and technical abilities to win games for the country but the issue is that both of them can't be started together in a game. It would hamper the team combination a lot if both Rishabh and Karthik play together. Therefore, only one of them can make it to the starting XI. Rishabh Pant may be used as a floater in this side and has the technical ability to alter the outcome of the match. Some people could dispute Dinesh Karthik's selection for the team in light of his previous accomplishments. But since Rishabh Pant is left-handed, he could have an advantage over Karthik. He also adds a distinct personality to the squad and is versatile since he knows how to put the opponent under pressure. There is no doubt that these two players wouldn't have not been picked in the squad, but the only question is who will be starting for Team India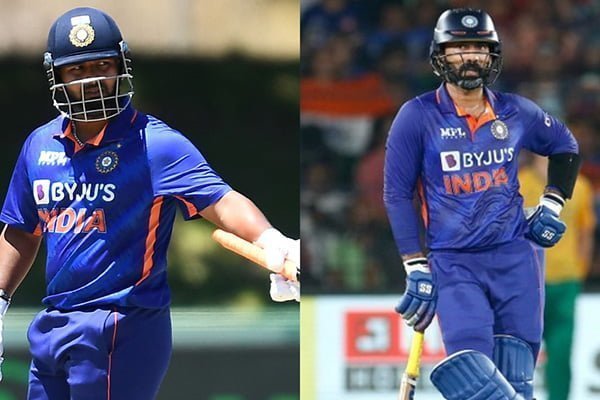 Who do you think India would go with : Dinesh Karthik or Rishabh Pant?
All Rounders – Hardik Pandya and Axar Patel
 Since Hardik Pandya has taken on more responsibility than ever and has been playing efficiently with both the bat and the ball ever since assisting Gujrat in winning the IPL, Hardik Pandya is the foundation of this Indian squad. India relies heavily on Hardik Pandya, so it seems logical that they would want to maintain his fitness at the same time. At the Asia Cup, Hardik was instrumental in India's triumph over Pakistan, but he struggled to maintain that level of performance in later games. Axar Patel now gets a spot in the team thanks to Ravindra Jadeja's knee injury. The good news is that Axar has been utilized and tested on recent tours when Jadeja had been rested. Axar bowls a tight line, just like Jadeja, and he has unquestionably become better at hitting the ball over the last few series. Axar may be included in the starting lineup since he complements the team well and, on his day, is deadly with both bat and ball.
India would be hoping that Axar Patel can have the same impact as Ravindra Jadeja during the World Cup
Spin Bowlers :  Yuzvendra Chahal and Ravichandran Ashwin 
In a country like Australia, where there are large grounds and slow deliveries may result in wickets, having alternatives for spin would be crucial. Although India has several good spinners, Yuzvendra Chahal and Ravichandran Ashwin are expected to be chosen because of their experience. Their shrewd bowling and ability to influence the batsman's thinking have undoubtedly played a significant role in India's success in the middle overs. Chahal may be employed by Rohit in the final overs as well since he can induce huge shots from the batsmen, which would lead to their dismissal. Given his ability to bowl to left-handers with strength, Ashwin's inclusion won't come as a surprise. His occasional batting can also aid India in maintaining their all-out batting strategy that they have used since the T20I World Cup last year.
Jadeja's knee injury has put a lot of pressure on the Indian spinners to perform and give less runs just like Jadeja did 
Fast Bowlers – Jasprit Bumrah, Harshal Patel, Bhuvneshwar Kumar, Arshdeep Singh
Jasprit Bumrah and Harshal Patel, the right-arm pace combo that missed the 2022 Asia Cup in the UAE due to injury, are all set to play in India's T20 World Cup campaign in October-November. They both play a crucial role in this team and have won matches for India in the past. The finest all-format bowler in the world right now is Bumrah, but Harshal Patel has demonstrated his talent over the past year or so with his precise lines and middle over success, which aids India in regularly taking wickets. Whenever Bumrah is used by his captain, he is deadly, capable of taking wickets for his team, and has a T20I economy of less than 7. Their physical fitness was essential, and their involvement on the side would improve the position. They'll join the duo of Bhuvneshwar Kumar and Arshdeep Singh who had a rather iffy Asia Cup. Even though Bhuvneshwar Kumar finished the tournament as the highest wicket taker but his penultimate over mistakes that happened in the games against Srilanka and Pakistan would still be at the back of their head. Bumrah, Harshal, and Bhuvneshwar are safe bets, while teenager Arshdeep Singh is also in position to go to Australia thanks to his outstanding bowling at the end of the innings. This quartet of Bumrah, Bhuvi, Arshdeep, and Harshal is unlikely to be altered. Going with just 3 pacers would have been the same error that India committed in the Asia Cup. In a nation like Australia, the squad composition must have at the very least have five fast bowlers which India does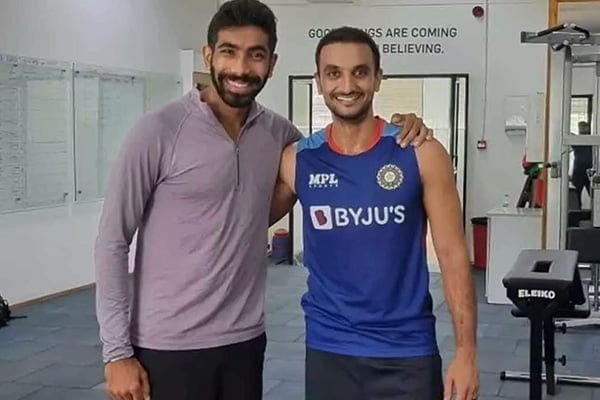 The return of Bumrah and Harshal Patel has surely strenghned the side massively 
Reserves – Mohammad Shami Shreyas Iyer, Deepak Chahar and Ravi Bishnoi
Additionally, the reserves should be occupied with individuals who can serve as straight substitutes for the squad members while also taking the size of the field and the present team composition into consideration. These three players, in our opinion, are the finest option and, if they are in good form, may easily replace their counterparts in the team. Due to the high amount of injuries that can occur during these competitions, the squad's depth could become extremely important at any point throughout the competition
India have gone for two pacers in the reserves as well which is a great idea considering the injury situation of our fast bowlers in the past
On Monday, the much anticipated T20 World Cup 2022 team for India was revealed by the Board of Control for Cricket in India (BCCI). It has been learnt that the committee of selectors met in the afternoon to decide on the final fifteen for the massive ICC competition, which will begin on October 16 in Australia. The management of the Indian team has been putting its brilliant players, who come from a big pool, to the test at various positions ever since Rohit Sharma and Rahul Dravid took over. The T20 World Cup Down Under, according to the Indian captain, is their ultimate ambition, and as a result, they are exploring all options to have the greatest resources available across departments. It remains to be seen what players the Indian selectors have selected and do they have any surprises in store for the fans and other teams.