Bollywood actor Ashish Vidyarthi marries Entrepreneur Rupali Barua at the age of 60. Read out to know more.
We all must hear the term "Love has no age" and time 'n' again many celebs proved that you will find your true love unexpectedly at any age. Once again we see the example of this thing as veteran actor Ashish Vidyarthi married Rupali Barua on Thursday. The couple had an intimate court marriage in the presence of close family and friends in Kolkata. 
Picture of their intimate wedding has surfaced all over the internet and shocked everyone. The newly married couple looked cute together and so much in love as they danced together. Rupali and Ashish didn't post any photos of their wedding on their social media account yet.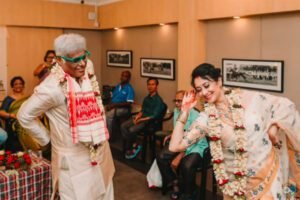 One of their family members or friend posted a picture of their intimate wedding. This news shocked many people but Ashish's fans and friends were happy with this news and congratulated the couple and give them good wishes. In the photo, the couple was seen dressed up in matching off-white outfits. Rupali Barua wore a traditional Assamese off-white silk saree that featured a peacock design and has a wide golden border. She styled her saree with gold jewellery. In another photo, the couple were dancing with each other. And in a few other photos, the couple were posing with everyone or their close ones.
Who is Rupali Barua?
Rupali Barua is a 50-year-old businesswoman. She has a handloom fashion store in Kolkata. Rupali hails from Guwahati, Assam. Unlike, Ashish Vidyarthi, she's not very active on social media.
The actor told the media, that he met the Rupali sometime ago and decided to take their relationship forward. On the other hand, during her interview, she was asked what drew her towards Ashish. He is famous in the industry for his dark & complex roles. She said, "He's such a beautiful person and a great soul to be with".
The actor got married for the second time. He was first married to Rajoshi aka Piloo Vidyarthi, and together they had a son Arth Vidyarthi. He had 23 years of a long marriage. 
The actor's ex-wife Piloo Vidyarthi is also an actor and singer. She revealed that Ashish and her parted ways in 2021. They filed for divorce in October last year. They ended things on a good note and will always remain friends.
Today, she shared a cryptic post which got a lot of attention. She also shared a photo of herself and wrote a caption about her puzzled life.
Veteran actor Ashish Vidyarthi is a versatile actor who was working in the entertainment industry since 1991. He won a National award in 1994 for the Drohkaal movie. During his career span, he worked in several films across languages. He has done many remarkable films including Kaho na pyaar hai.