Filmmaker Nandita Das's directorial Zwigato is a perfect portrayal of post-pandemic-induced unemployment.
Are you planning to watch a movie this weekend with your family? Then, the Kapil Sharma starrer Zwigato will be the best choice for you. As we all agree that food delivery riders have become an intrinsic part of our lives. We give them tips and ratings. Time and again, because of some reason people started boycotting food apps. But we don't know what goes behind the scenes, their struggles, and their hardships. 
Kapil's acting is purely a blend of honesty with a hint of humour
Filmmaker and co-writer Nandita Das Zwigato is a close-to-reality tale that will give you an insight into their lives through Manas Mahto (Kapil Sharma) and Pratima (Shahana Goswami). Filmmaker Nandita Das picks the most underrated and sensitive subject and weaves it into a compelling story. It also sensibly touches the gender and class discrimination in our society and post-pandemic effects on employment. This movie also stars Sayani Gupta, Prajwal Sahoo, and Yuvika Brahma in significant roles and is produced by Sameer Nair, Nandita Das and Deepak Segal under the banner of Applause entertainment and Nandita Das initiatives. This movie was released today on 17 March.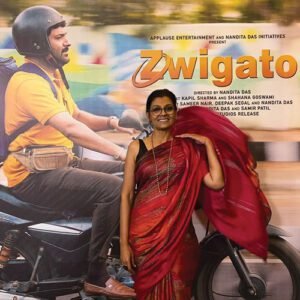 Filmmaker Nandita Das brilliantly depicts the commoners' world
The story is set in Bhubaneshwar, Odisha and explores the life of Manas Mahto, who loses his job as a floor manager at a watch factory and had to sit at home for 8 months as jobless as a result of the post-pandemic effect on employment. Being the only breadwinner in the family of 5 – wife Pratima, two children Kartik and Purbi and a bed-ridden ailing mother, he takes a gig and started working as a food delivery guy for a food delivery app. Later, his daily life hustle starts running behind ratings, and incentives and hoping to achieve the daily target of 10 deliveries.
After seeing his hustles, his wife Pratima started working to support her family despite her husband's disapproval. Manas then manoeuvres his way to understand how these companies exploit their employees and their tricks of the trade. As he laments "Woh mazdoor hai isiliye mazboor hai" correcting it he said, "woh mazboor hai isiliye mazdoor hai". 
There is also a short yet powerful role of Sayani Gupta, who sits in a respectable position in the Zwigato company. She said to Manas that there is a 2.4 billion population in our country and daily there are 93k applications for the position of peons out of several from PhD degree holders. He should have been lucky to have a flexible job where he can pick the shift or wish to work offline or online as they please.
Shahana Goswami did a splendid job as a middle-class housewife
The way Kapil Sharma holds the grip of his character is amazing. His acting is purely a blend of honesty with a hint of humour without making you pity will leave a smile on your face. Actress Shahana Goswami did a splendid job as a middle-class housewife. She is good at her craft. The innocence she holds in her character will touch your heart. Director Nandita Das brilliantly shot every scene without putting any unrequired melodrama depicting the commoners' world. Sagar Desai's adding depth and unique background score add life to the whole narrative. There are also some points where you the unnecessarily stretched such as there is a scene where Manas going for a food delivery on his bike and a person on a cycle running behind him and asks "Kya cycle pr delivery kar sakte hai". Overall, this is a family movie and is worth watching.