Do you have a sweet tooth and find it hard to control sweet cravings? Here are five tips that help to curb your cravings.
In our daily life, we don't get enough time to think about our health and habits, most of us don't manage a healthy lifestyle which means, eating without thinking about what our body needs, not exercising, consuming excessive alcohol or sweets etc. We tried to make our diet plans but failed to follow that for longer periods because of sweet cravings which are normal, but these cravings are one such problem of our diet plan and it affects our daily lifestyle as well. 
The reason behind these cravings is partly physiological. Craving sweets can be hit by hunger, hormonal imbalance, boredom, or habit. This also has a psychological effect. Consuming sweets help to release feel-good hormones such as serotonin and dopamine. Sweets have become a key part of our lives. Most people's meal is incomplete without having a spoonful of their favourite dessert at the end. Consuming too much sugar is not good for health, it causes many problems such as cavities, insulin imbalance, weight gain etc.
If you are craving something sweet? Try these tips to manage these cravings.
Eat Balanced Meals
Having a proper healthy meal thrice a day is very important. Skipping any of these can lead to a sweet craving, especially for breakfast, which is an important meal of the day. Breakfast gives you the energy to hustle all day long, If you skip breakfast, it will make you fatter because no food leads to an increased appetite and sweet cravings. Eat fibre-rich foods such as oatmeal, whole grain bread, omelettes, cereals, lentils etc. it will keep you fuller and stabilize your insulin levels.
Consider a Healthy Alternative
Every time you have sweet cravings doesn't mean you have to consume sugar or unnecessary carbs. You can switch it with a healthy substitute. You can have fresh fruit such as berries, avocado, and citrus fruits or you can try mix & match such as apple slices dipped in peanut butter, berries with nuts, roasted cherries with whipped ricotta etc. It will control your cravings.
Improve Sleep Schedule
Our sleep cycle has a very important role in triggering cravings. According to studies, it found out that those who slept improperly or did not have enough sleep consumed more additional calories or sugar than those who has a better sleep cycle. Poor sleep can affect your brain and confuse you with unhealthy cravings. For proper sleep, put your phone aside two hours before bed and after having dinner take a brisk walk, which helps to digest food easily.
Exercise 
Daily exercising makes you fit, help your brain to focus on other important things and manages your cravings. You can also do some yoga and meditation which helps to control your cravings. Physical activity helps you to manage your stress level.
Have Sugar-free Gums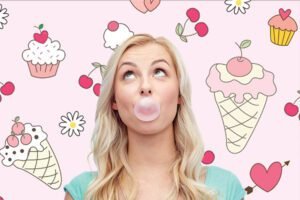 According to studies, chewing gums are very beneficial when it comes to controlling cravings, especially for sweets. Gums promote saliva production and clean excess food particles in teeth. If you're having healthy snacks that will be best but if your cravings are not satisfied with that then sugar-free chewing gum will work because it's better than having a handful of caramel and chocolates.