Do you find yourself irritated & frustrated on a daily basis? Here are five healthy routines to improve the quality of life.
Do you also get bored with the repetitive cycle in life and find yourself feeling frustrated with that? Has your enthusiasm and quality of life also get deprived? Sometimes life can be overwhelming and we feel irritated and frustrated from time to time without any reason. Sometimes we feel lost without understanding where our lives are headed. You just feel like everyone around you is doing better except you. You started to feel stuck.
However, it's just normal human emotions that are felt by everyone at some point in life such as anxiety, frustration, fear, and sadness. It's not so difficult to overcome these feelings. When life doesn't move the way you want and affects your quality of life, you can do small changes in your life to elevate it.  By just making a few adjustments in your routines, it will make a big difference in your behaviour and life. Healthy routines make your life easier. 
Here we tell you about 5 healthy routines to elevate your mood and life:
Social Detox
The first which has taken over every aspect of our lives is "Digital or Social Media". Nowadays, every other person is on social media. It's a really great thing to know about the world news and connect with people. You may spend hours on social media, scrolling through various feeds and reels, which can make you anxious and dissatisfied. Sometimes, it affects your mental health and your productivity. 
Sometimes, you need social media detox. Social media detox means limiting yourself using social media or trying to avoid it for some time. Instead of this try to reconnect with your old friends and family. Spend some time with them. With this step, you'll become more focused and productive.
Make Exercise Regimen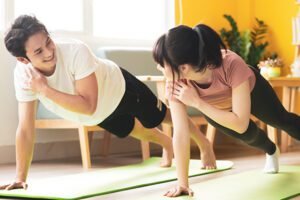 Doing exercise or yoga makes your life routine. It makes your body fit but also keeps your mind healthy. Our body needs to move and sweat, at least 20 mins a day do some movements, go for a walk, run, do weights, or do yoga. Just walking 10,000 steps a day improves your overall health. Make a healthy regimen and stick to it. Start small and improve it slowly over time.
Doing exercise or yoga make your lifetime routine. It not make your body fit but also keeps your mind healthy. Our body needs to move and sweat, atleast 20 mins a day do some movements including, go for a walk, running, weights, or yoga. By just walking 10,000 steps a day improve your overall health. Make a healthy regimen and stick to it. Start small and improve it slowly over time.
Maintain Sleep Cycle
Good sleep is equal to a good mood. Your sleep cycle plays a key role in your health and daily productivity. Having adequate sleep at night improves your focusing ability, brain performance and overall health. you'll feel fresh, which elevates your mood and prevent the risk of obesity, depression, and other diseases. Because bad sleep decreases the level of leptin and increases the level of ghrelin, which makes you feel hungry and led you to overeating. Due to sleep deprivation, you will feel a lack of energy and not feel to do any work.
Eat Healthy Food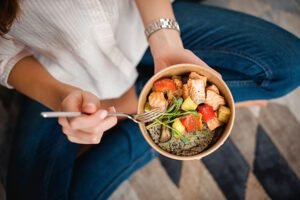 In order for our body to need to work efficiently, healthy food is very important. So, always have a healthy meal. When we ingest food our body produces an enzyme which breaks down the food and takes inorganic components for its energy. Not having a a proper meal on time, led us to acidic problems and affects our health. Try to limit junk food, which only causes health problems.
Start Reading Books
Last but not least, make a habit of reading books. Good books will always be your best friend. It makes you more intellect, gives you different perspectives to see the world, increases your ability to deal with problems, and improves your vocabulary which strengthens your communication skills.