Let's Find Out If This Nourishing Face & Body Oil by Laura Mercier Will Hide the Fact That You've Been Tired Since 2010, Read On!
If you are doing skincare and your skin still isn't caring, well it's time to switch products and try out something fresh and updated to achieve healthy glowing skin. You might be aware of Pioneer of Flawless Face, Laura Mercier, a renowned makeup artist, and her incredible French beauty brand, Laura Mercier Cosmetics. Created back in 1966, the brand has changed the world of makeup & skincare with its surprising innovations. That being said the brand is used by many of our adorned celebrities like Jennifer Lopez, Meghan Markel, Victoria Beckham, and more. Some of their products such as the loose setting powder, tinted moisturizer, and others are a must-have in every makeup stash.
The product we had in mind to talk through for the month of love is the Nourishing Rose face and body oil. The product has lately come back with the newness of its restorative formula. The brand states, "Laura hand-selected three key ingredients that are incorporated into every product in the Skin Essentials line: rose water, French spring water & starflower oil." Speaking of which, the rose is nowhere to be found in this one, rather the smell is somewhat of artificial perfumery which is unwavering and can get to your head. The brand claims, "the skin is left instantly moisturized and feels soft as a petal" however what we could feel was the product being super thick in texture which made it unable to sit or spread on the face easily leading to zero hydration and heavy looking base. To say the least, it did feel like applying baby oil on adult skin.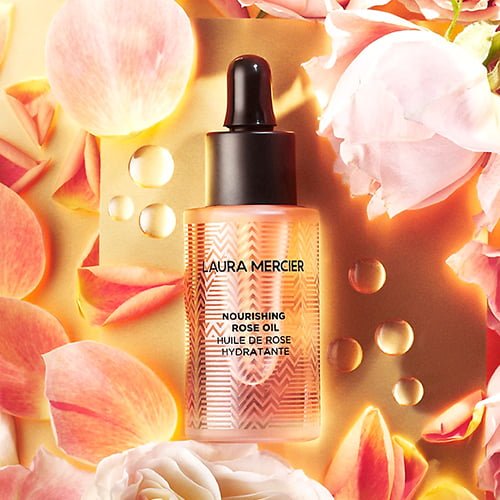 For dry or combination skin we'd suggest you use an appropriate amount and don't mix any additional moisturizer with it. 
Another downside not just us but many customers faced was how the product would clog the pores on the use which is definitely unpleasant and damages face intensely. Although, the product still gives a luxurious feel and makes sure to give a visibly healthier complexion and shine to the face. No compromises have been made in packaging either, the bottle; is fanciable and our hearts are stuck on it. The sumptuousness will add richness to the skincare cabinet.  
Coming back to its performance, the product won't feel nice on the skin at first and will be a big turn-off for oily skin people but over the period you will indeed witness your skin getting Plummer and glowing. For dry or combination skin we'd suggest you use an appropriate amount and don't mix any additional moisturizer with it, as it might end up greasy and makeup on it after won't look appealing. To conclude, since it's a face and body oil, even if it isn't performing well on the face, it surely does wonders when applied to the body.