What If You're Trapped In Small Towns Across India? But We're Confident You Won't Want To be Rescued If These Are The Small Towns You're Trapped In!
Those Pinterest boards of over-saturated images, piles of guidebooks on our shelves, aren't a waste of time. Escaping somewhere that's not your home is an exciting privilege that should be taken advantage of as often as possible. December marking the end of year and the beginning of holiday season calls for a re-examination of your priorities. The land of the Gods, Yoga, Spirituality, & diversity; offering great old cities & countless places to visit. Which Country is it? Of course it's India! There is a vibrant vibe, an essence, something authentic that is difficult to describe, which has touched and inspired everyone from all over the word for centuries. Every spot in India has some kind of comfort to offer, just like these hidden but amazing small towns across India which are more than perfect! As 5 symbolises adventure, so we have covered 5 areas you must experience this December. So, without any further ado let's dive right into them.
Best kept secrets of Himachal Pradesh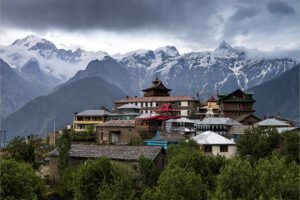 Himachal Pradesh is India's all- time favourite holiday destination. The state has one gem: Kalpa about which no one talks about. It is a small town in Kinnaur district nestled in the Sutlej river valley. An all-encompassing view of peaks will leave you stunned. People who prefer offbeat locations in desi hills opt for this serene town. Here you will find the liberty of slipping into silence and search your soul. A little natural glory is what people go to the hills for. Hiking to the peaks or just taking a stroll around the cliff-hugging road is extremely satisfying. The only way to beat the cold in Kalpa is with body heat. All we want to say is a magical winter escape awaits you in Himachal.
The Mini Switzerland Of India
Well, a holiday to Switzerland might seem far-fetched but you will be surprised to know that you don't need a passport to turn this dream into reality. Owing to their topographical resemblance, Khajjiar, a town near Dalhousie is known as 'Mini Switzerland of India', and is a must-visit for all the nature lovers. Khajjiar never fails to leave an ever-lasting impression on tourists with its spectacular landscape: the green meadows, dense pine forests, the serene lake in the middle and soaring Dhauladhar mountains in the backdrop is a picture-perfect landscape. This hidden treasure can offer an indistinguishable experience akin to the Central European country.
Cleanest Village In Asia
In 2003, Mawlynnong also known as God's own garden was awarded the title of the cleanest village in Asia. The best time to visit Mawlynnong, Meghalaya is monsoon. As during the rainy season, village and its surroundings become lush green and turn absolutely picturesque. That's not all. The Living Root Bridges in the village have been declared a UNESCO World Heritage Site. Hanging on a river, the bridges are made by connecting the aerial roots of one massive rubber tree with another. The silence of a jungle is broken by the gushing sound of waterfall. This is the perfect place to unwind and to have a lovely picnic with your loved ones. We have no words left to express this beauty.
One Of The Oldest Areas In Arunachal Pradesh
A beautiful valley and one of the oldest areas in Arunachal Pradesh – Ziro is an offbeat paradise. Ziro Valley is an entrancing holiday destination which magnetizes everyone with its hypnotic natural charm peppered with sprawling rice fields, quaint villages and rolling green hills veiled under thick layers of vibrant flora. The tranquillity of this charming little town makes it a soul seekers paradise, its epitomic scenic beauty also entices innumerable nature lovers and photographers who specially travel here to soak their souls in the place's ethereal natural splendour. The place is great for adventure seekers too; whether one is looking forward to a soul-captivating trekking experience, some jungle camping fun or wildlife exploration, Ziro is not going to leave anyone disappointed for sure!
Smallest Hill station Of India
Matheran, which means "forest on the forehead" in Marathi, is an eco-sensitive smallest hill station of India. Maharashtra is here to provide a peaceful holiday with a quick getaway at Matheran. Here you will get to explore nature at its best offering great views surrounding the valley and hills. The points are gateways to delight you with breathtaking sunrise and sunset mountain and valley views. The weather is calm and pleasant throughout the year as no vehicles are allowed in this village which sticks to its beauty. Yes, you heard that right, it's the Asia's only automobile-free hill station! What makes this place stand out from the others is that vehicles are completely banned, making it very peaceful and pollution free.