BCCI president Sourav Ganguly, the resignation rumour has created a huge storm all over the media, Ganguly revealed his opinion, to know further read!
Cricket commentator, Sourav Chandidas Ganguly has been part of the national cricket team as a captain and been at the position of president of Board Control for Cricket in India. His records in cricket history have blown our mind, he is known to be world's leading batsmen and one of the successful cricket team captain, his performance at the Cricket ground known to be 'God of the off side'.
The current president of BCCI, Ganguly's recent post created speculation about his current position in Cricket. On Wednesday, he has shocked the fans with his simple tweet which created strong rumour for his president resignation post. He tweeted after IPL Finals and said, 2022 marks the 30th year since the start of my journey with cricket in 1992. Since then, cricket has given me enormously more. The support has been given by all of the people. I want to thank every person who has been part of this journey, helped me and supported me to reach where I am today.
The tweet shocked fans, when he expressed his deep gratitude for cricket journey and his new journey. Though Ganguly has been appointed as BCCI president in October 2019, even during the IPL season in 2020 and 2021 he ensures that the match is smoothly scheduled. But his sudden "new plan" created huge storm in the internet, have a look at his recent tweet: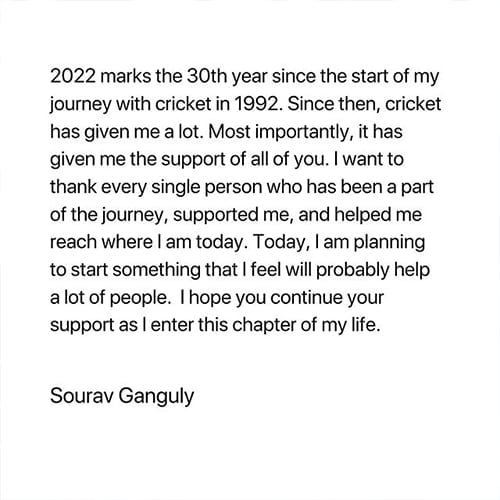 Sourav Ganguly's post where the rumour for his resignation as BCCI president, starts to spread.
Sourav Ganguly smashes rumour
The rumours on Ganguly resigning from the BCCI president position, Ganguly finally gave his clarification and expressed, his previous tweet on new journey and new business venture has been interpreted wrongly. He has launched a new educational app worldwide, there is no mention of resignation.
Even BCCI secretary Jay Shah clarified with the information that the former India captain has not resigned as BCCI President and he is currently keeping his focus on the current opportunities. As per the statement of Jay Shah issued to PTI, Sourav Ganguly stepping down from the post of BCCI president is incorrect.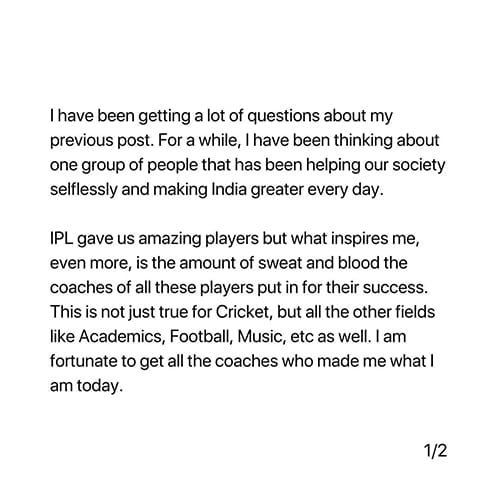 Ganguly exposed his plan to be a ambassador.
The recent update, Sourav Ganguly shared his new initiative and collaboration with educators, teachers and coaches. He is planning to help the society selflessly and make India better with this new opportunity. He wants to highlight coaches and educators across the world. He claimed to actively work for coaches, educators and teachers by supporting them through being a ambassador.
Fans are relieved and excited after Sourav Ganguly's response. He has claimed the rumour is wrong, his new plan as an ambassador is a part of his new journey. He is not planning to quit or resign from the BCCI president position.