The winter chill is the only signal we need to break out the winter classics. Let's take a look at these delightful winter cocktails that will help you kick away the winter blues.
Has the winter gloom set in? Are the chilly months making it harder to function? Well, we have a solution: turn to winter cocktails! Nobody knows what it is about some cocktails that gives them the designation of winter cocktails. It might be the chilly names, or it might be the way they look – sometimes white and snowy or maybe covered in bright reds, and greens. Whatever the reason, we agree that winter is incomplete without these delicious cocktails. Sitting by the fireplace to sip these is optional, but we recommend it for the optimum drinking experience! So, let's dive in and take a look at these classics.
MULLED WINE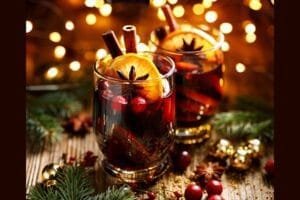 Mulled Wine
It might not have a cute, wintery name but mulled wine happens to be one of the classics when it comes to winter cocktails. Pretty much the most renowned of the winter cocktails, mulled wine has a delightful aroma due to the addition of warm spices like cloves, cinnamon, etc. Not only does the drink have a fantastic taste, but it will also make your house smell fantastic. This is one drink that will certainly help you get into the "Holiday Spirit."
INGREDIENTS
1 large orange
1 bottle of high-quality wine (Merlot, Zinfandel, etc.)
1/4 cup brandy
1-2 tablespoons maple syrup or honey
2 whole cinnamon sticks
3 star anise
4 whole cloves
Optional for garnish: cinnamon sticks, orange rounds, fresh whole cranberries
• Slice the orange in half round the middle and slice one of the halves into rounds. Place the rounds into a medium-bottomed pan and squeeze the remaining oranges into the pot.
• Add the wine into the pot and then add in the brandy. A Tablespoon of the sweetener goes in next followed by the cinnamon sticks, star anise and cloves.
• Start warming up the mixture over medium heat until it starts to steam and then keep an eye on it. When bubbles start to appear at the surface, reduce the heat to the lowest setting. If it isn't sweet enough add in more sweetener and if it is not spicy enough according to your tastes, then continue cooking it over very low heat for 5-10 more minutes.
• That's it, it's ready to serve! Add in your preferred garnishes and serve it in mugs.
HOT BUTTERED RUM
Hot Buttered Rum
A drink that is in essence, the OG butterbeer, it is a golden, sweet, and rich drink that will leave behind a silly moustache on your face when you drink it. Let's just accept that when it's freezing cold outside, rum is the only thing that can drive away the chills. And adding in butter, sugar, ice cream, and cinnamon means achieving a heart-warming hug in a glass. If you're feeling highly festive, pair it with a pumpkin skillet cookie.
INGREDIENTS
For the buttered rum batter
4 tbsp. butter; softened
3 tbsp. packed brown sugar
1/2 cup vanilla ice cream
1/2 tsp ground cinnamon
For the Rum Drink
2 cups apple cider
1 cup rum
• We will start by making the buttered rum batter. Beat butter and sugar until light and fluffy, then add in ice cream and cinnamon and beat it again. Transfer it into a mason jar or a resealable container and store it in the freezer for about 2 hours or until it has mostly hardened.
• The next step is to make the drink. Take a medium saucepan and heat the cider until boiling, don't forget to stir it occasionally. Remove from the heat and pour into a pitcher.
• Take out the mugs and put 2 tablespoons of the buttered rum batter into each mug. Fill each mug about 1/3 of the way with rum and then top it with the hot apple cider. Stir it once before serving.
A TASTE OF DARJEELING
A Taste of Darjeeling
If you harbour a love for Darjeeling tea, you're in the right place because we too, love Darjeeling tea. In fact, we love it so much that we turned it into a cocktail! The tea pairs well with the dry sherry and the Cider Bitters and the result is a delicious drink that will warm your very soul in the first sip itself.
INGREDIENTS
11.5 oz Orleans Cider Bitters
1.5 oz Lustau Oloroso Dry sherry
0.25 oz lemon juice
Half a pot Darjeeling "2nd Flush" Black Tea
3 bar spoons agave nectar
• Take a cocktail tumbler and add in the Cider Bitters, the Dry Sherry, the lemon juice and the agave nectar.
• Shake it until well combined.
• Assembling this drink is easy. Just make a pot of Darjeeling tea and let it steep till you have achieved the desired flavour strength.
• Fill a tea cup 3/4th full with the prepared hot tea. • Add in the cocktail mixture and serve it warm with a lemon twist.