Ayushmann Khurrana is getting the people's love and attention again as he and his movie "An Action Hero" rocks at the box office
Ayushmann Khurrana was back at the big screens again and has delivered any other hit movie to add to his prestigious collection. 'An Action Hero' is a very different movie from what Ayushmann  Khurrana is usually known for. He is usually renowned for doing movies on social norms which are not spoken about enough. His last movie which came out in mid-October, spoke about the stereotypes in the medical industry. So to see Ayushmann in a thriller movie, was an unexpected feeling and site. Anirudh Iyer makes his directorial debut with a masala action-thriller that only Ayushmann Khurrana could pull off. The concept of fusing two universes comprising individuals from each of the 70 mm screen and pushing them against one another was accomplished in Shah Rukh Khan's Fan, although there are many differences.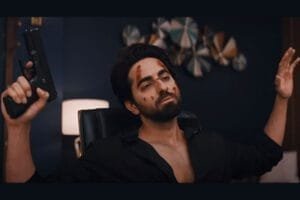 Ayushmann Khurrana was back to his thrilling best in this movie
Iyer's story features an opponent that is both humorous and terrifying. This is such an oversimplification of Indian media that you'll burst out laughing at the irony of how authentic the spoof is. DOP Kaushal Shah, who worked with water in Gehraiyaan, now works with flame in this one, and it's always impressive to see an artist manage two different topics and nail both. A special mention should be made of the method of capturing a film in the movie, as a camera moves through a camera scene. Ninad Khanolkar's editing complements the film's slightly over 2-hour running time, as it never slows down. Yes, there are several nice loopholes in how Maanav gets away from everything, but isn't that also the reality? There's a terrorist aspect that may irritate some as an unintended byproduct, but it was entertaining to the audience.

This movie surely reminded the fans of Andhadhun because of the mystery involved
Ayushmann Khurrana has discussed moving his focus away from probing social taboos, and this is an excellent first step in that direction. He's always been a director's actor and a story's slave, and this performance demonstrates that for the nth time. It's the way he transitions from being this cocky yet humble 'action hero' to a person fighting alone for his life that allows him to rise up despite not possessing as many fantastic lines as the film's antagonist. When it comes to the antagonist, Jaideep Ahlawat continues to be the gem he has been from his debut appearance. Jaideep does everything perfectly in this film, from his sentence presentation to his body language, and he continues to be the greatest thing about it.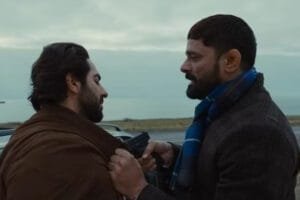 Without the brilliance of Jaideep Ahlawat, this movie would have been boring
Ayushmann Khurrana's film An Action Hero had a slow start, earning 3.47 crore in its first two days. Anirudh Iyer's action film allegedly made over 2.16 crore over its second day. On Friday, the picture grossed a meager 1.31 crore. According to a source on the industry site Box Office India, despite a 60% increase in ticket sales on its second day, in particular in northern India, this movie has failed to attract in crowds for the critical opening weekend. To save its box office streak in the following week, the film must perform well on Sunday. On Friday, Ayushmann confirmed that Akshay Kumar would appear as a special guest star in An Action Hero. The actor complimented Akshay for his participation in his current film, referring to the legendary actor as "the OG Khiladi." Aside from Akshay, the film also stars Nora Fatehi and Malaika Arora in the special songs Jehda Nasha and Aap Jaisa Koi. Anek and Doctor G, Ayushmann's other 2022 releases, both had low openings. Anubhav Sinha's political thriller Anek grossed 1.77 crore on day one, but Anubhuti Kashyap's debut film Doctor G performed better with 3.87 crore.