Although Taapsee Pannu contributed everything she had, the audience has begun to avoid seeing the movie since it was a touch too hard to understand.
 The plot of Anurag Kashyap's latest movie, "Dobaaraa," which stars Taapsee Pannu in the main role, is so complicated and perverse that it becomes a little bit too hard to understand for the audience. The duo of Anurag Kashyap and Taapsee Pannu have created a lot of hype as both of them are great in this mystery genre and tend to keep the audience guessing throughout the film. The film did deliver but it was a vague effort at showing time travel, and there reached a point where the public couldn't understand what was happening in the film. Officially remaking the Spanish movie "Mirage," "Dobaaraa" maintains the original plot while adapting it to Indian audiences. This movie marks the return of Anurag Kashyap in the thriller genre. This is the second movie that Taapsee Pannu and Anurag Kashyap have made as actor-directors. The pair definitely enhances and brings out the best in one another. Although "Manmarziyaan," their most recent movie together, was notably different from "Dobaaraa," the pair are excellent in the thriller subgenre. Taapsee offers a subtle performance while playing a complicated character.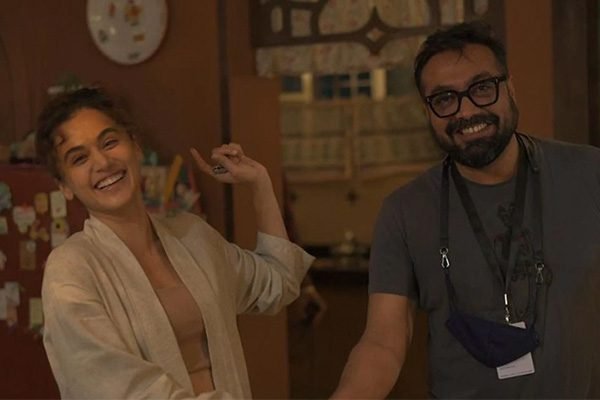 "Manmarziyaan" had a life-time collection of Rs 40.39 crore and was loved by the fans as well
Dobaaraa, starring Taapsee Pannu, only made Rs 60 lakh on Day 1, according to a report by sacnilk.com. Although Taapsee's acting has received praise, it appears that the movie has failed to pique viewers' interest. Numerous screenings of the movie were postponed due to negative reviews, and many theaters were empty on Friday. This is Taapsee's second movie in two months as her film, Shabaash Mithu also got released in mid-july. The film didn't do all good at the box office and numerous shows were canceled. The reason for less earnings at the box office can be because of the clash with the movie "HIT". Pannu's movie has so far managed to bring in a total of Rs 2.12 crore, whereas the Rao-starring movie has already made Rs 7.69 crore. While "HIT" made more than Rs 1.35 crore on Day 1, "Shabaash Mithu" only made Rs 40 lakh. Shabaash Mithu's box office success led some people to compare it to Kangana Ranaut's "Dhaakad." Mithali Raj is the subject of the film "Shabaash Mithu," who is renowned for her record-breaking 23-year international cricket career during which she amassed 10,000 ODI runs. The movie is written by Priya Aven and directed by renowned Bengali director Srijit Mukherji.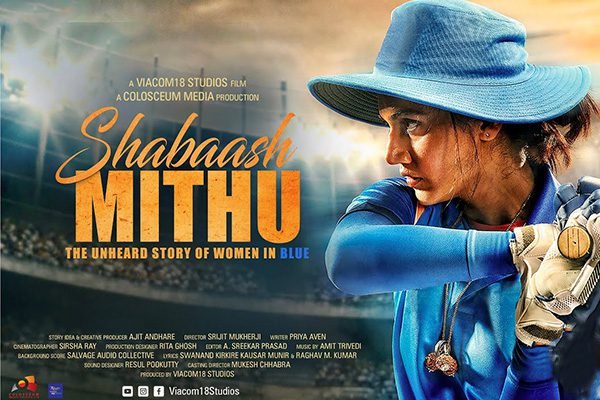 Many fans believe that if any other female actor did this film instead of Taapsee, the film would have been a massive hit
The movie, "Dobaaraa" which was written by Nihit Bhave, presents the ideas of time travel and parallel universes. The film's non-linear plot and numerous twists and turns require your constant attention throughout. The "Dobaaraa" plot, which lasts little over two hours, never skips a beat and keeps the spectators interested the entire time. However, despite paying close attention to the movie, the audience was unable to fully understand the narrative since several moments needed to be clarified. The audience must watch the entire film attentively and comprehend every scene; if you skip a crucial section, the entire experience is a waste of time. There are several situations that the audience needed better explanations for, but there are also some sequences that don't make sense at all. 
This is the second movie that Taapsee and Parvail Gulati have done together after collaborating for "Thappad" last year
Just to give a gist of what "Dobaara" is about, the movie's compelling and unflinching mix between the past and present is its key component. The female lead (Taapsee Pannu), a nurse who relocates to a new house with her husband and kid, aged 6, gets trapped in the confusing maelstrom. She struggles with what she believes to be true even if they could just be figments of her imagination as certainty fades from her existence and her own identity is cast in doubt. Nothing can take away from the great efforts that the performers have made, even though the movie is slightly perplexing yet captivating. If we only focus on the acting performance, every actor was ideal for their part and had done it to the fullest. Being a mystery thriller perfectionist, Taapsee Pannu once again delivered a superb performance. She would be extremely dissatisfied with the movie's lifetime earnings and box office performance. The box office figures would be completely different if the writing had been improved a little more to make it understandable for the public.
Taapsee's performance in this movie was far better than her performance in Shabaash Mithu
Taapsee Pannu has some incredible films lined up with some of the best actors and famous directors of the industry. One of the films that is in the making is "Dunki". Taapsee Pannu will romance King SRK for the first time in this significant Raju Hirani and Shah Rukh Khan collaboration. Taapsee Pannu has already completed shooting of another film and the post-production process is going on. Scam of 1992 actor Prateek Gandhi and Taapsee Pannu will be seen in a romance comedy-drama called 'Woh Ladki Hai Kahaan' directed by Arshad Syed. Taapsee Pannu would be hoping that these movies receive love from the public and has an amazing box office collection and is nowhere near to the performance in her last two movies.