You might have 0 reasons to apply geometry in your daily life, but when it comes to wall décor, geometry can make the aesthetics even better! Don't believe us? Check out these acrylic mirror art pieces.
A little retail therapy can cure just about anything in your life. And the feeling you get when browsing around your favourite store, looking at all the new and pretty things that the store has been stocked with! What if we told you that you can recreate the same feeling at home without having to step out at all? We're sure you're jumping with joy by now and impatiently waiting for us to reveal how you can do this, right? Well, here is your answer – FHMax.com! The best portal for online shopping, FHMax is the one shopping portal that has literally everything you could ever want, or need! The portal is completely trustworthy and you will be hard-pressed to match the top-notch quality of the products available here. And the best part: there is always some lucrative offer available on the products!
For today, we have brought acrylic wall art for you. Your walls deserve to be decked out with beautiful decorative pieces, and geometrical wall art is going to be the best choice you could make for your walls. The attractive aspect of these hangings is that they are all in geometrical shapes and this enhances the aesthetic appeal of the hanging as well as your wall once you put these on display. What are you waiting for? A luxurious experience awaits! Geometry, Acrylic Mirror wall art
1. Geometry, Acrylic Mirror wall art
Geometry, Acrylic Mirror wall art from FHMax.com
Geometrical shapes enhance the beauty of everything. This geometrical wall sticker is proof of that. This reflective acrylic wall sticker comes in a beautiful pink colour that will look perfect if you have white walls. This is the perfect home décor for anyone be it your house, office, or even classroom walls. The amalgamation of triangles, lines, and circles makes this an aesthetically pleasing wall décor piece.
2. Square designs, Acrylic Mirror wall art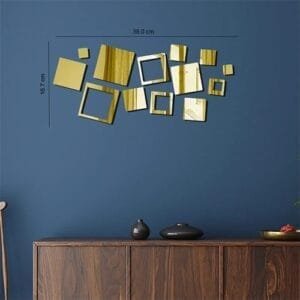 Square designs, Acrylic Mirror wall art from FHMax.com
The square designs on this aesthetic reflective acrylic wall art sticker make this a great addition to your walls. You can add it to your office walls, or your bedroom walls, it will look gorgeous everywhere. The beautiful golden colour is another attractive feature that will ensure that your eyes stay glued to the wall sticker and no