Valentine's Day is almost upon us. So hopefully, you're on the top of your décor game this year. And if you've given everything else a thought but left your walls bare, here's your answer to the perfect Valentine's décor – Acrylic mirror wall art from FHMax. 
Were you visiting market after market, website after website to hunt down the perfect gifts and décor pieces for your beloved this Valentine's Day? Well, we highly applaud your commitment to this occasion, but what we don't applaud, is the unnecessary trouble you're putting yourself through to put together this spectacular surprise. Now, before you make noises of dissent and disagreement, we come bearing solutions! There is a shopping portal that has everything you need. And that unnecessary effort you were putting yourself through, well, you don't need to go through that anymore. Just a click of your mouse away, there are some exquisite products waiting to be discovered by you. Let's get into it!
FHMax is an extension of India's premium men's magazine – FHM. And since you've been trusting us to fulfil your entertainment needs, you can just as easily trust us when we say it's the best sopping portal out there. Online shopping can be a huge hassle, but FHMax makes it easy. You can put blind trust in this portal and shop even with your eyes closed. The products are the best in quality and the delivery experience is even more top-notch. If that's not all, the portal also regularly offers exciting discounts to its customers. Delightful, isn't it?
We're here to tell you about the latest offering from FHMax that is also the most important thing you'll need this month – Valentine's Day décor pieces. Now we're here to ensure you don't leave those walls bare when planning to surprise your significant other. And for that, we are offering to you 2 acrylic mirror wall art pieces. Trust us,
these wall art pieces are sure to add another level of embellishment to your walls this Valentine's Day. They will also earn you some brownie points with your SO this month when she sees how much effort you've put into it!
1. You are My Sunshine, Acrylic Mirror wall art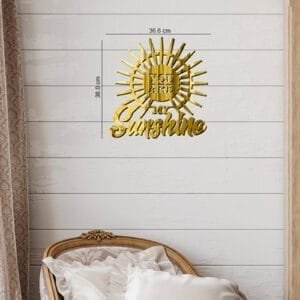 You are my sunshine wall art
Want to convey to your significant other she's your sunshine? Well, put this on your walls and she'll get to know that herself! This beautiful wall art is available in three colours and is made of reflective acrylic mirror.
2. Heart Creeper, Acrylic Mirror wall art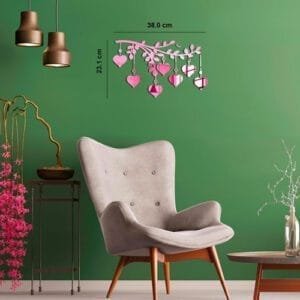 Heart creeper wall art
Another beautiful acrylic mirror wall art piece, this heart creeper will make for a beautiful wall décor piece. It is something you can display in your bedroom forever, not just around Valentine's Day. It is available in three colour options and will match perfectly with your Valentine's Day theme.