From narrow lanes where street vendors are selling delicious Korean platters to classy 5-star restaurants serving authentic Korean delicacies, the craze of this cuisine is not only limited to the vibrant city of Seoul. While many of these traditional delicacies have existed for centuries and were only consumed by royal Korean families, today, these Korean treats are loved by the whole world.
These food dishes becoming so popular also has to do a lot with the popularity of K-dramas, which created a buzz around their mouth-watering food. Other than Korean noodles, let us take you on a Korean food tour so you can get to know some fantastic selections to try. Other than its lip-smacking taste, you can describe these dishes as spicy, savoury, and nutritious.
Bibimbap
A full and healthy dish that is often offered in restaurants, food courts, and street markets is called bibimbap, which is another item you really must eat while in Seoul. Bibimbap can be served as either a meat-based dish or as a vegetarian dish, depending on the region and ingredients utilised. Warm rice, beef or chicken, raw egg, mixed veggies, soy sauce, and a dab of chilli pepper paste are the main ingredients of the most popular type of bibimbap.
Kimchi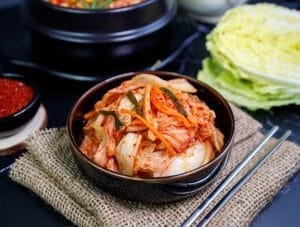 This traditional Korean cuisine has a history extending back more than 2,000 years to the Shilla Dynasty. Korean cabbage, radish, pumpkin, onion, ginger, scallion, chilli powder, crushed garlic, and salty fish are combined to make kimchi, which is then allowed to ferment. Additionally, kimchi serves as the foundation for numerous foods that are derived from it, including kimchi fried rice, kimchi pancakes, and kimchi stew (kimchi jjigae).
Tteokbokki (Rice cakes)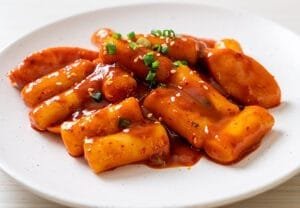 Thick slices of garaetteok (boiled rice cake), fish cake, onions, sliced garlic, salt, sugar, and various veggies are stir-fried in sweet red chilli sauce to make tteokbokki, a classic Korean street meal. This well-liked delicacy is typically offered by independent snack bars and street vendors and is distinguished by its vivid red-orange ensemble.
Jjigae (Korean Stew)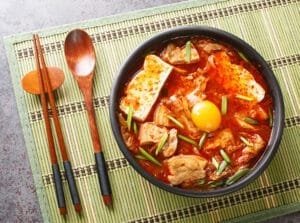 Jjigae is a traditional Korean stew that typically includes meat, seafood, or vegetables in a broth spiced with gochujang, gaenjang, soybean paste, or salted fermented shrimp (saeujeot). Jjigae resembles a western stew in substance and is frequently served as a palette cleanser between heavier courses. Budae jjigae (army stew), one of the most well-known jjigae meals in Seoul, contains bacon, sausages, and Spam meat in addition to ramyeon noodles and rice cakes that have been combined with gochujang sauce for a spicy flavour.
Samgyeopsal
Another typical Korean meal, samgyeopsal, cooks chunky slices of pig belly on a grill right at the table and requires just rudimentary cooking abilities. Following that, it is wrapped in lettuce or sesame leaf and served with dipping sauces and toppings including kimchi, button mushrooms, green onions, raw garlic, and green chilli peppers. Also, this one pairs great with soju.