This place known as Delhi's 'Little Tibet' is no less than a food paradise.
The best spot to find tasty, inexpensive meals is Majnu Ka Tilla (MKT). The majority of the restaurants are managed by Tibetans who serve fantastic food. The area, which is close to Delhi University's North Campus, is populated by residents, ex-pats, and students. Here is what we found after traveling to search for all the undiscovered food treasures.
Busan Korean Restaurant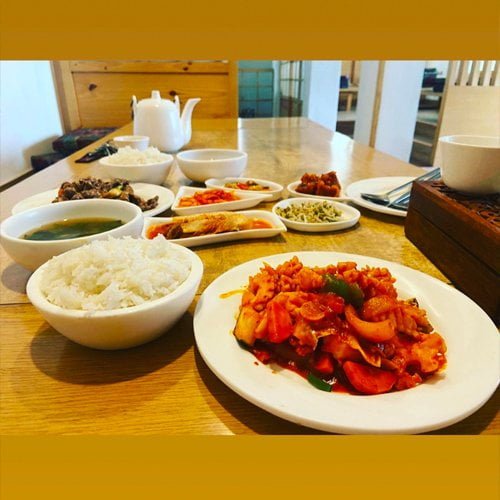 Busan Korean restaurant is known to serve authentic Korean cuisine.
If you are looking forward to trying some authentic Korean dishes that you see in the Korean drama series, this is the best place to give it a try. As the name suggests, Busan serves lip-smacking authentic Korean dishes, especially pork. The traditional Korean seating arrangement of the restaurant is another attraction for the customers along with the food which is clean and delicious. If you are trying the restaurant for the first time, we would recommend Ramen, Kimchi, and Bibimbap.
Kalsang Restaurant
Kalsang is the best place to spend some quality time with your beau.
A cozy environment with dim lighting, good music, and a variety of mouth-watering dishes to choose from, sounds perfect, doesn't it? From slushes to amazing pizzas, this place is a great place for you and your friends to talk and chill while enjoying a good meal. Also, if you enjoy having some free sides with good portion meals, Kalsang can be on the list of your favourites as they serve little side snacking with each dish.
Ama Café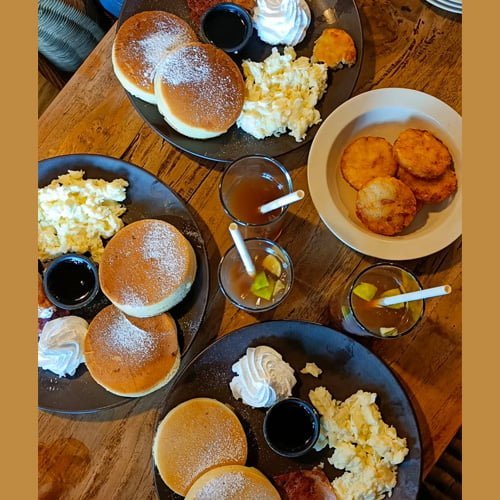 To have the best pancakes in town, head to Ama Cafe.
Talking about Majnu Ka Tila will be incomplete if we don't mention Ama Café. The perfect choice for all those who have a sweet tooth and a great place to have breakfast in the morning. The décor and vibe of the café will surely get you some Insta-worthy pictures. Alongside, Ama Café is a great place if you want to grab a good breakfast in the morning. Smoothies, shakes, bacon cheese fries, good fluffy pancakes, and blueberry cheesecake are the dishes we would recommend if you plan to visit the place.
(Note: Make sure you have a good amount of time as the place is pretty much crowded on weekends and the wait time might take too long)
Tee Dee Restaurant
Tee Dee serves a great variety of Tibetan and chinese doshes.
With authentic Tibetan and Chinese dishes, Tee Dee is a restaurant that offers a great variety of flavoursome food. A spacious restaurant with a warm vibe, Tee Dee is a cute and vibrant place with a colourful interior for you and your friends to catch up for a lunch outing. Also, if you want to gobble the best momos in Majnu Ka Tila, this is the place you should head to. Chicken in hot garlic sauce, Tingmo (Tibetan steamed bread), Devil Momos, and Shanghai noodles are a speciality of the restaurant. If you are someone who loves to chat, the owner of this café is the person who loves to chat about art and other interesting topics.
Rigo Restaurant & Bistro
Rigo is the best place for momos in Majnu Ka Tila.
Here is the solution if you're seeking for something more than just Tibetan food. The options range from Italian to Asian, so you're covered. The atmosphere gives you the impression that you have just entered McLeod Ganj. They provide you with the best of everything under one roof, from French breakfast to Kimchi. Rigo is the best in terms of food quality, variety, taste, and atmosphere. They make the best Momos and Thukpas.
Kham Coffee House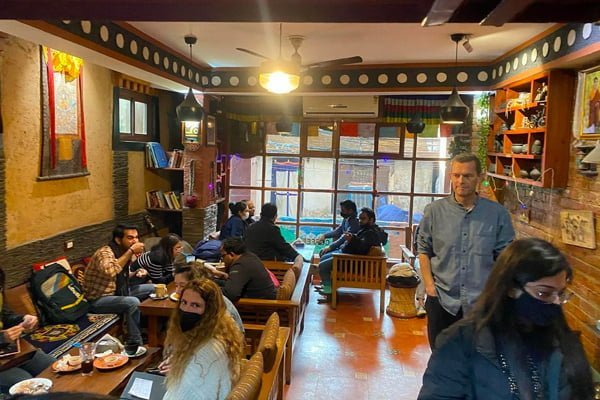 Kham Coffee House is a cozy place where you can enjoy your own company as well. 
This small and cute café with the typical Tibetan-style décor is the perfect place to go on a coffee date with your beau. With some really soothing flavours of tea and coffee on their menu, Kham Coffee house also serves yummy shakes and desserts.