Are you the one who likes to add cheese in literally anything you're eating? Well, then you just might find yourself having a cheese-gasm after trying out these 5 dishes.
Everything else comes second, but the love for cheese is always eternal. For every cheesygoing person out there, we have a real treat for your tastebuds today. Cheese is that versatile ingredient that can make literally anything better and turn even the simplest dish into scrumptious and tempting. The warm, gooey, stringy liquid that oozes out from your food as you dig in is just about the best thing in this world and we are sure that by now even your mouth might be watering. So, here we present to you the 5 cheesiest dishes in Delhi that you need to try and you need to try them ASAP!
1. CHEESE BLANKET PIZZA, PAPARIZZA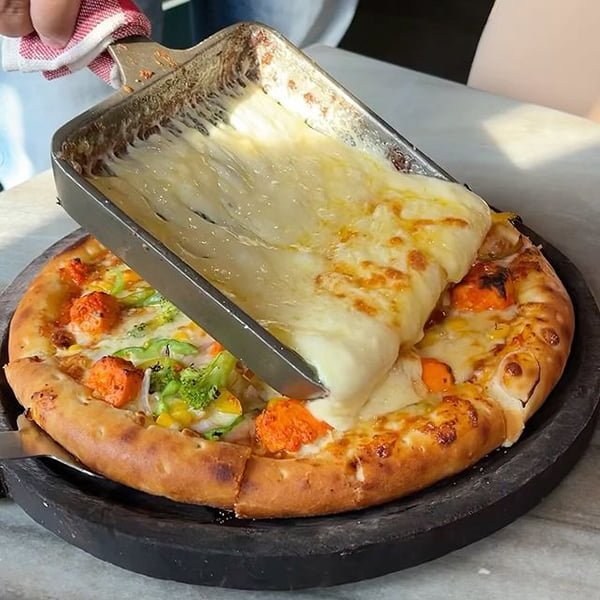 The hot molten blanket of cheese makes the pizza scrumptious and delicious.
The chefs at Paparizza seem to have set one motto for life and that is: "Life is great, but cheese makes it better!" And this is one motto we can definitely adapt ourselves to! Although every dish on their menu is bursting with cheese – the garlic bread is another must-try item here – but the most cheese-gasmic item we have come across here is the Cheese Blanket Pizza. It's an add-on item so you can get it on any pizza you wish to order off their menu. And then sit and watch as the server brings out your pizza with a pan of hot melted cheese and pours it all over your pizza right in front of you! Careful though, that hot cheese can burn your mouth!
2. MOLTEN CHEESEBURGER, HOUSEFULL CAFÉ
The sheer amount of cheese in this burger makes us want to keep eating this again and again!
If you're a Delhiite – bonus points for being a DU student – you probably know the foodie hub of Delhi, better known as GTB Nagar or Hudson Lane. And nestled here, you'll find Housefull Cafe Lounge which is the birthplace of the famous Molten Cheese Burger that catapulted the place to fame and singlehandedly took the internet by storm when it first opened. The burger is a chef's special item and comes packed – better word: overloaded – with cheese and fries. Don't miss out on this cheesy delicacy as you might regret it!
3. GRILLED CHEESE, MELT HOUSE, 32nd MILESTONE, GURGAON
Careful, one bite and you might find yourself addicted to the perfection that is this grilled cheese sandwich.
Sweet dreams are made of food. And the sweetest ones are made up of cheese! To ensure all your cheesy dreams are fulfilled, we found this little slice of heaven for you that is located in 32nd Milestone, Gurgaon, and serves the cheesiest Grilled Cheese ever! Probably the best-grilled cheese you might ever taste, and the cheesiest too, this burst of flavourful goodness is absolutely to die for! And the artisanal Mac N Cheese is surreal and will bring a huge smile to your face once you finish the whole thing. So, take our advice, and go visit this restaurant ASAP and eat your fill of some cheesy, flavourful goodness!
 4. CHEESEWELL SANDWICH, SHAKE EAT UP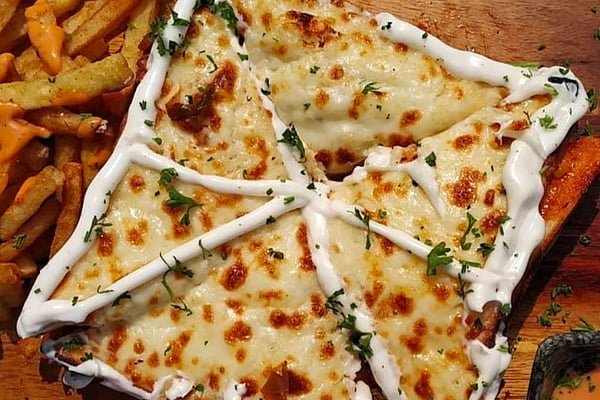 There is no such thing as too much cheese, and this sandwich proves it perfectly.
For all you sandwich lovers, we have quite a cheesy treat for you today. Hudson Lane definitely knows how to make cheesy dishes and this is one of them! If you head on over to Shake Eat Up in Hudson Lane, you will come across a great menu of scrumptious dishes. But what might stand out the most to you, is this Cheesewell Sandwich, for all the obvious reasons! A sandwich that has cheese in between, and on top, and as if that wasn't enough, it has cheese dripping from the sides as well! Well, we don't know about you, but we are definitely sold! It is also served with crispy fries, mayo and more cheese on the side.
5. KULHAD PIZZA, RABBIT LEE CAFÉ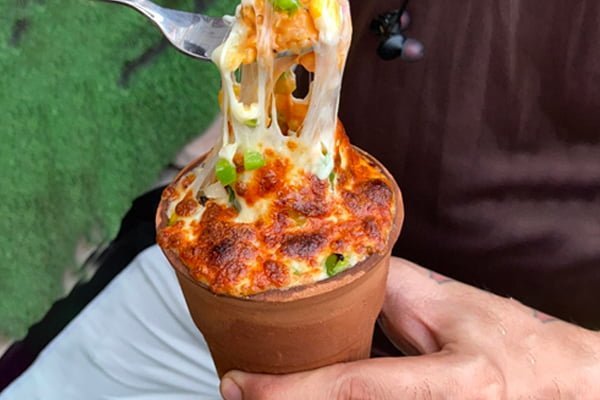 A pizza in a kulhad? How much more innovative can food get? But the cheese pull is absolute perfection! 
Ending the list, we have another amazing cheesy dish that will satisfy your love for an amazing cheese pull. If you are someone who loves to experiment with their food, you probably would have heard of the Rabbit Lee Cafe in Krishna Nagar which serves up some really unique and yummy dishes. The place is the perfect place to plan a hangout with friends and have great conversations around some truly scrumptious food. The cheesy dish we are talking about here is their Kulhad Pizza. The pizza is served in a kulhad and is loaded – we're talking absolutely loaded – with cheese before being baked. And we promise drooling is guaranteed!