Golden Ball is one of the most famous individual awards that is given after the World Cup and many popular players have won this trophy.
At every FIFA World Cup finals, the best player receives the Golden Ball award.The FIFA technical committee makes a shortlist and the votes of the media representatives are taken into account in order to decide the winner. Famous players like Lionel Messi, Luka Modric, Bobby Charlton, Puskas amongst many other greats. This year at the Qatar World Cup, there is a lot of talent and each player will be trying their best for their side. Let's see the five players who have a great chance of winning the golden ball this year.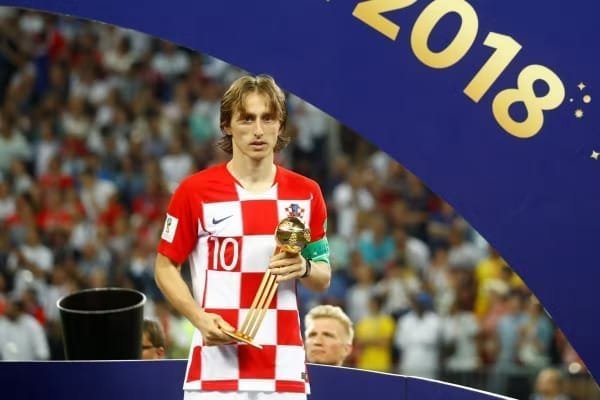 Modric won the golden ball in the previous edition of the FIFA World Cup in Russia
1) Lionel Messi
A previous winner of the Golden Ball, which came at the 2014 World Cup in Brazil. Messi would be hoping for a better team performance than what they saw in the last world cup and he knows he will have to play a major role if he wants to take Argentina to the World Cup title. The record seven-time winner of the Ballon d'Or has been in outstanding form for Paris Saint-Germain this year. He has adapted well to his new position as an offensive midfielder and has been masterfully directing play for PSG.The 35-year-old is supported in his goal of winning the World Cup by some elite teammates. Messi had a terrible 2021-22 season but has been in fine touch for both club and country. For PSG this season, he has already scored or assisted on more than 10 goals in all competitions. Messi will want to extend this run of form into the World Cup and Argentina would be delighted to see their talisman at the top of his game. 
This might be Messi's best shot at winning the World Cup and add another golden ball but this time on a winning note
2) Karim Benzema
2022 has been Benzema's year undoubtedly and has won everything on club level and has also won various individual accolades. He recently won the Ballon D'Or award as well for his outstanding performances last season. He would be looking forward to replicating that form for his country when they need him the most, that is in the World Cup. Thanks to the Frenchman's exceptional performance, Real Madrid was able to lift the Champions League as well as the LA Liga. He has been the star man at Real Madrid ever since Cristiano Ronaldo left the club in 2018. Additionally, since being restored to the fray after a six-year hiatus, he has performed remarkably well for the French national team. Last season, Benzema made 46 appearances for Carlo Ancelotti's team in all competitions, scoring 44 goals and dishing out 15 assists. Benzema is certainly one of the best attackers at this moment and has been in great nick which would be beneficial for France going into the World Cup. 
Benzema is having a stellar season and would want to add another accolade to his growing list of accomplishments
3) Cristiano Ronaldo
Ronaldo just like Messi would want to end their career with the biggest international trophy in the sport. He has been having a torrid season till now, but will still be the leader of the Portugal team in the upcoming World Cup. The World Cup might just help Ronaldo regain the boost and confidence that he much needed. Cristiano Ronaldo is still among the finest poachers in the world at the age of 37. If h e can replicate his exploits in the 2022 World Cup in Qatar because of his world-class positioning and finishing, just like he did in the 2018 World Cup when he led Portugal to the Quarterfinals. Ronaldo led all scoring charts in Euro 2020 with 5 goals, demonstrating that he still possesses the skills necessary to dominate the world's largest sporting event.
Ronaldo might be able to seal the GOAT debate if he manages to win the Golden Ball and the World Cup this December
4) Harry Kane
One of the most unlucky players of all time, Harry Kane, has won only individual awards till now and would be looking to win the World Cup starting next month. With six goals, Harry Kane easily captured the 2018 FIFA World Cup Golden Boot title. Kane would be aiming to score goals for pleasure given that England is still one of the tournament's top teams. Harry Kane still has a chance to win the Golden Boot award for two World Cups in a row, and if he can maintain his incredible form, he may even take home the Golden Ball, which would be a tremendous accomplishment. Kane is also only three goals shy of breaking the record for most goals scored in England.
Kane will have to bring his A-game if he wants to score goals for England and take them further in the tournament
5) Neymar Jr. 
Neymar Jr. has performed at a greater level for PSG this year. The 30-year-old appears to be a guy with a purpose and is at his best for Brazil at the perfect time. Neymar said in an interview that this World Cup may be his last. He will likely assault with all of his might and serve as Brazil's key offensive weapon. For PSG thus far this season, he has already contributed to more than 10 goals across all competitions. With form on his side, every Brazil fan would be hoping that Neymar delivers for Brazil once again and this time he brings the World Cup home along with the Golden Ball.
Neymar Jr. just comes alive in the Brazil jersey and has great support from his teammates this time around
The FIFA World Cup 2022 is just around the horizon and all players, coaches and fans would be excited to witness great games over the course of a month. The World Cup is without a doubt, the biggest accolade in football and it is the dream of every player to lift the trophy at least once in his lifetime. The Golden Ball has been won by 10 different players so far, and we're eager to find out which athlete will take home the illustrious trophy this time.