It's time for the game that billions of people will have their eyes upon. It's the FIFA World Cup final as Messi's Argentina looks to outcast France and their run to their second consecutive World Cup title. 
Griezmann has been at his lethal best and has been playing as an excellent attacking midfielder 
The world will have their eyes glued to the screen on Sunday night for planet earth's biggest game. The Lusail Stadium in Lusail, Qatar, will host the World Cup championship game this year. The largest stadium in Qatar has a capacity of 88,966 spectators, with Argentina's World Cup games against Mexico and Croatia drawing the largest crowds. This is where the next World Cup crown will be decided after four weeks of fierce competition in Qatar between the top 32 teams in the world in a 64-game tournament. On Sunday, December 18, the World Cup final will pit two-time champions Argentina against the current champions France. The game is already being billed as a shootout between France's 23-year-old phenom Kylian Mbappe who would be the second-youngest player to win two World Cups after Pele in 1958 and 1962. and Argentina's seven-time Ballon d'Or winner Lionel Messi. However, both will require every member of their team to play at their very best if they hope to win the fabled gold and green trophy. Let's look at the two teams and the key battles that we can watch on Sunday.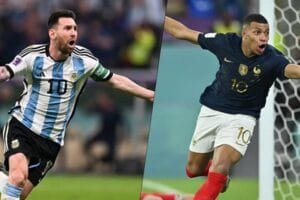 Messi and Mbappe will have to show their class if they want their teams to lift the trophy at the final whistle
Argentina have been relentless in almost all departments of the game since the shock first game loss to Saudi Arabia. Messi will set the all-time mark for finals appearances (26) when he gets a second chance at glory in what is likely his final World Cup game. The 1-0 loss to Germany in the finale eight years ago featured the captain of Argentina. Their attempt to win the title in Russia 2018 was then defeated by France in the round of 16. However, Messi will lead his team to the Lusail Stadium for the final kickoff this time, as France will once again be their opponents. Messi has already declared that this World Cup will be his last. Messi has been relishing his swansong in Qatar despite being long saddled with the pressure to equal Diego Maradona's World Cup victory in 1986. Both Messi and Mbappe have five goals at the World Cup, and Sunday will mostly determine who will earn the Golden Boot. It has never happened at a World Cup, but Messi and Mbappe of PSG, who are both still in the running for the award, might change that in the championship game. The player with the most assists wins the prize if the two players are tied for first place in goals. Messi currently holds a three-point advantage over Mbappe's two. 
Mbappe, a teammate at PSG, will aim to match whatever feats Messi is capable of. He has won a World Cup by scoring in the championship match against Croatia in Russia. At 23, Mbappe would be the youngest player to score in multiple championships should he score again. Griezmann or Mbappe may become the second player (after Brazil's Vava in 1958 and 1962) to strike twice in a row and the sixth player to score in two finals. The health of France's players is the main worry going into the game, not injuries, but rather a virus that kept two starters from the Morocco game from playing. Adrien Rabiot, a midfielder, and Dayot Upamecano, a defender, were infected with an unnamed virus which manager Didier Deschamps claimed was creating flu-like symptoms in the two players. (Deschamps added that following the semifinals, winger Kingsley Coman developed a stomach ache.) To prevent the sickness from spreading among their teammates, Rabiot and Upamecano were isolated. Although France has enough depth to cover for their absences, it wouldn't be ideal to enter the World Cup final with fewer players than necessary. Prior to Sunday, it will be worthwhile to check their statuses.
Key Battles To Look Forward To : –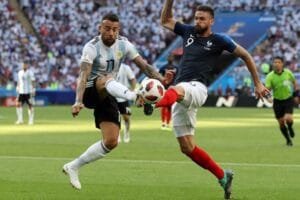 Oliver Giroud will look to add more goals to his tally but it would be tough to score against a player like Otamendi
Oliver Giroud is aging like fine wine and has been keeping up with the scoring charts for both club and country for a while now. He ensured that France didn't miss the services of Karim Benzema (who is also available for the final). Olivier Giroud, who broke France's all-time international goalscoring record on route to contributing four goals to this World Cup, has been a revelation. The 36-year-old has a chance to tie or beat his Golden Boot competitors in the championship game as he looks to add to the 53 goals that he has previously scored for his country. Otamendi will have the crucial task of stopping Giroud and might be involved in a lot of aerial duels with him. He will have to keep Giroud quiet in order to make sure Argentina are tight at the back.
Varane has won 15 out of the 16 finals he has played in and he would be looking to stop the ever shining Julian Alvarez
Varane certainly has been one of the best defenders over the last decade and his accomplishments with both club and country speak highly of what kind of a defender he is. His performances always go under the radar but he is always there in the crucial situations where his team needs him. He has been having a great campaign till now and did his best to regain his fitness for the World Cup after sustaining an injury during the PL season. Alvarez has been the star of the tournament and has shown everyone why he is starting ahead of the likes of Paulo Dybala and Lautaro Martinez. He is under the shadow at his club, Manchester City with Erling Haaland starting ahead of him. But with the kind of performances, Alvarez is putting, might give a selection headache to Pep Guardiola. In the final, it will be a great duel between Varane and Alvarez as both will be looking to shine for their country at the greatest stage of them all.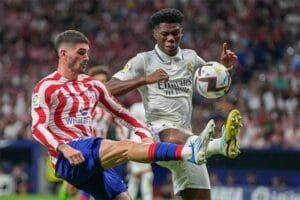 Tchoumeni is filling the void in the French midfield left by Kante and Pogba who are missing out due to injury
One of the most exciting battles will pit holding midfielder Tchouameni of France against Argentine dynamo Rodrigo De Paul. This season, they have already squared off against one another in the Madrid derby, with Tchouameni coming out on top. Tchouameni, 22, is regarded as one of the most gifted box-to-box midfielders and has been excellent since signing for Real Madrid in August. He promptly replaced the veteran Casemiro. For France to prevail, his goal of slowing down De Paul on Sunday must be important. De Paul excels as a holding midfielder but sometimes makes aggressive runs to assist his teammates in perilous circumstances. This conflict might be crucial in determining which country would win the FIFA World Cup trophy.
With only one day left in the World Cup finale in Qatar begins, the year's grand finale is almost here. The current world champions France will compete against Argentina for the title. Both teams will be depending on their top player, with La Albiceleste being able to rely on Lionel Messi and Les Bleus depending on Kylian Mbappe. A fascinating matchup is in store as the two Paris Saint-Germain teammates compete for football's top prize. Only time will determine whether Messi's World Cup odyssey will have a fairytale conclusion or if Mbappe will enter the GOAT discussion by capturing his 2nd World Cup trophy at the age of 23.