What's the best car to drive off into the sunset in? A convertible, of course! So, here's a list of the best convertible cars to choose from to drive off in after saying "I do."
There's a popular sentiment expressed by all the car fanatics out there; "You won't regret buying a convertible," and it is completely true.
Ask any car fanatic and you will only get one answer – convertibles are the best cars out there. And we actually agree with this sentiment a 100%. If you still haven't experienced the absolute joy that driving a convertible is, you're missing out on something truly amazing. Stylish, irresistible, and incredibly fun to drive, does one really need any more convincing? The more you take your convertible out for a spin, the more you're going to be surprised by exactly how much it has to offer even with its tiny package and non-fixed roof.
This drop-top machine is astoundingly fun, boasts a zippy powertrain, and, let's just get this out of the way right now, is just plain different from your existing car. Yes, it is sometimes a real pain keeping that top clean, but really, it is just a small price to pay for the thrill that driving a car sans roof gives. And since September is the season of weddings, we know that you're probably on the hunt for a gorgeous car that will impress your wife/husband-to-be. On that note, we're going to tell you that we have assembled a list of some of the best and latest convertibles available right now. So, without wasting any more time, let's go check them out.
1. MAZDA MX-5 MIATA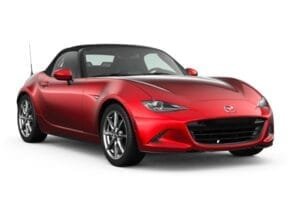 Mazda MX-5 Miata
There is a reason that whatever the question, the answer is always Miata. The quintessential convertible, the MX-5 Miata is an absolute joy to drive. It feels like an extension of your body and features more precise steering, better control, less fatigue, and a near-perfect balance. The car's near-perfect 50/50 weight distribution was achieved by taking the measurements with a driver behind the wheel. It is small, has a rear-wheel drive, and enough room for two. The latest Miatas come with a soft top that folds manually but there is also a more expensive RF model that comes with a power-folding Targa hardtop. The interior is snug and perfectly equipped and comes with infotainment features like Apple CarPlay and Android Auto Standard across all trims. The car's 2.0-liter I4 engine provides 181 horsepower and 151 pound-feet of torque and it is also available with a six-speed manual transmission. With good looks and good performance, the car gives great performance despite its tiny package.
2. 2022 CHEVROLET CORVETTE
2022 Chevrolet Corvette
It wouldn't be remiss to say that the 2022 Chevrolet Corvette occupies the top spot in the luxury convertible category. And if we're to talk value for money, this is the convertible that pops up in everybody's mind. This car definitely gives the other cars in the luxury class a definite run for their money with its 6.2-liter V8 that pushes out 490 horsepower and 465 pound-feet of torque. The Z51 Performance Package adds additional points to an already well-performing car. As if that was not enough, a limited-slip differential, sport suspension, Brembo brakes, and sticky number tires all work in unison to make the Corvette go from 0-60 mph in under 3 seconds. The ride is extremely smooth and the cabin is highly comfortable for daily use. The Corvette's lineage stretches back to the 1950s and there's a reason that it has managed to become a permanent fixture of the performance-car culture. Don't believe us? Try it out for yourself!
3. 2022 BENTLEY CONTINENTAL GT SPEED CONVERTIBLE
2022 Bentley Continental GT Speed Convertible
When it comes to automobiles, it's hard to beat Bentley. And it is no different with Bentley's convertibles. The Bentley Continental is one of the best in drop-down luxury and we'll tell you just why that is. The ultimate sports-focused convertible that is built to exhilarate at a moment's notice, this is pretty much the most powerful Continental GTC ever built. With every aspect of the car designed to help you get the most out of the convertible experience, the convertible comes with an array of cutting-edge chassis systems that come together to enhance the way the car drives. The car comes in 7 colours and you get a wide range of exterior paint options and you also get embroidered headrests, Speed badging, heated and cooled everything as well as the ability to choose the wood or piano black trim – all this comes together perfectly to give you the gorgeous car of your dreams. It also features a retuned version of the twin-turbocharged W12 engine that produces 650 horsepower and 664 pound-feet of torque. The Continental thus reaches 60 mph in just 3.6 seconds and can travel on a top speed of 208 mph. Definitely a car that can excite you in more ways than one!
4. 2022 MERCEDES BENZ AMG SL 55 ROADSTER

2022 Mercedes Benz AMG 55 Roadster
The 2022 AMG SL 55 Roadster is an automotive icon, no question about that. And with a legacy stretching all the way back to the original 200SL Gullwing, there wasn't any doubt about the excellent performance this model was going to deliver. The SL55 is powered by a 469-hp twin-turbo V-8 whilst the other, racier SL63 boasts a 577-hp version of the same motor. The handcrafted AMG 4.0L V8biturbo engine provides the vehicle with 516 lb-ft of torque. The Sl has been reimagined as a more sports-focused car but it has received a luxurious and tech-heavy cabin that gives the convertible its gorgeous look. The car can go from 0-60 mph in just 3.8 seconds and the fuel requirement is premium unleaded gasoline. And as a homage to the previous generations, the new SL also sports a folding fabric roof in lieu of the power-folding hardtop that is present in the outgoing models. This means that the convertible retains its open-air persona as well as saving weight at the same time – a great choice if you ask us!
5. 2022 BMW Z4
2022 BMW Z4
What are the two things one expects from a BMW sports car? Confident handling and a powerful turbocharged engine of course. The 2022 Z4 convertible delivers all that, along with some more remarkable features. The upscale cabin has its own appeal and is comfortable enough to let the car serve as a daily driver. BMW offers a peppy turbocharged four-cylinder as the base engine for the car and the racier M40i model got the twin-turbo inline six. The Z4 is a rear-wheel drive and uses an eight-speed automatic transmission fine-tuned for sporty driving as well as for highway cruising. The handling isn't sharp enough to compare with some other luxury convertibles, but its still impressive enough and is plenty fun in its own right. The Z4 is a softtop convertible and is an extremely exhilarating drive with the top down.
6. 2022 MCLAREN 720S SPIDER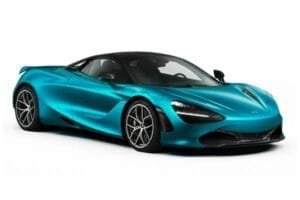 2022 McLaren 720S Spider
The McLaren 720S Spider is the literal embodiment of the words – ingenuity, drama, and efficiency. A light and strong supercar that delivers a ruthless and power-packed performance, this is one convertible that's going to deliver both performance and looks. The convertible roof comes in carbon fiber or a cool electrochromic glass that can change from tinted to clear. And both lower in 11 seconds at speeds up to 31 mph. It is powered by the M840T McLaren engine that churns out an extremely impressive 770Nm of torque. A thunderous exhaust note and a speed of 0-60mph in just 2.8 seconds and 124mph in only 7.8 seconds are the notable characters of the vehicle. The lightning-fast responsiveness of the car makes it sheer joy to drive and a very bad decision if you don't try it out, if only for just a test drive.