Currently, EVs are the most popularly performing cars around the world. With many luxury brands coming out with new models, we have brought to you the best upcoming electric SUVs to watch out for.
Despite a number of hiccups along the way, EVs have finally managed to take the world by storm. The interest in electric cars has continued to grow, as proved by the 168% increase in the first half of 2021 in the global sales of EVs. EVs are not limited to cars, even trucks have gotten this makeover. Ford's upcoming F-150 Lightning was greeted by a fervour so great; that a surprised Ford was forced to double the initial production capacity for this all-electric truck. With reservations passing 200,000, it is safe to assume that the future seems all set to be electric! The number of electric vehicles – cars, buses, vans, heavy trucks – on roads is expected to reach around 145 million by the decade's end. It seems the auto industry has decided to go green. No longer will you be forced to choose between comfort, speed, or sustainability. Now, you get to travel in class and style whilst being sustainable at the same time.
Electric vehicles have been gaining popularity, with many luxury car brands aiming to only manufacture electric cars by the next 5-10 years. EVs are a greener alternative to fossil fuel cars and are more spacious due to their layout. On that note, let's jump into our article where we have compiled a list of 5 most anticipated EVs expected to hit the market by 2022 or 2023.
1. Volvo XC40 Recharge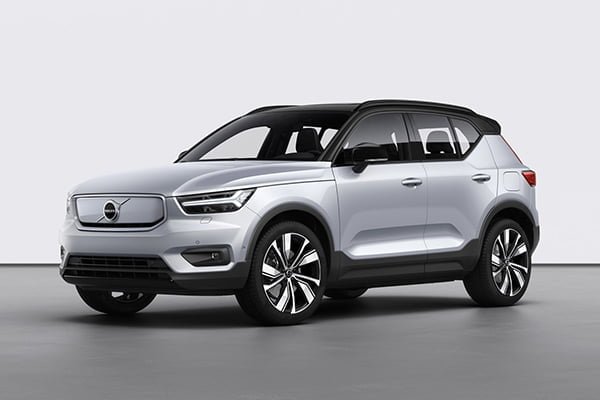 The pricing is expected to start from around Rs. 60,00,00.
Volvo's intent to go fully electric has been made clear to all by the carmaker, but counterproductive to their intention, they didn't actually have an EV. But that is soon set to change, with the Volvo XC40 Recharge. The XC40 Recharge is Volvo's first fully electric car without any gas counterparts. Although the car was slated to be delivered from October 2021, the launch was pushed due to a global semiconductor shortage. The car is based on the award-winning XC40 small SUV and is going to be the first of many upcoming fully electric Volvos. Over the next 5 years, Volvo aims to launch a fully electric car every year, and Recharge is set to be the overarching name for all chargeable Volvos. Sounds exciting, right?
The XC40 Recharge can be accurately described as 'small SUV, big punch.' The SUV retains the minimalist look and its high-quality construction from the original Volvo XC40, and the seats are designed to perfectly support your body. The new infotainment and telematics systems from the facelifted XC60 mark their appearance in the XC40 Recharge and that translates to mean a sharper, new set of digital dials with a new Android-based infotainment system. The two electric motors powered by a 78kWh battery pack generate 402bhp and 660Nm of torque, making it capable of sprinting from 0-100kmph in just 4.9 seconds. The top speed is 180kmph, and Volvo claims the SUV will deliver a driving range of 418kms on a single charge. With a spacious cargo area, clever storage cubbies, and a host of desirable safety and convenience features – which include a semi-autonomous driving mode – the XC40 Recharge is a great choice for whoever wishes to go electric, but tastefully.
The Volvo XC40 Recharge is expected to be launched in India around July 2022.
2. Rivian (R1S) Explore
The pricing will start from around Rs. 54,60,000.
On a sustainability mission, is Rivian, with their use of completely vegan leather interiors for their upcoming R1S. The colour and material designer for the company, Sophia Park, opted for a dramatic wooden dashboard as part of her quest for creating a restorative environment. Although Rivian has already begun deliveries of the Launch Edition of the R1S, another, entry-level Explore model is entering the line-up soon. Since orders for the Launch Edition are closed, our recommendation is the Explore model; a little wait is required, but we promise it will be worth it.
Step foot into the vehicle and you enter into a premium environment that conveys craftsmanship while inviting rugged, daily use at the same time. The wood used is sustainably sourced and the natural finish gives it a warm and inviting feel. The SUV comes with 7 heated seats, a heated steering wheel, and features 100% recycled floor mats. It features a torque of 908 lb-ft and a Single Speed Automatic transmission and includes 8 airbags along with a full complement of active safety systems enabled by its suite of self-driving sensors. With its quad-motor drive, the car is predicted to "change everything" and redefine adventure vehicles for years to come.
The reservations for the R1S are open now on Rivian's official website and the car is expected to be delivered sometime next year. So, don't wait, go for it before the pre-orders close for this model as well.
3. Polestar 3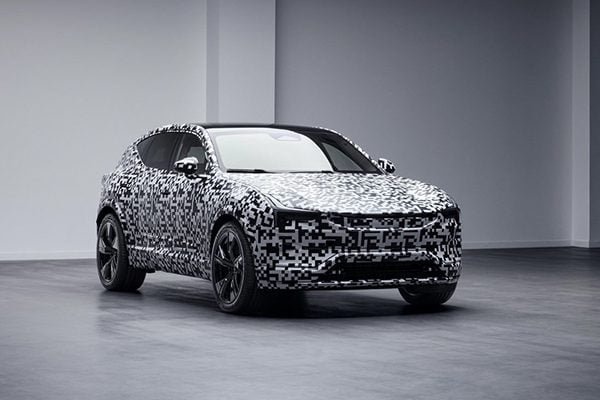 The pricing is expected to start around Rs. 49,84,530.
Whoever assumed the Polestar 1 to be the best on its launch, was definitely wrong. The Polestar 3 is going to redefine SUVs for the electric age. Polestar 3 is expected to launch in 2022 and the company has recently released a second teaser for the upcoming electric performance SUV. The Polestar 3 is the first SUV by the company and also its first vehicle to be built in the US, with its production site set to be Charleston, South Carolina. The Polestar 3 is intended to be one of the most climate-responsible cars till now and will offer autonomous highway piloting with time.
Polestar's chief engineer, Joakim Rydholm, has stated, "the 3 will breathe and flow a bit more than the 2." The car is about drivability, design, and "offering something different." When looking at the picture, it is very clear the design is going to be very unique and not something any other brand has offered till now. It is going to be a sporty SUV with a sleek silhouette and will also offer a front trunk. The Polestar 3 will have a two-row seating layout, allowing it a more aerodynamic roofline – Polestar is definitely focusing more on luxury and sportiness. Equipped with plenty of spectacular technology, comfort, and convenience features, the car is going to be absolutely spectacular. Key features might include a head-up display and a widescreen digital instrument cluster as well. A premium Harman Kardon sound system, video streaming app, Polestar Digital Key also will be making an appearance.
The Polestar 3 is expected to go into production by the end of 2022 and go on sale in early 2023. Polestar will be accepting orders by mid-2022, so keep a lookout for the reveal.
4. Cadillac Lyriq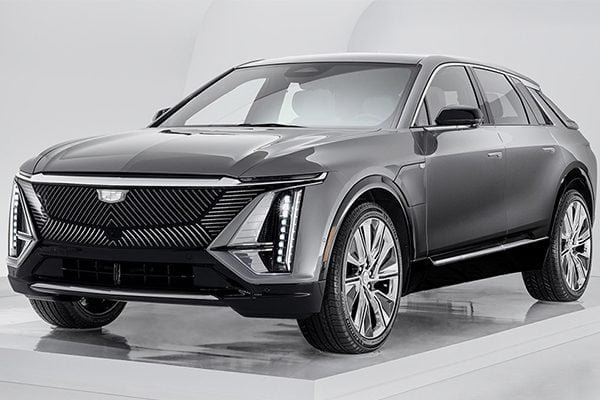 The pricing is expected to start from Rs. 45,90,520.
Although aiming to end the decade by going fully electric, Cadillac doesn't have a single EV at present. To change that, their latest offering is here. Due this spring, the Lyriq is the first unibody model built on GM's new Ultium propulsion toolkit. Offering GM Super Cruise driver assistance, the Lyriq is going to be made in Tennessee. Revealed in August 2020, the Lyriq has become notorious for being seen and not heard and is hoping to redefine American Luxury over the coming years.
A zippy luxury SUV, the Lyriq can go from 0 to 60 in 4.3 seconds and has a 334 horsepower, and a 100-kilowatt battery, whilst the dual-motor version delivers an estimated 500 horsepower. Boasting a range of more than 300 miles on a full charge, it comes in both a single motor, rear-wheel-drive version and a dual-motor, all-wheel-drive version. It comes with a host of safety and driver assistance features that will make your driving experience smooth and relaxing. With good looks fully matching with its powerful mechanisms, the Lyriq is an incredibly stylish car. We're talking open-pore Dark Ashwood décor with backlit door panels and a choreographed, exterior LED lighting as well as a fixed-glass roof with power interior shade. Since it comes with its own Cadillac-exclusive AKG Studio 19-speaker audio system, you're going to immensely enjoy taking this beauty out for a spin.
The bookings will start on May 19, 2022, and the deliveries are expected to begin by 2023.
5. Kia EV6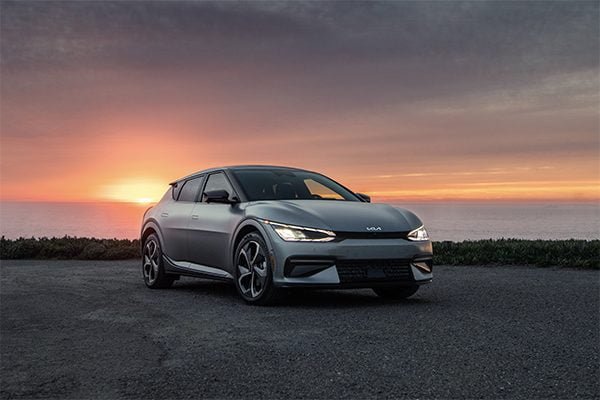 The pricing is expected to start from around Rs. 25,39,180.
Kia is finally kicking off its EV venture in India with the EV6 – a 5-seater, sharply styled SUV serving up unique looks vastly different from any other Kia model currently available. Kia has offered a range that comfortably goes north of 300 miles with a single charge, along with a quality build and its usual value for money. Offering a top speed of 114 mph, the EV6 is fun to drive. The inside consists of black and dark hues everywhere and is beautifully presented.
Possessing a 577 hp and 546 lb-ft torque in top-performance GT form, the EV6 can accelerate quicker and can go 0-62 mph in just 3.5 seconds. Offering a very speedy charging – 10-80% in just 18 minutes, the model has a 77.4-kWh battery pack for up to 310 miles. The car is available in six colours- Steel Matte Grey, White Pearl, Midnight Black, Runway Red, Interstellar Grey, Yacht Blue, and Steel Matte Grey.
A car with more than 300 miles of range, lots of fancy tech, and a fine ride, the EV6 is expected to be available by July or August 2022. The pre-bookings in India will start on May 22, 2022, with only 100 units of the car up on offer.