The summer season is synonymous with mango. This summer try some lip-smacking mango recipes and give treat to your taste buds. 
Are you also waiting for the Mango season to kick in? Us too. We all love this seasonal fruit which comes in varieties such as Alphonso, Dashehari, Kesar, Langri, Chaunsa, Totapuri, etc. Each one has its unique taste, aroma, and colour too. At the onset of the summer-monsoon markets are full of scrumptious mangoes. This seasonal fruit has its own benefits. It helps to lower your cholesterol level, Prevent heat strokes and help in digestion. But consuming it too much could upset your stomach.  
In India, people consumed mango both ripe and unripe. Usually, we consume ripe mangoes as it is or in the form of drinks while unripe mangoes go with many Indian recipes such as rasam, chutney, etc. So, here we tell you about three exotic mango recipes to try at home and make this summer more "Mangolicious".
Mango Panna Cotta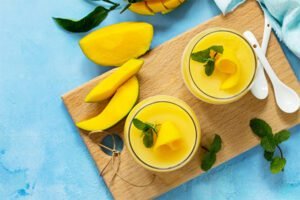 This creamy & smooth Italian dessert is a true summer delight. You can make it with agar agar instead of normal gelatin. It is quick & easy to make and suitable for vegans. This intense sweet and softly set pudding is creamy, yet firm. If you're making it vegan then chop agar agar into small pieces and soak them in warm water for a few minutes. After that make a puree of 2 medium size mangoes. Mix whipping cream, milk, and powdered sugar in a pan and place it over on low flame and stir continuously. Turn off the heat and add dissolved agar agar into the mixture. Then, add mango puree and vanilla extract and whisk it for a few minutes. Then, transfer it into a greased bowl and cover it with a lid or foil paper and let it cool in the refrigerator for some time until it is perfectly set.
Aam Ka Murabba (Raw Mango Preserve)
Aam ka murabba or Indian Jam is the best way to preserve green or unripe mangoes after the season is over. This gluten-free & vegan recipe is a perfect combination of sweetness and tanginess. To make this delicious recipe you need to peel unripe mangoes and shred them. Make the powder of cardamom and cloves to enhance the flavour. Put the shredded mango in a pan along with sugar or jaggery. Switch on the heat and stir it very well. When the sugar in the shredded mango reaches half of its consistency, turn off the heat and stir it until it looks translucent and then, add cardamom & cloves powder and crushed saffron. Let it cool before serving it.
Mango Falooda
You can have this mouthwatering mango falooda as a dessert or as a beverage both. Whatever you can call this quick & easy heavenly recipe. It's a MUST-try recipe this summer to beat the heat. For Mango Falooda, first, soak two tablespoons of sweet basil seeds in water for about 20 minutes. Later, strain it with the help of a tea strainer. After that prepare falooda sev as per the package instructions. In a serving glass, add rose syrup or roohafza then add soaked sweet basil seeds and cooked falooda sev. Add mango puree with cold milk. Follow these steps 2-3 times. Lastly, add mango pieces and vanilla ice cream. And enjoy it with your family and friends.