If You Enjoy Dressing Up To Stand Out At Gatherings. We've Picked A Dress That Is Elegant and Stylish, But It's Not The One You Should Go For. Pay Attention And Read On To Know More!
Confidence and appearance have a correlation. With fashion and comfort coming together, there is no scope for saying no to a glamorous dress on a party night just because you're worried about comfort. It's reasonable to assume that when individuals started paying more attention to their health, the idea of comfort-meeting fashion was born. We live in a busy society where we often jam a lot of errands into a single day while also fitting in some social interaction.
While talking about that, we'll be discussing a dress under the luxury fashion label Oscar de la Renta. The appliquéd silk gown by the brand is undeniably a beautiful and meticulously crafted garment. Statement-making elements are never lacking in eveningwear. This dress, created with fine craftwork is made of a silky crepe that is smooth and appliquéd with elaborately embroidered butterflies down the bodice and dramatic slits at the sleeves.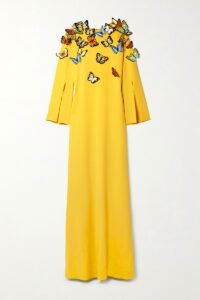 Although the intricate detailing, high-quality silk fabric, and prestige associated with the brand deserve praise, the look of the gown is not up to the mark. The dress being a reputed article by one of the high-end luxury brands doesn't accomplish the worth one would be paying for it in terms of fashion.
The appliquéd silk gown is a highly specific and statement-making piece. Its elaborate design and opulent embellishments make it less versatile compared to more understated or classic dress options. Due to its distinctive style, it maybe challenging to wear the dress multiple times making it a less practical investment.
Fashion trends evolve rapidly, and what may be considered fashionable today can quickly become outdated. The Oscar de la Renta gown, with its appliqués and design elements, may fall victim to changing trends. Investing a significant amount of money in a dress that could potentially go out of style within a short period is something which makes us unsure. Also, not to forget the embroidered butterflies that make the gown look childish to some extent.
This limited scope to wear the dress thereby diminishes its overall value and practicality. Not to forget the delicate nature of the fabric. The appliquéd silk gown requires special attention when it comes to cleaning and maintenance. Silk fabrics are known for their vulnerability to stains and damage, requiring professional cleaning and careful handling.
We wish there was a better way to put this forward but the Oscar de la Renta gown may not suit everyone's body type. The form-fitting silhouette and serpentine detailing may accentuate certain body features or be unflattering to others.
Overall, the Oscar de la Renta Cape-effect Appliquéd Tulle-trimmed Silk-blend Gown is a beautiful art of silhouette, but it is not a good choice for every body type. If you are looking for a versatile and practical gown that is flattering on all body types, then this might not be the piece of elegant clothing for you.