The Modern Lifestyle Calls For Some New Tech Gadgets From Time To Time. Read On To Witness Some Tech Trends That Are Being Shaped Currently.
In this world of worries, daily life is filled with electronic pianos, ring tones, and disembodied voices revealing one's bank balance over the telephone. Audio devices which include iPods, MP3 players, headphones, ear buds, etc. have been very popular among the 21st century youth. Nowadays students and young adults usually carry these devices along with them as they render it easy for them listen to music, and audio books on the go so that they can enjoy music and books during work as well as in their spare time. Hence, listening has become a source of pleasure for everone. The developer of headphones cleverly designed them to be held in place closer to the user's ear. Getting in tune with the music close to ear is dangerous as it seals the canals. Volume levels are significantly louder in sealed ear canals but our defence mechanisms make everything sound softer, so we turn up the volume even more. The smooth line of the bass, the swift, electric crackle of applause, and the seamless, noise silencing the quiet make headphones appealing. When one is using over the ear headphones, one wants the audio experience to be completely enveloping. The latest and greatest in headphone technology can reduce external noise, giving a jaw-dropping audio quality, and providing playback for hours on end and look good doing it.
MASTER DYNAMIC MW65 ACTIVE NOISE-CANCELLING WIRELESS HEADPHONES
If you're looking for the perfect blend of premium, luxury materials and the very latest in audio technology, Master & Dynamic's over-ear headphones are sure to delight. The MW65 is built from anodized aluminium and fine-grain leather so it feels light and natural. Whether you're looking for superior sound quality or active noise cancelling, the MW65 will fit into your life as a seamless, luxe-feeling accessory. It charges a 12 hours' battery in 15 minutes so you can be ready for life on the go. The embedded microphones filter out exterior noise so you can enjoy crystal clear phone calls. The MW65 pairs well with Google Assistant to help you manage your fast paced life. It comes with a styled canvas carrying case, audio, charging cables, and a flight adapter.
BOWERS & WILKINS PX7 S2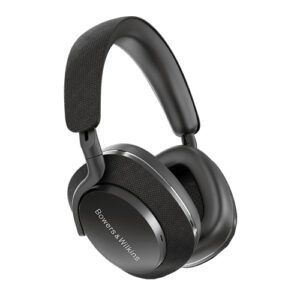 For a comfortable, ear cradling option, turn to the largest over ear headphones from Bowers & Wilkins. Their PX7 headphones are built with 43.6mm drivers, the largest in their headphone collection, for studio-quality performances. If you're used to getting headaches and aches from headphones, check this out. The PX7 headphones also come with an adaptive noise cancellation feature that automatically adjusts on the fly to deliver the optimal sound, wherever you might be. The dual cavity memory foam in the earpieces can block out surrounding sound entirely. This will leave you with peace or the music that you need . The woven carbon fibre composite arms of the PX7 are inspired by the world's fastest cars to offer strength and agility while being also lightweight and durable. Speaking of traveling, the Bowers & Wilkins PX7 offers 30 hours of battery life. And you can quick charge them in 15 minutes for a fresh 6 hours of additional listening pleasure.
BOSE NOISE CANCELLING HEADPHONES 700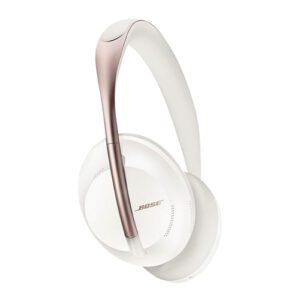 With their noise cancelling capabilities, the Bose Headphones 700 are built to pick up your voice, and your voice only. At both low and high volumes, the fine tuned audio sounds precisely the way you'd like. The Bose Headphones 700 pair with other elements of the Bose product line to allow independent volume control and easy, individualized, listening experiences. In addition, with the Headphones 700, Bose has delved into their most famous asset. The Bose Headphones 700 feature 11 distinct levels of noise cancellation to help you customise your listening experience. Signature active EQ, an impressive bass response, clear and detailed treble sound quality: the audio experience of this headpiece is both top-tier and powerful. The stainless-steel headband features a foam underside to cushion your head for long hours of wear. The earcups are ergonomically angled, and they're lined with synthetic protein leather. These headphones are touch sensitive, making it easy to control tracks and enter conversation mode at a mere tap.
BANG & OLUFSEN BEOPLAY H95
Between modern, modular design and high quality sound delivery, the Bang & Olufsen Beoplay H95 set offers great sound for your everyday life. These comfortable over the ear headphones offer active noise cancelling so one can hear music or calls perfectly no matter where you are. The aluminium interface has a soft touch; the leather headband smoothens over hair easily. With ear cushions made from lambskin, you'll get the sense that your headphones are snuggling up to your ears! The over ear style means that nothing will feel cramped or crushed. At the same time, the active noise cancellation works at both high and low frequencies. Perhaps most intriguingly, the subtly shiny aluminium caps of the earpieces feature intuitive controls that work like magic. Because of its beautiful features, the Bang & Olufsen Beoplay H95 is one of the most stylish headphones for commuting.