Hrithik Roshan the Greek god was spotted recently for a Goa party with his ex-wife Sussanne Khan, Saba Azad (current girlfriend) and Arslan Goni. To know more about Hrithik's recent controversial scene in Goa, keep on reading!
Hrithik Roshan has worked for the longest period in Bollywood movies, he is one of the known Indian actors. He is known for his amazing dancing skills; the whole fandom was charmed by his moves. His movies such as Jodhaa Akbar, Krrish, Koi Mil Gaya, Main Prem ki Diwani Hoon and others got recognition for his diverse characters and his moves. Even Hrithik Roshan dating life with Sussanne Khan made a highlight in his career.
Sussanne Khan and Hrithik Roshan started dating, they got married in the year 2000. This relationship made every fan shocked when their separation was announced in 2014. Fans were curious about the reason behind their separation, they kept their relationship tag as "friends". Until Saba Azad got spotted with Hrithik Roshan as his "recent girlfriend" and his ex-wife and current girlfriend were present at the Goa party as well.
In April, Sussanne Khan launched a party in her own Goa restaurant. Sussanne invited a bunch of people and highlighted in her recent post Hrithik Roshan, Saba Azad, Zayed Khan and his boyfriend Arslan Goni.
She mentioned, this was a precious blessing of her life to be surrounded by these people and as she mentioned them as "Best energy".  It surely takes a whole village to make a girl's dream come true, she was referring to her dream as her own restaurant (Bar + Kitchen) in Goa and she is grateful for the people who stuck around her to achieve this blessing.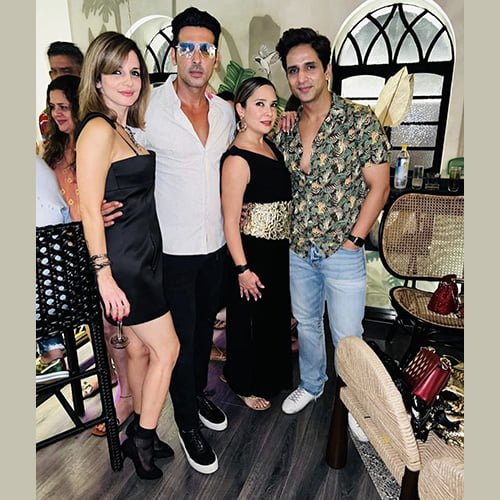 Sussanne Khan brother Zayed Khan was present for the Goa restaurant celebration.
Even Main Hoon Na actor Zayed Khan was spotted at the party he posted and wrote, Wishing my sister Susanne and Sailesh Gupta Super duper success for their fabulous new venture Vedro Goa!! Rock on people, what a weekend. Sussanne's party took place in a Goa restaurant which was mentioned by his brother Zayed Khan.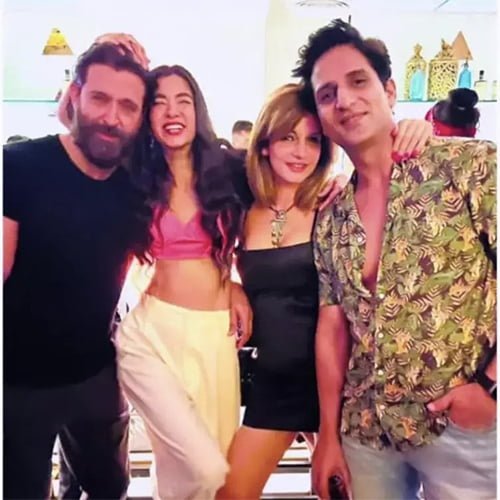 Sussanne Khan ex-husband Hrithik, Saba and Arslan were spotted for a Goa party.
Sussanne Khan posted this current picture where Hrithik was holding Saba waist and Saba spotted playfully caressing his hair, they both seem close and comfortable with each other. Sussanne Khan and Arslan Goni were standing next to each other this picture was giving a "double-date" vibe to fans.
Even Fans were shocked spotting these celebrities' exes in one frame, some fans response for this meetup in Goa got witty. Fan made a post expressing, wish India and Pakistan were as cool about their break-up as these exes. Another fan wrote, such irritating people you are setting wrong standards like "Emotions" nhi he kya.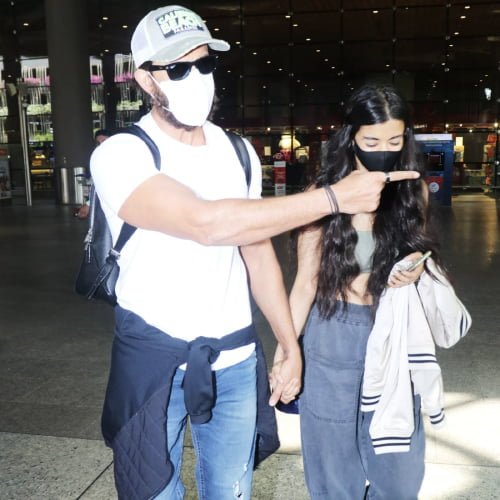 Hrithik Roshan and Saba Azad got spotted at the Airport.
Recently, Hrithik Roshan spotted with Saba Azad at the Mumbai airport and even got spotted at restaurants together. Even fans are shipping these celebrities and after this recent picture fans are announcing her as current girlfriend. These celebrities have not yet acknowledged themselves as couples but they are continuously spotted with each other.