Indian celebrities that previously made a statement about their sense of style by wearing eye-catching ensembles to the Met Gala 
The Costume Institute Benefit, often known as the Met Gala or the Met Ball, is an annual benefit held in New York City to raise money for the Costume Institute at the Metropolitan Museum of Art.
It is regarded as one of the most important fashion industry events and is distinguished by its celebrity attendees' pricey red carpet attire. Celebrities from all around the world attend the occasion dressed in stylish and imaginative attire.
Every year, a new theme is chosen for the event, and attendees are asked to dress accordingly. Usually, the event's topic is connected to the Costume Institute show, which debuts around the same time. Numerous B-town divas, in addition to international celebrities, have graced the Met Gala red carpet and drawn attention with their distinctive outfits.
Since, the Met Gala 2023 was already commenced from May 1st. Let's look at the Indian celebs' beautiful Met Gala red carpet debut outfits.
Deepika Padukone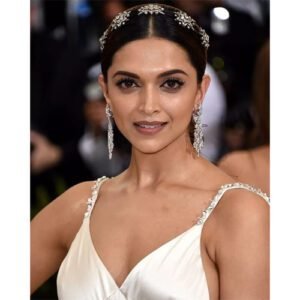 Deepika Padukone from her debut at Met Gala 2017.
One of the most successful actresses in Bollywood is Deepika Padukone. Her charming demeanour and wonderful sense of style have made her the ruler of millions of hearts. Deepika not only enthralled her audience with her blockbuster films, but she also represented India admirably when she made her Met Gala debut in 2017.
The diva selected a white-colored satin slip gown from the Tommy Hilfiger collection for the occasion. She wore a dress with a plunging neckline, a slit that reached her thigh, long trails, a sensual bareback, and tiny crystal stone accents.
Diamond danglers, a base that was accentuated, black eyeliner with wings, shimmering eyelids, and bare lips completed her appearance. Her chic low hairdo, star-studded pins, and black strappy heels made her impossible to miss.
Priyanka Chopra
Priyanka Chopra from her debut at Met Gala in 2017.
One of Bollywood's most attractive actresses is Priyanka Chopra. Due to her status as a global icon, the diva never misses an opportunity to astound everyone with her flawless sense of style. At the Met Gala, the biggest fashion event of all time, Chopra radiated glam.
She debuted at the 2017 Met Gala. The diva had attracted everyone's attention as she walked the red carpet with her then future husband, Nick Jonas.
Priyanka chose a trench coat-inspired gown in beige from the racks of legendary designer Ralph Lauren for her red carpet debut. It had a broad tail and an elegant hood that was embellished with a silver beaded pattern. With bold danglers, bare lips, flushed cheeks, a top knot hairstyle, and black leather boots, Priyanka enhanced her appearance.
Isha Ambani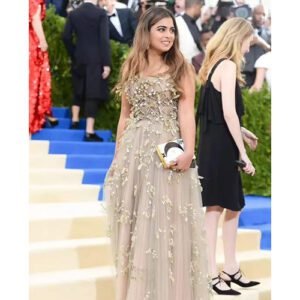 Isha Ambani from her debut at Met Gala 2017.
The daughter of Mukesh and Nita Ambani, Isha Ambani, made her debut at the Met Gala in 2017. She appeared in a strapless, neutral-colored Dior dress from Maria Grazia Chiuri's first haute couture line. Her clothing had floral cut-out details. She added accessories, shimmering eye makeup, pink lips, reddened cheeks, a clutch, and open hair to complete her outfit.
Natasha Poonawalla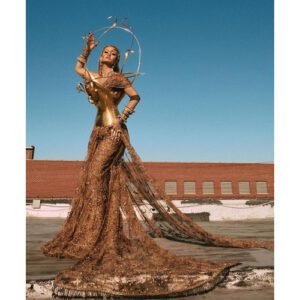 Natasha Poonawalla in a mix of Schiaparelli & Sabyasachi outfit at Met Gala 2022. 
Natasha Poonawalla, a well-known entrepreneur and philanthropist, is renowned for her daring sense of fashion. The diva is unrivaled in her ability to pull off a hot appearance. She chose a white, strapless Dolce & Gabbana illustration gown for her Met Gala debut to correspond with the event's theme, "Heavenly Bodies: Fashion and the Catholic Imagination." Her dress had distinctive designs. With glittering danglers, shimmering eye makeup, bold lips, and wavy open tresses, she emphasized her appearance.
Alia Bhatt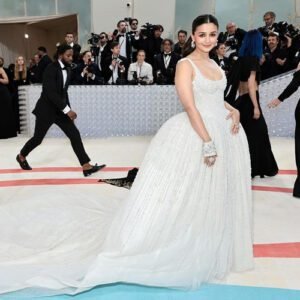 The theme of Met Gala 2023 was 'Karl Lagerfeld: A Line of Beauty'.
One of the evening's most anticipated debutantes, of Meta Gala 2023 Alia Bhatt, came at the Met Ball as Prabal Gurung's inspiration. They also gave a subtle homage to Karl Lagerfeld by using an outfit that was inspired by his well-known Chanel bride collection. As we share photos from Alia's night out at the Met Gala, keep scrolling.
Alia Bhatt first stepped foot on the Met Gala red carpet on May 1, 2023. Prabal Gurung, a Nepalese-American fashion designer, made a bridal white gown for Alia, which she posed in front of the cameras while wearing on the famous stairs of The Met Museum. Karl Lagerfeld's legendary and must-see bridal collection at the opulent Chanel fashion company served as inspiration for Alia's long train, corseted finish, and pure white colour.