Be it a special occasion, or just a little walk to the garden, today's generation loves to capture the moment. If you also believe in capturing the moment to save it for later, these are the best mirrorless cameras you should make use of.
It is not just today's generation that believes in capturing the moment, even our parents and grandparents equally loved to do it. That's because prior to the invention of the camera, there was no other way to store memories. So, people used to share their experiences the only way they could – through words. But the lack of visuals and clear memory led to the invention of the camera. This nifty little gadget has made it possible for us to capture and store our experiences and memories so we can revisit them later. Cameras have made our lives clearer since their conception and today, we have some of the very best of them for you.
We'd suggest going for mirrorless cameras as they're pretty hyped up right now. Mirrorless cameras are a new technology that happen to be the future of photography. While choosing a mirrorless camera, some things need to be kept in mind. Be aware of what you wish to use it for – shooting stills or video or both. As tempting as it is to go for the highest resolution possible, keep in mind that it will bump up the cost. But that should not deter you from getting yourself the mirrorless camera you really want. So, check out our suggestions for the best mirrorless cameras. These cameras deliver top-notch performance and extremely clear pictures.
SONY a7 IV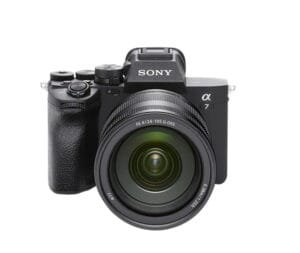 Sony a7 IV
Sony happens to be an electronics manufacturer that has gone above and beyond what other electronic companies offer. With the many great inventions it has brought mankind, is there any surprise that it still continues to be a world-class leader when it comes to electronics? This sentiment is expressed clearly by their cameras. Sony's cameras are generally a little more compact than offerings from other brands – and offer great image quality. And when it comes to mirrorless cameras, Sony's mirrorless cameras take imaging far beyond the capability of smartphones – or other cameras.
The a7 IV happens to be the fourth generation of the company's core a7 full-frame mirrorless camera model. It also happens to be the most advanced yet. The a7 IV brings in the many improvements Sony has been making in terms of autofocus and interface design since launching the a7 III. The a7 IV has seen an improvement in just about every specification since the last model and delivers ground-breaking performance in both still and movie recording. It comes with a newly developed 33.0MP full-frame back-illuminated Exmor R CMOS image sensor and an advanced BIONZ XR image processing engine with up to 8x the processing performance. It is the ideal hybrid, providing breath taking imagery along with on-the-spot delivery and distribution. The a7 IV is one of the most well-balanced cameras ever made, and one that you will not regret getting for yourself.
FUJIFILM X-H2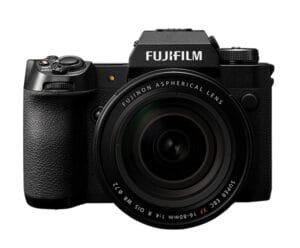 Fujifilm X-H2
Fujifilm is an imaging conglomerate formed in 1934 that deals with everything pertaining to the photography industry. It has enjoyed considerable popularity for its mirrorless cameras. But it has been in the limelight in recent times since it introduced its handheld instant camera range which produces a physical copy of the image in seconds.
The X-H2 is the best Fujifilm camera overall for stills, video, and the price and is a high-end 40MP APS-C mirrorless camera for both stills and video shooting. It is an extremely compelling camera and happens to have the highest resolution yet in an APS-C camera. The camera is powered by the X-processor 5 and its 40.2-megapixel sensor surpasses that of all but a handful of full-frame cameras. The 8K/30P video ensures you get impressive performance. The camera offers unrivalled image quality in both stills and video. The camera also comes with an optional cooling fan that extends the video recording capabilities in high temperatures.
OLYMPUS OMD EM1X
Olympus OMD EM1X
One of the biggest conglomerates of the nation, Olympus comes from the highly standardised streets of Japan. Olympus has been manufacturing cameras for several decades which date back to the days of film photography. As the market shifted from film to digital photography, Olympus adapted too. But as other brands started to dominate the world of DSLRs, Olympus chose to switch focus to another direction: mirrorless interchangeable lens cameras (ILCs) as well as waterproof point-and-shoot cameras.
The camera was made for photographers always on the go. Not only does it happen to have a small form factor, but its brilliant performance makes it the best choice for everyone; from novices to professionals. The mind-blowing clarity and the options to customise the lens according to requirement are just another selling point. It is packed with innovative tech such as AI-based Intelligent Subject Detection AF, world-leading image stabilisation, and a handheld ultra-high-resolution shooting mode. It offers 60 frames per second continuous shooting and 7.0 EV stops of stabilisation performance as well as a 50MP handheld high-res shot mode. It comes with a 20.4 Megapixel Live MOS resolution and is dust, splash, and freezeproof. It is a pro-level camera with features that are designed to take your work to soaring heights. You can certainly count on it to bring your best vision and creativity to life.