Budget should not be a criteria for you and your partner to not enjoy a romantic date night, so we bring you some cheap romantic date ideas for you both to have a great evening
Particularly when you're attempting to get to know a new person, expensive dinners and ticket prices add up. Everyone wishes they could spend lavishly on every date, but sadly, that's not a lifestyle that the majority of us can afford. However, you shouldn't have to decide between paying rent and pursuing the attractive person of your desires. That is where finding an inexpensive date comes into play. You may also move from "affordable" to "cheap" or even two steps further into the realm of free dates. Here are a few ideas to have a date night at a cost that can be afforded by the couple.
1) Picnic dates
Picnic dates where you take home-made food to your favourite garden can be a good option
Whatever you and your spouse are interested in, there really are romantic picnic dates for everyone. Picnic dates are not only cute date ideas for any budget, but they are also enjoyable and reasonably priced. Depending on your preferences and hobbies, there are several picnic date ideas to pick from, whether you prefer more relaxed dinners or fine dining experiences. You will not be disappointed regarding any of your picnic dates as long as you have a hunger, some creativity, and a space outside to have your picnic. You and your lover can simply arrange your own picnic date in a nearby park and spend valuable time together conversing or engaging in an activity. 
Binge watching favorite movies/series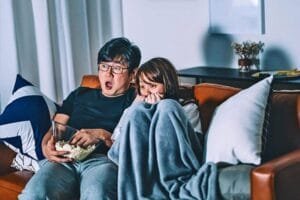 Binge watching favourite shows and movies together has become a new trend
Many of us may enjoy snuggling together to watch Game of Thrones on Sunday night or binge-watching Netflix sitcoms with a significant other. If you and your partner have ever been in a long distance relationship, you might have even scheduled a movie to watch "together" while on the phone. Recent studies suggest that watching TV series and movies with your significant other might have substantial advantages for your relationship beyond just being a fun and enjoyable way to pass the time. Couples get a chance to join a new imaginary universe when viewing a beloved show together, resulting in a common social experience that strengthens relationships.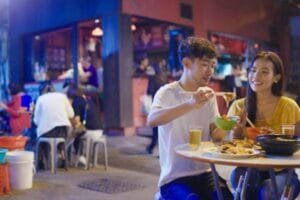 Street food dates are lowkey the best option to eat and explore more options with your partner
Although there are many various types of street food that are inexpensive, there are other advantages to consuming or eating it. Street food hubs and markets provide young lovers affordable and delectable food options to enjoy with their dates. How some young couples would rely on street food ranging from a quick snack to lunch or supper dates is not something that needs to be explained. The younger generation, particularly those who are currently in school or are employed as interns, has little to no income and little spare cash to afford dining out at pricey cafes or restaurants. Such folks can consume a variety of delicious meals at bargain prices at street food markets and hubs.
Volunteering together can be helpful for the couple as well as people in need 
Sometimes it's best to pick an activity that the two of you have never done before. In this way, if there is a learning curve, both of you will experience it and you won't feel left out. Together, volunteering can have an influence for a variety of reasons. It can first push you and your spouse to talk about the causes that are most important to you. Second, by sharing an experience, it might strengthen your relationship. The third and most significant benefit is that it can help those in need in your community. Maybe you both can walk dogs at one nearby shelter if you two share a passion for animals. If you two share a love of the arts, you might volunteer to give local youngsters free art lessons. 
Some couple massages can be expensive so try and find a one it at a cheaper price
Massages for couples are a wonderful way to spend a romantic evening. You choose to spend time with each other in a tranquil setting and go home feeling renewed and at peace. The greatest way to get in the spirit for a date night with your special other is with a couple's massage. Share some chocolate-covered strawberries and wine or sparkling cider after the massage to add even more unique touches. You may feel physiologically better after a massage than you did before it by enhancing blood flow and reducing muscle stiffness or stress. Massages help you unwind mentally and physically by reducing stress and tension. A massage is indeed the ideal time to relax and practice meditation, allowing you to feel emotionally renewed and prepared to face the rigors of daily life.
These are just some of the best ideas we figured out for couples that want to keep their date night low-key yet extremely happening. All you want on a date night is you and your partner spend quality time getting to know more about each other or do your favorite things again. These date ideas are as romantic as a dinner in one of the premium restaurants in your city. So let us know which date idea you and your partner would be trying on your date night?