The Indian cricket team is back in action for the first time since last week's humiliating loss against England as they are set to face New Zealand on foreign shores
India will start the trip to New Zealand with a three-match T20I series under the captaincy of Hardik Pandya. Shikhar Dhawan will captain India in the ODI series against New Zealand after Rohit Sharma has opted to take a break. On this trip, a number of youngsters will accompany some more seasoned professionals in an effort to establish their authority on the global stage. Let's look at few of the talking points for Team India ahead of the first T20I assignment post the World Cup
1) Youngsters Provided With Opportunities
The Indian cricket team plays a whole lot of matches every year and is certainly on the top of the list when it comes to matches played in a year by an international team. In order to play the most matches, BCCI and the Indian team management tend to manage the workload of the players who play all three formats by giving them adequate rest. This series provided a much needed rest to the experienced personnel of the team which includes the likes of Virat Kohli, Rohit Sharma, KL Rahul. But what youngsters thrive on these days is an opportunity and Indian players know how difficult it is to get an Indian cap and to be able to get that opportunity to represent your nation at the highest level. Indian selectors have added a whole list of youngsters to the squad including Shubman Gill, Umran Malik and Ishan Kishan. They would be looking to get big scores on this tour and make a mark for themselves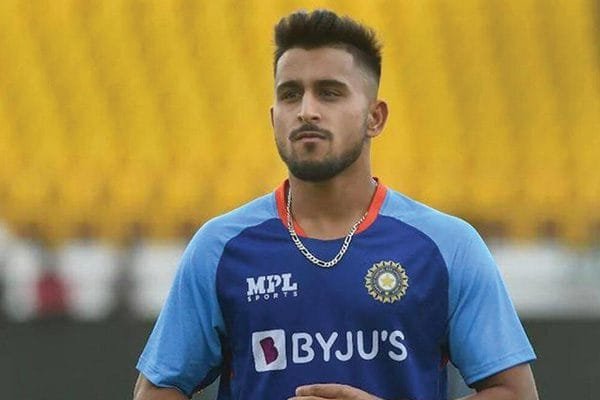 The likes of Umran Malik would be hoping to shine in this series with the absence of the big guns
2) Can Suryakumar Yadav Continue His Prowess
Suryakumar Yadav has been one of the great additions to the Indian side over the past year or so and has made full use of the opportunity provided to him. This year, he has been at his lethal best and is always looking to play a vital innings for his side. Suryakumar's batting has a wow element that has possibly never been witnessed in Indian cricket before. It is a peculiar and exhilarating experience to watch him bat because of his ability to frequently hit boundaries to all parts of the ground, his combination of unconventional and traditional strokes, his fearlessness to go after the bowling attack from the first ball, his capacity to absorb pressure and release it on the opposition, and many other factors. The 32-year-old is currently very near to meeting the standards that would be generally considered as the standard for a T20 hitter. He typically bats for India at what is arguably the hardest part of an innings, from over number seven to fifteen and provides his team the advantage right away with his aggressive playing style.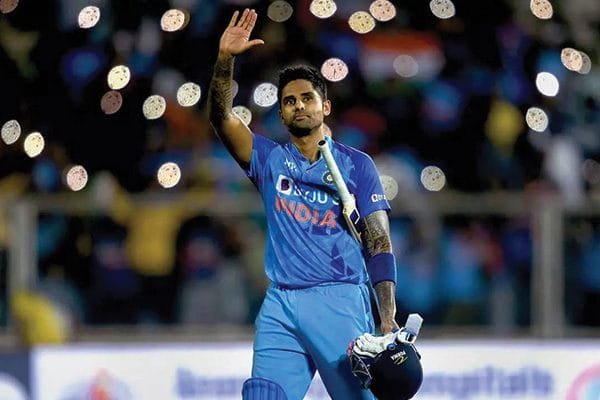 Surya has been the stand-out batsman for the Indian team and would be hoping to continue the good form
3) Grooming of A New Captain
India has had its struggles in T20Is for a while now and hasn't been able to take their bilateral series form into the World Cup. Questions have been raised about permanent captain Rohit Sharma's ability as a leader. Many pundits and experts have chosen Hardik Pandya as a successor to Rohit Sharma and want him to captain the side permanently. Pandya's epic rise to fame started with Ashish Nehra and Gujarat Titan's management backing him from the start. Pandya repaid their faith the franchise had in him and took them to a maiden IPL title in their debut season. In the last edition of IPL, we saw a calm and composed Hardik rather than an all-out finisher for his side. This side of his game was truly needed as he took his team out of pressure situations and built partnerships till the end of the innings. His wicket taking ability has also increased since the start of the year and has been keen on breaking partnerships for his side. This will be a tougher test for Hardik as he will face a tough Kiwi side looking to show dominance on home soil.
Hardik Pandya has been rumoured to be the next T20I captain of India 
4) All-out attack Or Conservative Cricket 
India's approach in white ball games has been in question for quite some time now and it looked like under the new leadership of Rohit Sharma and Rahul Dravid that India would be playing fearless cricket. The all-out attack approach did come but only in bilateral series and somewhat disappeared during the World Cup. India had the second lowest powerplay average in the World Cup out of sixteen teams which is a real shame. Former players and cricket pundits blamed India's departure from the  T20 World Cup in Australia on their "cautious" and "meek" batting technique during the powerplay. Last Thursday, England humiliated India in the World Cup Semifinals, losing by 10 wickets. Indian fans would be hoping that the team plays a fearless brand of cricket and the main task for them is to sustain it without worrying about the match situation.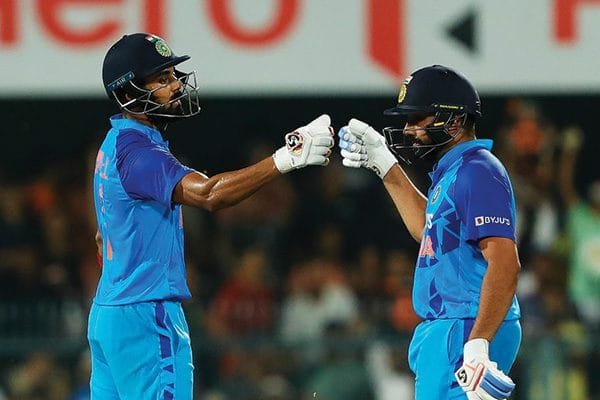 Rohit and Rahul were at the heart of this conservative cricket policy as India scored the second lowest average runs in the Powerplay at the World Cup
5) Bilateral Series Kings Vs India's Bogey Team
India vs New Zealand over the past decade can be seen through two aspects, one in bilateral series and the other in World Cups. In bilateral series, India has a clear edge over the hosts and look in excellent form and even beat New Zealand with a 5-0 margin in this format at their home. But in the World Cup stage, New Zealand is as dangerous as anyone, and have made sure even if they don't win the tournament, they don't let India qualify either. New Zealand knocked India out of the 2019 World Cup, 2021 T20I World Cup and the World Test Championship. But is there a change to the predicament here as both teams have solid line-ups and have faced world cup exits in the past week.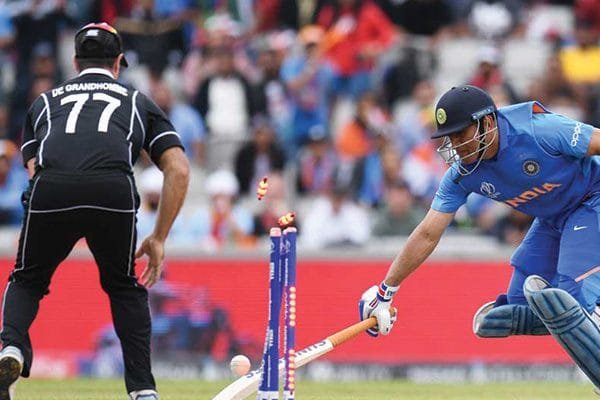 India's form in bilateral series is something that can't be paralleled but in the biggest tournaments, the form doesn't show up
So only time will tell how India and Hardik fare in this T20I series as New Zealand begin their small home season before traveling to Pakistan later this year. Five days after the T20 World Cup final, on November 18, Indian team would begin the quest of a foreign series win with  three T20Is and three ODIs in New Zealand. The ODIs are scheduled in Auckland (November 25), Hamilton (November 27), and Christchurch, while the T20Is are in Wellington (November 18), Mount Maunganui (November 20), and Napier (November 22). (November 30).