From Sara Ali Khan to Ranbir Kapoor, look at the Indian Celebs who became showstoppers for the Designers at India Couture Week 2023
India's traditional past was celebrated during the India Couture Week 2023 while also incorporating contemporary sensibilities. Designers embraced a blend of opulence and subtly, showing that fashion is more than just apparel and has evolved into an art form.
India Couture Week 2023 established the fashion forecast for the upcoming holiday season with the support of Bollywood's most prominent fashion icons who strutted down as showstoppers. Here are some of the most memorable celebrity runway appearances that paved the way for this year's biggest fashion trends.
The 16th iteration of the yearly fashion show was called India Couture Week 2023 and was put on by the Fashion Design Council of India (FDCI). These gorgeous collections feature the styling of many celebrities. Celebrities like Ranbir Kapoor, Shraddha Kapoor, and Sara Ali Khan stole the show as they walked the runway this year as well.
Take a look :
Aditi Rao Hydari For Ritu Kumar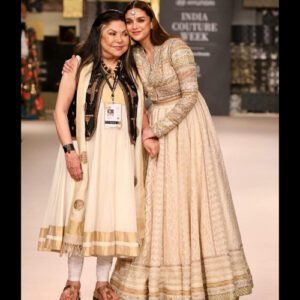 Designer Ritu Kumar returned to India Couture Week for the first time in ten years with a show that highlighted her 'The OG' collection, which featured ensembles that merged traditional crafts like kasab and kashidakari into modern garments through classic couture tailoring. The clothing line promotes rich and traditional materials while showcasing an alternative femininity.
Aditi Rao Hydari, an actress, stole the show in an ivory Gazal jacket with gold zardozi work and traditional Kashmiri motifs. The ensemble was completed with an embroidered lehenga.
Kiara Advani For Falguni-Shane Peacock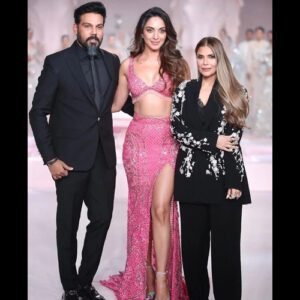 For Falguni Shane Peacock on the first night of India Couture Week 2023, Kiara Advani walked the runway. Advani was dressed in pieces from the company's 'Renaissance Reverie' collection, which honours Indian embroidery styles and colours while showcasing recognisable and classic elements of Renaissance art, fashion, and architecture.
Kiara Advani shined in her Barbie-inspired pink lehenga as she captivated the crowd with her Barbiecore ensemble.
Ranbir Kapoor For Kunal Rawal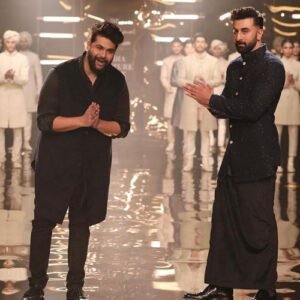 On Day 4 of India Couture Week 2023, designer Kunal Rawal unveiled his collection, "Dhup Chao." The collection travelled through the ages, drawing inspiration from our own past and exploring the depths of Indian fashion's foreseeable future. The artwork in this collection was deeply influenced by and inspired by the colourful artefacts from Indian past. Additionally, it highlighted the variety of fashion aesthetics seen throughout various Indian subcultures.
'Dhup Chao' was represented by Ranbir Kapoor. The actor wore a chic, buttoned-up kurta with a glittering yet sophisticated appeal, which was expertly paired with lungi-style trousers to give the ensemble a modern twist.
Athiya Shetty For Anamika Khanna
At India Couture Week 2023, Anamika Khanna's collection blended modernity and tradition. Pieces from the collection embraced silver and gold metallic aesthetics and featured gems like emeralds and pearls. They were rooted in the present environment and influenced by the past.
Athiya Shetty opted for a cream dress with long sleeves and beautiful embroidery, which she accessorised with dazzling jewellery and high heels. Her elegant appearance was finished off with a stylish hairdo and exquisite cosmetics.
Aditya Roy Kapoor and Sara Ali Khan For Shantanu & Nikhil
India Couture Week 2023 featured the "Etheria" collection by designers Shantnu & Nikhil. Their Italian trips served as the inspiration for their collection, which combined Indian and Roman themes to produce regal attire.
For the 'Etheria' collection, Aditya Roy Kapur and Sara Ali Khan emerged as stars. In her elaborately embroidered cream-colored lehenga, Sara mesmerised onlookers. In his distinctively asymmetrical royal bandhgala, Aditya swept the stage.
Shraddha Kapoor For Rahul Mishra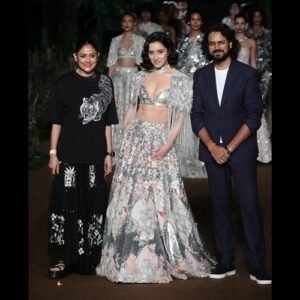 Shraddha Kapoor performed a show-stopping dance for Rahul Mishra while adorably gracing the stage in a shiny silver lehenga. The shimmering lehenga was adorned with beautiful floral appliques in soft pink, yellow, and white hues. It was worn with a deep-necked blouse in the same colour.
The short-sleeved, short-fringed cape that Shraddha wore over her shirt gave the ensemble a theatrical edge. Shraddha's style was finished off with a chunky choker necklace and glammed-up, dewy makeup with rosy lips.
Other than them, Celebs like Disha Patani, Vaani Kapoor, Bhumi Pednekar, Ananya Pandey, Jahnvi Kapoor, Ishaan Khattar and Shobhita Dhulipala also graced the ICW 2023 in Dolly J, Isha J, Varun Behl, Rimzim Dadu, Gaurav Gupta, Rohit Gandhi & Rahul Khanna respectively.