For your December travels, we gave you some offbeat places to explore in India. To complement those places, here we are giving you some places to stay at while exploring. Read on!
We're about to enter into a new year, but that doesn't mean you need to leave the love for travel behind! The last month of the year often makes one want to travel even more than usual and if the travel bug has bitten you as well, we have the solution to help you scratch that itch. India is the land of spirituality and diversity and that extends to all its states, making them a pleasure to visit. We've given you 5 offbeat places to explore in India and now it is time to provide you with staying options for some of these places. Let's take a look at where you can stay if you decide to visit Maharashtra and Arunachal Pradesh. Everyone deserves to travel in comfort, and these stays provide just that!
BLUE OCEAN RESORT AND SPA, MAHARASHTRA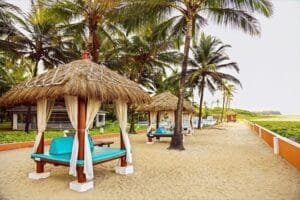 Blue Ocean Resort and Spa, Maharashtra
Maharashtra is an amazing place to visit no matter the weather or time so if you decide to visit Maharashtra, we have an amazing option for your stay there. The Blue Ocean Resort is located opposite Malgund Beach and offers Thai massages, yoga and meditation, paragliding for adventure lovers, and a mini water park for kids. The lush greenery offers pleasure and peace and if you wish to visit the beach, well you are in luck because the resort also offers direct access to a private beach. It is located about an hour's drive from the Ratnagiri Railway Station and the Ratnagiri Airport. It is also close to various popular attractions. Enjoy leisurely walks in the garden, indulge in healing and luxurious massages at the on-site spa or exercise at the gym, but a peaceful stay is definitely guaranteed!
CORAL RESORT AND SPA, HIMACHAL PRADESH
Coral Resort and Spa, Himachal Pradesh
Himachal Pradesh is a paradise to visit and if you've decided on Himachal Pradesh as your travel destination, there is a luxurious stay waiting for you. The Coral Resort and Spa is located in Manali and is a luxurious property for travellers. The resort offers a full-service spa and for those looking for recreational activities, there is also a 24-hour health club as well as an indoor pool. There is also a picnic area for relaxing with family and the resort is also pet-friendly so you don't need to worry about leaving your furry friends behind. Dine in one of the hotel's 2 restaurants and take advantage of the room service – you're bound to enjoy your stay here.