Looking for an easy guide to make your 'Wine and Dine' special? Get started right now and discover easy ways to create a menu around your wine.
Some suggestions for combining wine and food can be unnecessarily strict. The truth is that you can drink any wine you choose and very much eat whatever you want. Are you having a glass of fresh Chablis with your green chile cheeseburger? Sounds fantastic. Would the majority of food-pairing manuals suggest it? Actually, no, but feel free. However, there are a few tried-and-true rules that will allow you to live as a knowledgeable food and wine enthusiast. Basically, it's simply a case of 'you should know the rules before you break them.'
While there is no rule to follow the 'right wine with right food' rule, it's crucial to pair a certain wine with a particular cuisine since this makes it simple for your guests to enjoy thoughtful and soulful food and wine pairings. The menu can vary and you are free to be experimental with it.
To level up your next party, here are 15 suggestions for matching wine and food. Learn and mast them, to memory, and then break the rules as much as you like.
Reds and earthy flavors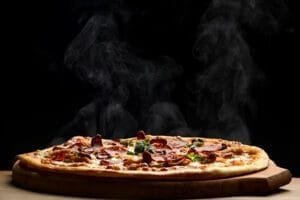 Even seafood goes well with Reds.
Red wines like Pinot Noir and Dolcetto, which are light-bodied yet full of intense savory flavor, pair particularly well with dishes made with earthy ingredients like mushrooms and lentils. Salmon and pinot are frequently good together, demonstrating the excellent compatibility of red wine and seafood.
Cheese and Rosé
Fruity flavors of the wine complement the cheese.
However, almost all go well with dry rosé, a wine that has the acidity of white wine and the fruitiness of red. Additionally, grilled salmon or a crisp salad also makes a good match with this wine.
Good old wines for good old flavors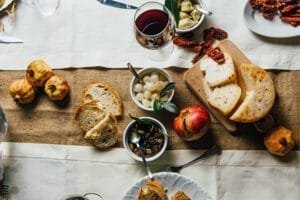 Tuscan flavors are best experienced with Tuscan wines.
As an evolution of the cliché that 'if it grows together, it goes together in wine pairing, the flavors of cuisines and wines that have coevolved through time, such as Tuscan recipes and Tuscan wines, are nearly always a natural combination and we wouldn't disagree.
Rosé is the dinner favorite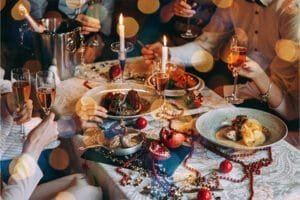 A dinner party without Rosé feels incomplete.
No matter what cuisine you are having, sparkling wines with the flavor of Rosé like Prosecco rosé, and rosé Champagne have the complexity, richness, and delectable acidity to pair with a variety of dishes. It pairs superbly with lamb chops, grilled fish, and this risotto made with beets.
White wine with fresh ingredients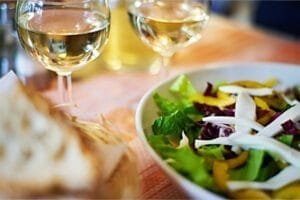 Fresh herbs and the delightful citrus flavor.
When there are numerous fresh herbs in a dish, the citrus and clove smell of Austrian Grüner Veltliner is delightful. Vermentino from Italy and Albarino from Spain are other popular grapes.
Red Wine with some sweet & spicy delicacy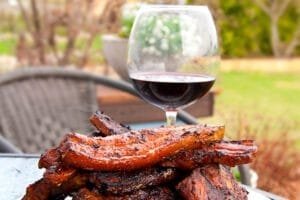 Some spice and white wine, please!
Malbec and Shiraz are robust enough to pair with meats drizzled with intensely spiced barbecue sauces; just watch out for sugary-sweet sauces that could overpower the fruit of the wine.