Pankaj Tripathi left for his hometown Belsand Village, Gopalganj where the last rites of his father took place. Read On.
Pandit Banaras Tiwari, the father of renowned actor Pankaj Tripathi, passed away at the age of 99. The actor has returned to his village in Belsand, Bihar after shooting in Uttarakhand for a movie. While Pankaj lived in Mumbai with his wife and daughter, his father resided there with his mother (in Bihar).
It is with a heavy heart that we confirm the passing of Pankaj Tripathi's father, Pandit Banaras Tiwari, in an official statement from the family. He had a 99-year, healthy life. His immediate relatives will attend his final rites today. Pankaj Tripathi travelled to his hometown 'Gopalganj'.
Akshay Kumar who worked with Tripathi in OMG 2 tweeted. "Deeply heartbroken by the news of my buddy and co-star @TripathiiPankaj's father's passing. Nobody can fill the void left by absent parents. May God allow his father's soul to rest at his feet. Om Shanti."
Pankaj has previously discussed his father and how he wanted him to become a doctor in an interview with Hindustan Times. "My dad wanted me to go into medicine. People in the village where I was raised in Gopalganj, North Bihar, only know two occupations: an engineer or a doctor. My father is a farmer.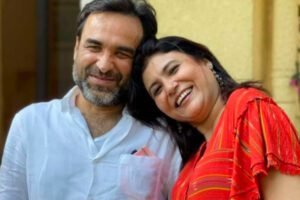 In 2018, he stated, "My village is so remote and isolated that there are still no good roads there. His family did encourage his desire to become an actor, he continued. "They had no unrealized aspirations that they would have wanted me to achieve. They were only worried about whether I could get rozi-roti.
I informed them that I might even be able to find employment with the government if I moved to Delhi (Pankaj is a graduate of the National School of Drama). The issue with middle-class folks is that Sarkari jobs tend to pay less than minimum wage. So my dad responded, "Yes." The actor stated that his father is not aware of his acting career in an interview with Mashable earlier this month.
He isn't overly proud of my accomplishments, he stated. Even my father is unaware of my work in the film industry. He hasn't yet seen what a movie theatre looks like on the inside. He can view my work if someone displays it to him on their computer or on the newly installed television in my home.
Pankaj Tripathi was last seen in OMG 2 with Yami Gautam and Akshay Kumar which running successfully in theatres. Further Tripathi will be seen in Fukrey 3, Main Atal Hoon (Biopic of former Prime Minister of India Atal Bihari Vajpayee), Metro In Dino, and Stree 2.