If you are bored of having those same-old desserts at every gathering, it's time to pick the perfect Italian dessert for your next party or even your me-time treats.
Desserts are always a great idea to uplift the mood of any get-together and if you're alone, there is no better way to enjoy your own company with a perfect dessert according to your mood and personality. One dessert that never goes out of style is Traditional tiramisu. Thanks to its tempting coffee flavor and gently sweetened mascarpone that brings out just the right amount of sweetness of this dessert. Even the pickiest of diners will be impressed by this no-bake tiramisu.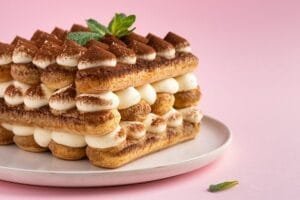 One dessert that never goes out of style is Traditional tiramisu.
Considered the star of Italian desserts, Tiramisu is a fancy-schmancy dish that we generally have at a great Italian restaurant or at our favorite bakery. But why one should wait to have this ah-mazing comfort dessert? To help with your cravings, here we are with the perfect recipe to make delicious Tiramisu just at home. Try this quick and easy recipe at home and serve it with your favorite choice of wine.
Ingredients of Tiramisu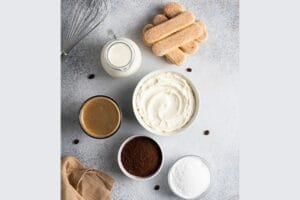 Get your ingredients ready for this quick and easy recipe.
3 Eggs
150 gram Sugar
250 gram Mascarpone cheese
3 Long expresso coffees
6 Ladyfinger biscuits
Cocoa (to taste)
Tiramisu Recipe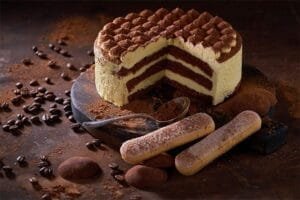 Tiramisu is the perfect dessert you need to uplift your mood.
How to Make Tiramisu
Prepare your expresso coffee and put it in a bowl to let it cool down. Now horizontally cut the ladyfinger biscuits in half.
Now, we need to separate the egg yolks from the whites and place them in separate bowls which are large in size.
Time to add sugar. Add 100 grams of sugar to the yolks and whip them up with a whisk or electric beater till the mixture is frothy. Now add the mascarpone cheese and continue to stir for a couple of minutes. Keep in mind to have patience while making a dessert.
Add the remaining sugar to the bowl with the whites and whip with a whisk or an electric beater until you get stiff peaks in the batter.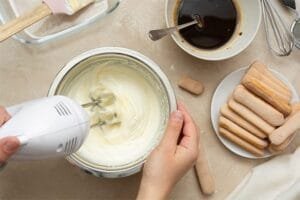 Make sure you incorporate the eggs well to bring out the flavor.
5. Once done, gently mix together the contents of the two bowls of eggs with a whisk.
6. Take four small bowls (approximately the size of a coffee cup), and put a layer of cream in the bottom of the bowl (filling about 1/4th of it with the cream). Quickly dip the ladyfingers one at a time in the coffee to let the biscuits absorb the flavor of coffee and place three of them over the cream mixture in each bowl. (Make sure you don't dip the ladyfingers for too long, or they might break down.) Cover the ladyfingers with some more cream and sprinkle with cocoa.
7. The Tirami Su' portions can be prepared in advance and placed in the refrigerator for a few hours until ready to serve. Make sure you add cocoa just a few moments before serving to avoid any crumbles.
Try out this special and easy recipe, and enjoy it with your loved ones!